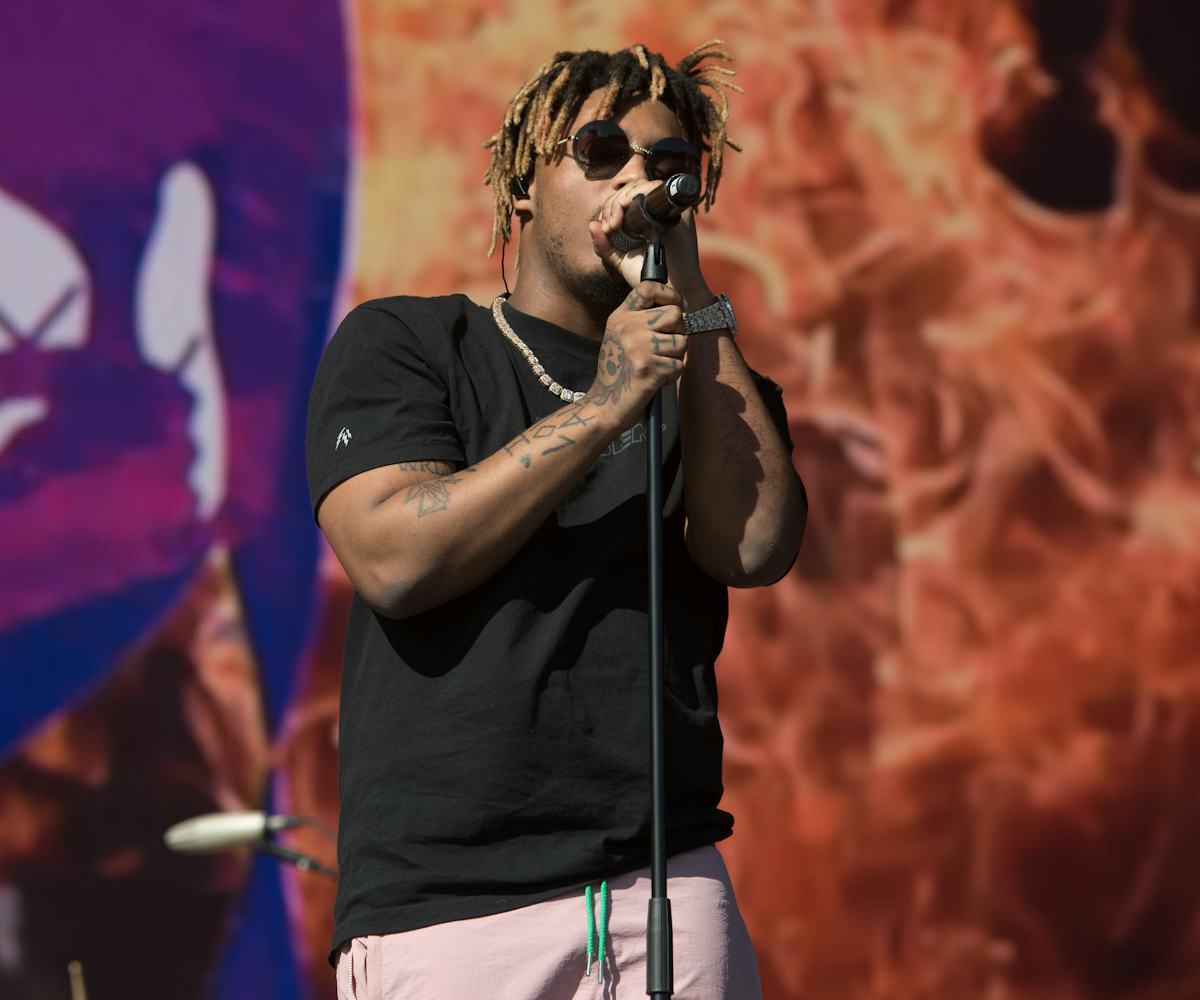 Photo via Getty
On Juice WRLD, And What It Means When Our Artists Die Young
If the fact that Gen Z is growing up watching their idols die before their prefrontal cortexes are fully developed seems like a sign of the times, that's because it is.
When the beloved Chicago-born rapper Juice WRLD (born Jarad Higgins) died in his hometown on Sunday, just a few days after his 21st birthday, comparisons to two of his recently deceased peers XXXTentacion (who died in 2018 at 20 by a gunshot wound) and Lil Peep (died in 2017 by overdose at 21) were immediate. Juice himself wrote frequently about being impacted by the pair's deaths. After XXXTentacion, who was in the midst of legal battles after being accused of assault, was killed, Juice released a two song EP in memory of his friends. On one of the tracks, "Legends," he sadly belts: "What's the 27 Clu-u-u-b? / We ain't making it past 21." The unintended prescience of these lyrics was not lost on his fans.
Artists have been singing about the glamour of dying young for decades. Billy Joel declared that "Only The Good Die Young" in 1977, seven years after the overdose death of Jimi Hendrix at 27 and 17 years before Kurt Cobain died by suicide at the same age. Jay-Z charted the "Allure" of living fast and dying young in 2003, rapping: "I mean even James Dean couldn't escape the allure / Dying young, leaving a good-looking corpse / Of course." In 2015, halfway through a decade marked by atmospheric malaise, Drake crooned with pride: "If I die, all I know is I'm a mothafuckin' legend." And in the opening scene of his "Self Care" video, released the same year he died of an overdose in 2018, 26-year-old Mac Miller carves "memento mori" ("remember you will die") into the casket from which he is singing.
The infamous "27 Club," into which one can only gain entry through death, is grimly appealing to a certain cynical young mind, not least in part because its most famous members (Amy Winehouse, Janis Joplin, Jean-Michel Basquiat, Jim Morrison, Hendrix, and Cobain) represent archetypal artists, saddled with the burden of visionary talent; too pure and beautiful for a world built for mere mortals. The since-debunked club first became pop culture lore after Cobain's death in 1994, though a 2011 British Medical Journal study found there is no statistical significance connected to dying at the age of 27. (The BMJ did find, however, that musicians in their 20s and 30s were two to three times more likely to die prematurely than the general UK population). Still, humans seek comfort and meaning in patterns, and the mythology of the club has endured.
Like his 'SoundCloud rap' peers, Juice often touched on themes of angst, dread and death. On "Legends," he sings, "My mind is foggy, I'm so confused / We keep on losing our legends to / The cruel cold world, what is it coming to? / The end of the world, is it coming soon?" His biggest hit, 2018's "Lucid Dreams," interpolates Sting's 1993 song "Shape Of My Heart" into a melancholy bop about the most relatable of adolescent topics: unbearable jealousy and heartbreak. Even then, Juice sang of self-medicating.
He was open about his early exposure to drug use and seemed aware of its risks, telling No Jumper in an interview that drugs "open doors to feel emotions you probably wouldn't usually feel," adding that they "can destroy you — utterly destroy you." In an interview with the New York Times last year, he echoed what peers like Lil Uzi Vert have said in regards to self-care; "I smoke weed, and every now and then I slip up and do something that's poor judgment," he said. "I have a lot going for me...I want to be there, and you don't have to overdose to not be there."
Reflecting on the lyrics in "Lucid Dreams," Juice wrote for his fans on Genius: "[Pill popping] fucked everything up, fucked everything up. Any help that was given by that was very temporary, wasn't anything, it didn't permanently fix anything, it was very temporary, like four or five hours of feeling like shit was gonna be okay, and after that, your deeper than the hole you were before, and then you gotta take more 'cause your tolerance is built up, and now you on twice, three times, four times, and before you know it, your like dead. But I guess where music is today, people just, popping pills is the new weed, overdosing is the new high. It's fucked up."
The cause of Juice WRLD's death is still pending investigation; he reportedly died after suffering cardiac arrest following a seizure at a private hangar at Midway Airport, the Chicago Tribune reports. Law enforcement sources reportedly told TMZ that several of Juice's team told them he had taken "several pills" prior to the seizures, possibly in a bid to hide them from authorities that were searching his team's luggage for drugs and guns.
If the fact that a generation is growing up watching their idols die before their prefrontal cortexes are fully developed seems like a sign of the times, it's because it is. Every era has its dilemmas to contend with, and this one faces several. A report released by Blue Cross Blue Shield last month seemed to confirm what had already been bubbling up in the songs, the media, and the memes of the moment: if things stay the way they are, millennials will die younger and broker than the generations before them. An uptick in so-called "deaths of despair" — things like overdose, suicide, accidents, homicide and other unnatural deaths — seem to confirm our worst fears about the futility of it all.
In a moment of political and social unrest, an epidemic of racist police brutality, increasing lack of access to healthcare, nationwide opioid addiction, Sisyphean student loan debt, and the biggest existential threat of them all: climate crisis, it's not surprising there's a parallel decline in mental health among those who will be most effected. Young people are seeking dissociation, even from pleasure. Each generation faces its own problems, with events like the Vietnam War and the HIV/AIDS crisis (and in a less direct way, on-going mass incarceration) effectively wiping out swaths of the population. The BCBS report refers to the effects of these events as "health shocks" — sharp declines in a generation's health that only course-correct once the roots of the problem are addressed, often by lawmakers.
Within 24 hours of Juice's death, headlines blared that he predicted his own death in his lyrics. But a different reading of "Legends" indicates an artist feeling the weight of death through the loss of his friends, but who still very much wanted to keep going. "They tell me I'ma be a legend, I don't want that title now / 'Cause all the legends seem to die out, what the fuck is this 'bout? / I'm tryna make it out, I'm tryna change the world."
Every generation of young people turns to the artists who represent them for guidance. But when those young artists are themselves vulnerable to both the problems their generation faces and also a new set of temptations and pitfalls to avoid within the pressures of fame and an exploitative industry, the results can be disastrous. In the wake of deaths like Juice WRLD's, there are inevitably calls for people to simply stop using drugs. While seeking professional help for mental health issues is certainly helpful and advised, the systemic problems leading to such personal despair are more powerful than any one individual.
In the meantime, while we wait (and lobby) for change, perhaps once again our artists will be the catalysts for a shift in thinking, or at the very least reflect if and when the pendulum swings back. 17-year-old Billie Eilish, who has spoken extensively of her late friend XXXTentacion's influence on her, has made an aversion to drug and alcohol use a key feature of her wildly popular brand. Speaking on the reason she wrote her hit "xanny," in which she decries the effects of the widely-prescribed drug, she simply said, "I don't want my friends to die anymore."