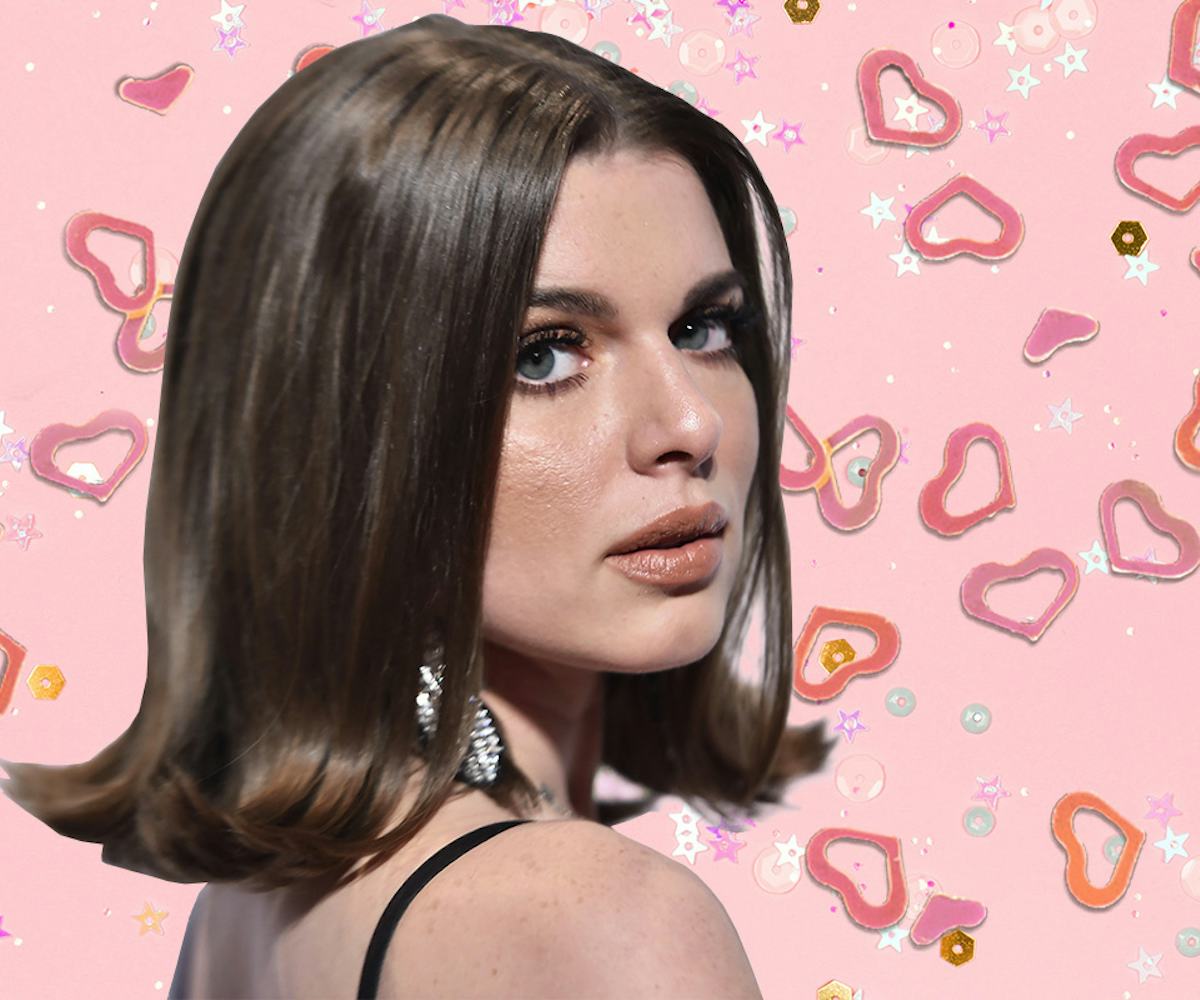 Photo by Getty Images
'Uncut Gems' Star Julia Fox Refuses To Be A One-Hit Wonder
The breakout star of 2019 isn't going anywhere
It's the morning after the 2019 Gotham Awards, and Julia Fox is in high spirits. "Last night was good," she says cooly, swirling a bite of room service French toast in whipped cream. For most actors, that's where the sentence would end, particularly if their film — in this case, Josh and Benny Safdie's Uncut Gems— went home empty-handed. But Fox is not your run-of-the-mill ingenue. "Marriage Story took home everything," she continues. "It is a good movie, so if it had been a shitty movie, I would be a little more pissed. I don't think we're going to talk about Marriage Story in 20 years the same way we talk about Uncut Gems but, you know, whatever."
Uncut Gems officially opens in theaters on Friday, but Twitter has been buzzing since its premiere at the 2019 Telluride Film Festival back in August. Among the reasons for the anticipation: the promise of a cameo by The Weeknd, a truly frightening Furby diamond chain, and the debut of a scene-stealing newcomer in the form of 27-year-old Fox. Fox's character, also named Julia, is the young jewelry entrepreneur and the street-smart mistress of Adam Sandler's hapless Howard. She inhabits the role easily — by her own admission, 2012 on-screen Julia is not all that unlike 2012 IRL Julia. "I had a fashion line with my best friend, and the same way that Julia is hustling to get the jewelry on celebrities, that was kind of what I was doing," she says. "It was a full 24/7 hustle, and it was fun, but I'm glad I'm not doing it anymore." The line was Franziska Fox, a New York-based womenswear label Fox founded alongside Briana Andalore circa 2013 — one of Fox's many iterations over the years. She's been a model, a painter, and a photographer, among other endeavors, and an overall downtown multi-hyphenate, who has cycled through the worlds of fashion, partying, and art, making plenty of friends along the way. "Fashion is just so intense," she continues. "It really has to be your passion, and it wasn't my passion."
Acting, she says, is a passion now. Fox originally received the Uncut Gems script almost five years ago, having known the Safdie brothers, both mainstays of the same downtown New York scene, even longer. "I think I met Josh when he was sitting at a cafe with Sebo [Sebastian Bear-McClard], his producer, and I had known Sebo because I met him at a club, so I introduced myself, and my friend was like, 'Oh, that's Josh Safdie, he makes movies. He's so incredible.'"
While the script changed over time ("Howard was the same and there was always an opal, but other than that all the characters are different"), Fox was always meant to play Julia, despite her lack of acting credits. "I had no idea if I was even going to be good," she says. "Like, what if I get to set, and I just can't act? Like, I just don't know how? There were times when I really was stressed out, because the Safdies really went out on a limb for me, and I was really scared about that."
Their bet paid off. Fox brings a "dynamite" ( Rolling Stone) and "sly" (Variety) performance to the character — and what's more, helped the film's costume department hone in on Julia's singular 2012 fashion style. "The costume designer had all these pictures of Kim Kardashian, and it was all just so tragic compared to what it is now — now she's a fashion icon," Fox says. "It was a lot of waist belts, big shoulders — just not good at all. It is maybe one of the worst times. It will be never be referenced the way the '90s or '60s or '20s are.
"Initially they wanted me to wear a little dress, and I was like, 'No, no, no. She needs pants for this scene.' And then obviously the pants were incredible. And the white top worked so well because under the black light it just illuminated her and made her look like this angelic thing. I think it originally was between a green or orange iridescent dress, and that just wouldn't have done anything."
Shooting the club scene, in which Fox holds court as The Weeknd, playing his 2012-self, performs, was a highlight for the actress. "I got to set at 5 a.m. that day, and that last scene was at two in the morning," she says. "But I think because I was so exhausted, I tapped into my energy reserve, and it made me kind of manic so I was able to turn it on and lose myself in the scene. That's probably the scene that I embodied the most because ...it really felt like it was happening."
It was also the scene in which she was able to most easily channel her former self. "My friend was one of the extras in the club, and while we were filming the scene where The Weeknd and Howard get into that fight and I'm screaming, he was sleeping upstairs and woke up because he thought it was really happening. He was like, 'My PTSD kicked in from all your club fights,'" she recalls. "It was really cool that day because all my friends and homies and even acquaintances were there, and it was kind of my moment. I felt like a princess or something."
But now that Fox has lived out her club fighting days twice, she's contemplating starting fresh — and even leaving New York. The day after our conversation, she'll fly out to Los Angeles for a "big" audition. "I hope I get it," she adds. "Now the pressure is on. I need to follow up this thing. I can't be a one-hit wonder — though, I don't think that is going to be the case. I really do love acting, and it does come very naturally to me. I think I'll be able to succeed." She recently signed a contract with talent agency WME and is contemplating a permanent move west.
"I've been in New York my whole life," she says. "It's changed so much; it's not the New York that I grew up with. All the landmarks of my childhood are gone. I do kind of feel like a bitter old-timer, like, 'These kids don't know what it was like.' So I'm a little disenchanted. And I love the West Coast. I love the landscapes and the terrain and the desert and all of that. The possibilities are endless. I'm really romanticizing it. New York will always have a place in my heart, but I think it's time for me to spread my wings and find inspiration elsewhere."
And there are certainly worse ways to close your New York chapter than by dramatizing your best nights and your worst fashion on film. "I embodied it, I immortalized it, and now we are going to conquer something else."
Uncut Gems is out in theatres now.