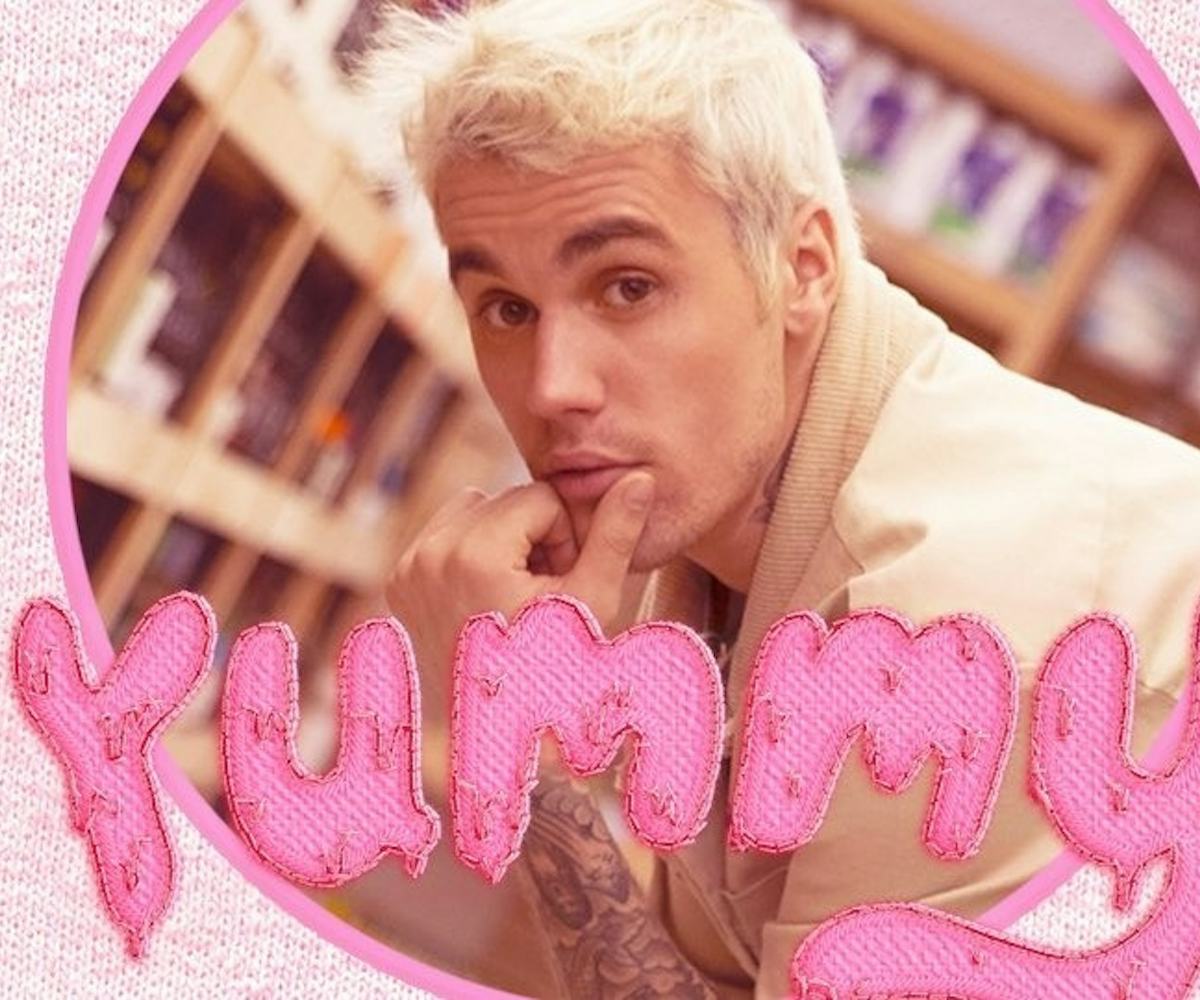 Courtesy of the artist
Justin Bieber's "Yummy" Is Here & It's... Fine
The pop singer's first solo single since 2015 is here
Well, the wait is finally over. Justin Bieber's "Yummy," his highly-anticipated first solo single since 2015's Purpose, has finally arrived. It's our first taste of Bieber's forthcoming and currently untitled fifth studio record, and if "Yummy"'s buoyant and bouncy production is any indication, the project is looking to be a joyful —if lackluster — one.
Whereas his tropical-tinged singles from Purposeseemed to stuff all sorts of sounds into its production — ticking clocks, and those later-ubiquitous dolphin-like vocals — "Yummy" in comparison is pretty straightforward pop. Co-produced by Poo Bear, Bieber's longtime collaborator, the song's most compelling moment is his delivery of the looping hook: "Yeah you got that yummy yum, that yummy yum, that yummy yummy," which imprints itself in your brain as smoothly and endlessly as that continuous swirl of ice cream being dispensed in the track's lyric video. He later calls his object of affection a "bonafide stallion," with the briefest of pauses in between the two words that also makes for a nice ear-prickling moment. But that's mostly all there is to it; Bieber's circling-around praise for his wife, over an enjoyable if fairly innocuous beat. It's just-fine fun, and though there's nothing to hate, you have to admit that the first listen was slightly disappointing, if only because that exhilarating stretch of straight bangers from Purpose has severely lifted the bar of what Bieber is capable of.
Coming off a nearly five-year stretch of only releasing collaborations and remixes, Bieber's next project was always going to be a highly-anticipated one, but with Purpose's victory-lap at the forefront of pop's collective consciousness the hope for its continuation feels even more keen. After essentially redeeming the pop star post- the lukewarm reception of 2013's Journals and a turbulent period of press, the 2015 record's stretchy and unreserved production, and incessant ear worm melodies calcified as a huge moment for him and for pop. Now, perhaps unfairly, it's just waiting to see if he can do it again.
Not all's lost yet; the music video for "Yummy" is coming Saturday at noon EST and based on the teasers it could be enough to change a few minds. Otherwise, there's the first installment of Bieber's new 10-part YouTube docuseries, Seasons, which is premiering Jan. 27, to look forward to, which hopefully will have more substance than the sugar-filled single.