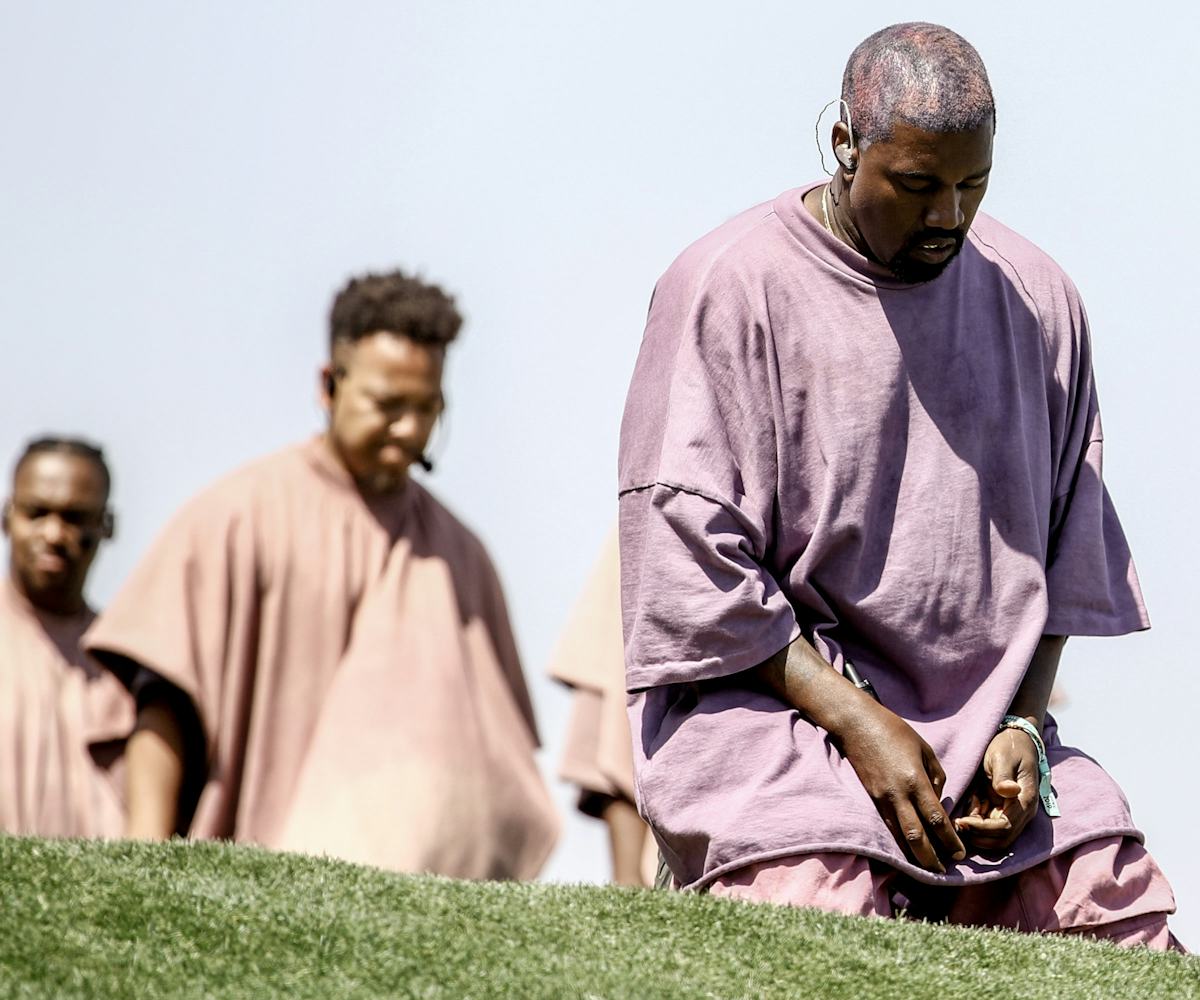 Photo by Rich Fury / Getty Images.
Why Kanye's Sunday Service Makes Black Folks Uncomfortable
Black people don't play about god
Many music fans were impressed with Kanye West's Sunday Service, which took place on the final day of Coachella and coincided with Easter. It was a star-studded affair that was part concert, part performance art, and part church. Teyana Taylor sang a rendition of Marvin Sapp's gospel classic "Never Would Have Made It." DMX gave a sermon. Chance the Rapper, who has always incorporated elements of his Christian faith in his music, took the stage to perform. And West performed some of his more uplifting hits, like "Jesus Walks." In addition to thousands of regular Coachella attendees, West's set brought out an audience that included celebrities like Donald Glover, Jaden Smith, 2 Chainz, and, of course, some of his Kardashian in-laws.
And yet, while Sunday Service may have been a highly clickable moment in pop culture, not everyone has received it with the same amount of admiration or inspiration. For many Black folks, in particular, the event was downright uncomfortable, for reasons that are personal, political, and, yes, spiritual.
In case you missed it, West's "Black card"—the allegorical quantifier of how down with Black culture one is—has been under review for quite some time. His wife, Kim Kardashian, and most of her sisters have been accused of appropriating Black culture for years. His close proximity, as a Black man, to a family that has exploited Black culture to build their own brands is definitely sus. But perhaps more than anything, it is West's open support of Donald Trump that has left many feeling as though he had officially betrayed his people. All this, combined with the optics of him putting on a show inspired by the traditions of the Black church for Coachella's overwhelmingly white audience prompted tweets like this one:
Also this, from Insecure writer-actress Natasha Rothwell:
And this co-sign from Lena Waithe:
West certainly didn't assuage those who may have questioned his intentions for Sunday Service when he set the prices for the merch he sold on site. A tent called "Church Clothes" offered sweatshirts for $225 that read "Holy Spirit" and $50 socks that say "Jesus Walks" and "Church Socks" on them. For those critical of West, this setup meant he was not only parading Black church practices around for white folks, but he was selling them as souvenirs.
Amongst my own friend group, I heard skeptical pushback about Sunday Service reminding them of a cult, with West as its leader. Another friend referenced West's bold proclamation that he is a god from the Yeezus era, and thought he was encouraging fans to worship him. An assertion like this is considered especially blasphemous under the banner of Christianity, which supports the notion of a single deity who knows better, does more, and is more capable than any mortal on earth—especially a mortal who doesn't support Black folks. Within this framework, it is particularly sinful to consider anything or anyone (including yourself) to be on the same level as the Most High.
Black people have a complicated, unique relationship with Christianity that intersects with our racial identity and political struggles. The Black church has been a sacred space where we could freely mourn our losses and celebrate our victories. It has been a community hub for organizing; a resource center for services and goods; and, for many, an early training program in the arts, thanks to gospel choirs, bands, dance troupes, and theatrical productions. As a pillar of the Black community, Christianity itself has roots in the zeitgeist of Black cultural expression. It birthed the crossover success of creatives like Tyler Perry and is the reason West himself could put a song called "Jesus Walks" on the Billboard Hot 100 chart. In this context, accusations of idolatry against West bear additional weight.
Ironically, there is actually a rich history of hip-hop artists making reference to themselves as gods; and we have not shunned them from our hearts, communities, or playlists. Rappers like Nas, Common, and Jay Z have all been influenced by the teachings of the Nation of Gods and Earths (also known as Five Percenters). It's a movement, founded in Harlem, that teaches that Black people are the founders of civilizations and that Black men, specifically, are gods. The nickname Hova is short for Jehovah, which means God. Furthermore, religion itself has never been separate from capitalism. A 2016 study estimated religion to be worth a whopping $1.2 trillion in profits in the U.S. economy—"more than Google and Apple combined." The cost of West's "church clothes," then, is merely a drop in this bucket.
Still, West has to lay in a bed he made for himself. In moments of empathy, I haven't ruled out the possibility that he is trying to create a spiritual sanctuary that helps him feel fulfilled. He has openly struggled with his mental health, and if his Sunday jam sessions have helped him, I get why he'd invite others in on that experience. But West is nothing if not self-indulgent, often unapologetically so. No matter what his intentions may be, he has to reckon with his public persona. Not everyone wants to follow him upon his Coachella mountaintop.