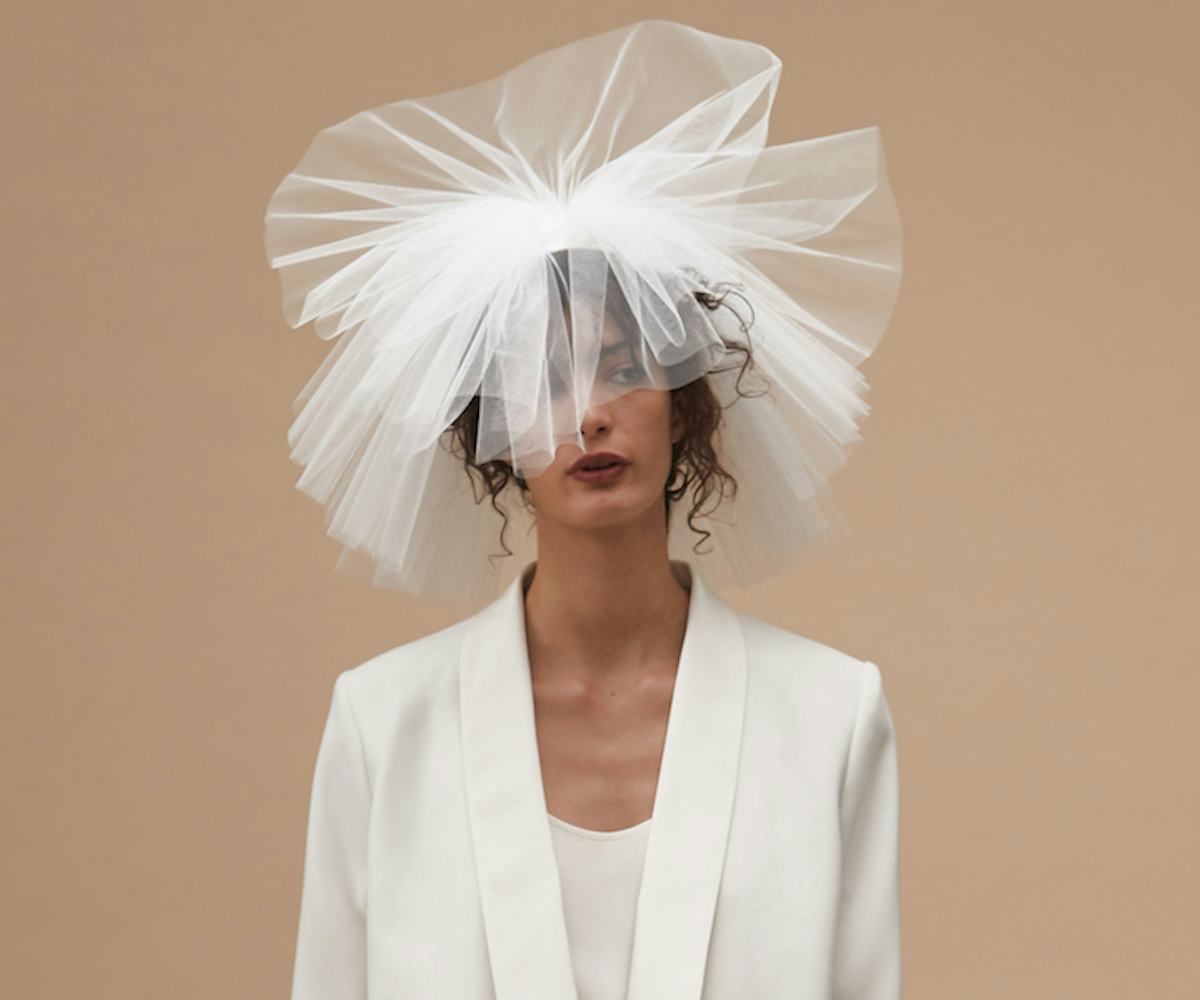 Photographs courtesy of Karen Walker.
Karen Walker Launched A Wedding Collection Made For The "Cool" Bride
It includes black diamond engagement rings and pantsuits
Karen Walker has just launched a bespoke collection of wedding-day outfits and rings, and it's just as whimsical and quirky as one would expect from the New Zealand-based designer, who is beloved everywhere for her out-there sunglasses.
"We're been asked by our customers so many times over the years for bridal options, and it just felt like the time was right," Walker tells NYLON. The result is 12 dresses—ranging from a short frock with oversized sleeves to a sheath with a delicate lace overlay and a tulle gown with a see-through skirt—that, while elegant, are just off-kilter enough for a bride who's not interested in a traditional look. "I felt that there was a nonchalance missing," Walker says. "Bridal options that weren't for a bride trapped at the top table behind a towering cake. I wanted options that had a realness to them and that combined chic with cool and added a sprinkling of tough in there for good measure."
Priced between $950 and $3,000, the collection also includes two stylish three-piece suits. "Our bride's definitely not the meringue bride or the princess. She's the cool bride, and she deserves to have a couple of suit options," Walker says. "It was all about having our chic-meets-eccentric handwriting coming through in this collection as it does in everything we touch." And it does come through—in the form of tulle that peeks out from underneath the collar and cuffs, cutesy bows that adorn the backs, and Swiss dot pattern on the tulle.
For those living outside of Auckland, New Zealand—where a bridal boutique will open inside Karen Walker's flagship store—the garments will be made to measure with a consult via email with Walker herself. "We'll work with the client's tailor to ensure we're getting the right measurement—it's amazing what can be achieved with email and FaceTime!" she says. "We've worked in this way with our celebrity clientele—most recently Michelle Obama, for whom we made a denim suit—and we get the perfect look and the perfect fit every time." For those who prefer to tailor the dress in-person locally, the looks will be available to order in a general size via the website.
Karen Walker's 14-style ring collection is likewise untraditional, featuring black and champagne diamonds, rose gold bands, and designs that are meant to be stacked into suites. "We always like to play with slight subversions of tradition and classics, and with the ring collection we worked in this way by exaggerating classical styles and bringing in unusual stones—for instance, rutilated quartz or peach moonstone—in place of the traditional diamond," she says.
See the collection, below, and order here (the lead time is six to eight weeks).