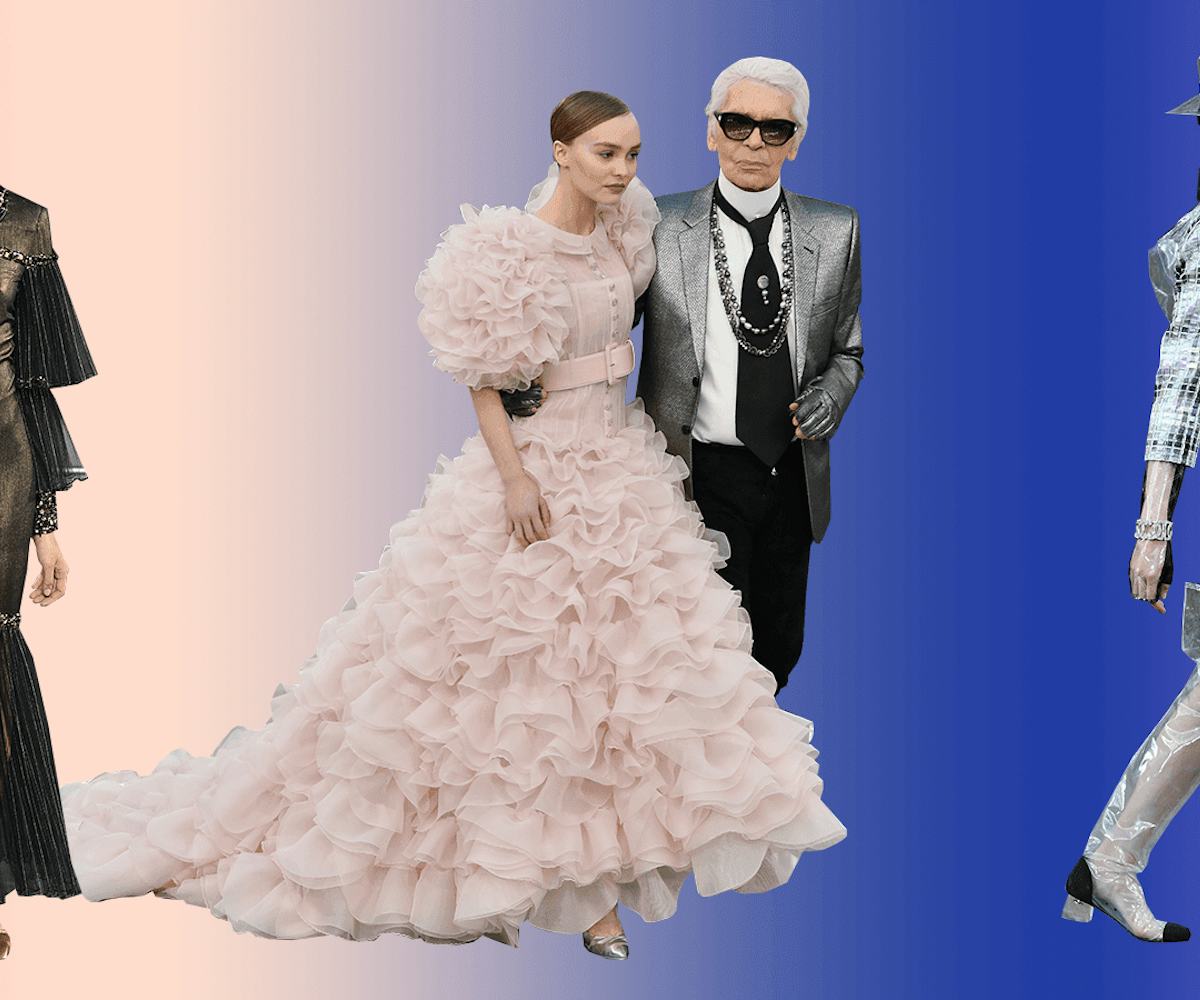 Our Favorite Karl Lagerfeld-Designed Looks Of All Time
From last year's Fendi to '90s Chanel, we reflect on the late designer's most iconic creations
Following the news of Karl Lagerfeld's passing earlier today, he's leaving behind quite a legacy.
Lagerfeld had been in the fashion game longer than most. In his over 50 years as creative director of Fendi, and over 30 as the same for Chanel, he's dreamed up some truly iconic looks. He's also been involved with a number of collaborations during his career, from a recent capsule collection with Kaia Gerber to his iconic 2004 collab with H&M, which ultimately began the whole high street-meets-high fashion craze. And, of course, we can't forget his own eponymous label.
Below, check out 10 of the most iconic runway moments to come from Lagerfeld during his years in fashion, from the ones that have become a part of fashion history to more recent designs that will, without a doubt, become the same.
Chanel Spring 2019
We love this simple (yet perfect) logoed look worn by Kaia Gerber at Chanel's Spring 2019 collection showing, which was staged on a fake beach.
Chanel Metiers D'Art 2018/2019
Lagerfeld's Egyptian-inspired Metiers D'Art collection, showcased late last year (and later worn by the iconic Janelle Monáe), was absolutely breathtaking.
Fendi Fall 2018
While Lagerfeld's Fall 2018 collection for Fendi featured an undeniable nod to the '40s, we appreciated the subtle hint of athleisure sprinkled throughout, such as these cult-favorite Fendi sweatshirts.
Chanel Spring 2018
We will never forget all of the PVC magic that was Lagerfeld's Spring 2018 collection for Chanel.
Chanel Spring 2017 Haute Couture
The world collectively swooned when then-newcomer Lily-Rose Depp closed out the Chanel Haute Couture Spring 2017 show in this pink, ruffled masterpiece.
Chanel Spring 2013
The hula-hoop bag of Spring 2013 was arguably one of the most thought-provoking bags to come from Lagerfeld. How does one wear it? Why is it so big? According to a video interview with Telegraph, Lagerfeld wanted you to stick it in the sand and hang things from it. Okay then.
Fendi Fall 2007
Remember that time Lagerfeld showcased these futuristic pieces on the Great Wall of China?
Chanel Spring 1996
The iconic Chanel bikinis of Spring 1996, recently brought back into the spotlight via Kim Kardashian, will forever define what an "itsy bitsy, teeny weeny" bikini truly is.
Karl Lagerfeld Spring 1993
During a time we were dreaming about blow-up furniture, Lagerfeld put out the blow-up skirt for his eponymous label. Click here and skip to :38 to get a better view of the bubble skirt in action.
Chanel Spring 1993
Do you, too, dream of seeing everything in Chanel-o-vision? Look no further than these shades from Lagerfeld's Spring 1993 collection.