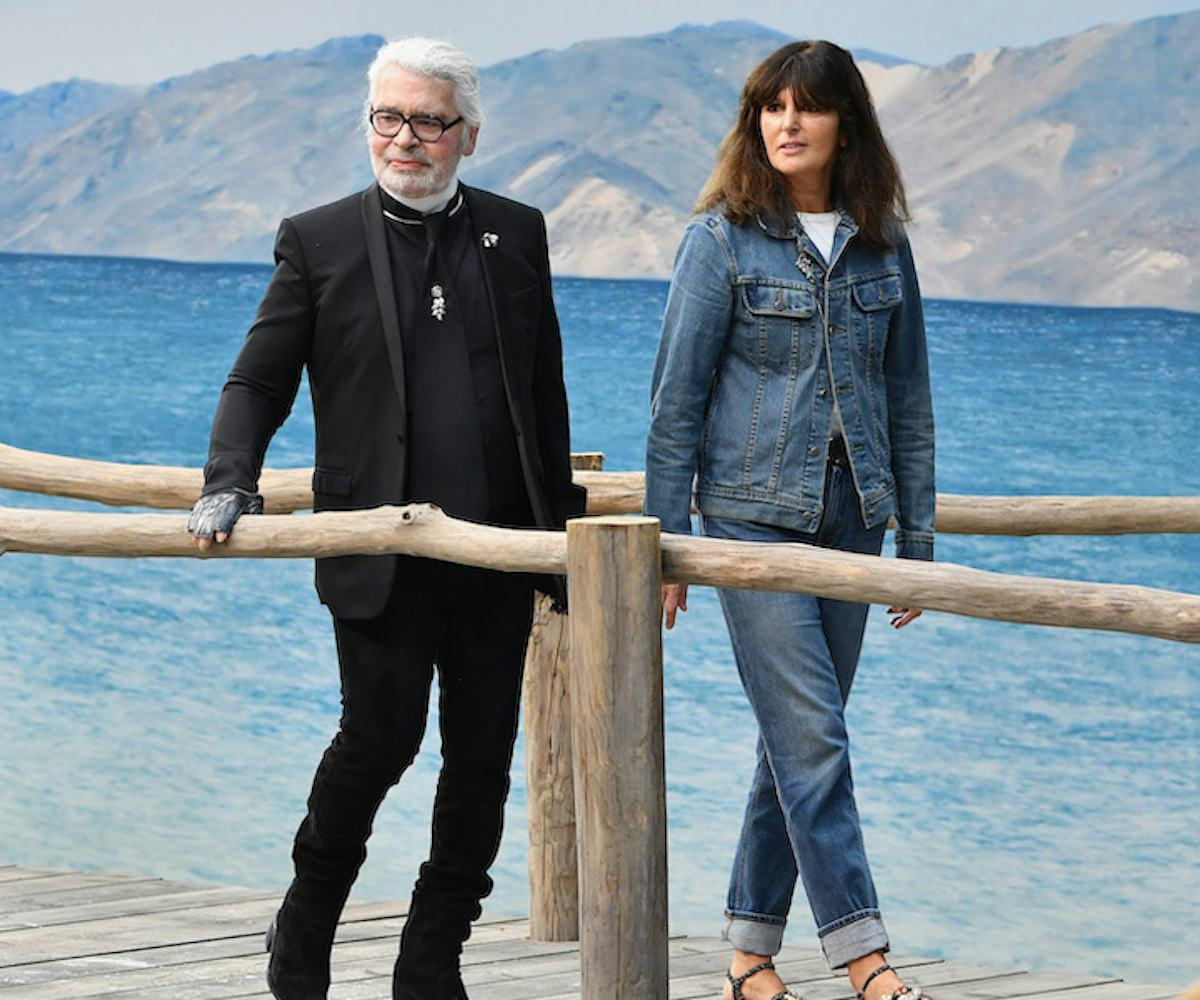 Photo by Pascal Le Segretain/Getty Images
Everything We Know About Karl Lagerfeld's Successors
Who is Virginie Viard, and who will take over at Fendi?
Earlier this morning, the news of Karl Lagerfeld's passing in Paris devastated the fashion world. He was 85. Within moments of the announcement, longtime followers of his work wondered what would become of Chanel, the French fashion house he revived after taking over in 1983, and Fendi, the Italian fashion house he had been serving as creative director of since 1965.
Pretty soon after the news broke, Chanel announced that Virginie Viard, who is the fashion creation studio director of Chanel, will be taking over for Lagerfeld, "entrusted by Alain Wetheimer [CEO of Chanel] with the creative work for the collections, so that the legacy of Gabrielle Chanel and Karl Lagerfeld can live on." It is Viard who took the final bow at last month's Spring 2019 Haute Couture runway show in Paris when Lagerfeld was too sick to be present.
Viard has long been considered Lagerfeld's right-hand woman, working alongside the prolific designer for over 30 years at Chanel, as well as a few years during Lagerfeld's stint at Chloé. In an interview with Crash from 2011, Viard is described as someone who brings life to Lagerfeld's sketches and "direction to his teeming creativity."
As for Fendi, no successor has been named as of yet—as the brand is to be presenting Lagerfeld's last collection at Milan Fashion Week later this week. According to an official statement from the Italian fashion house, the brand is currently mourning the loss of its creative director of over 50 years. "From his first days at Fendi, the longest relationship in the fashion world between a designer and a fashion house, Karl Lagerfeld was a true visionary in everything he conjured up, from the advertising campaigns to his ready-to-wear and Couture Collections," reads the statement. "He dared to push boundaries, a modern day genius with a unique sense of aesthetic fearlessness, who influence a whole generation of designers."
As for the Karl Lagerfeld label, which has been owned by U.K-based private equity firm Apax Partners since 2006 but still creative directed by Lagerfeld, the brand also released a statement. While it has not named a new creative director or mentioned any future replacement, it did say that Lagerfeld's vision and design aesthetic, interpreted though aspirational and accessible collections, will remain at the core of the brand.
While, undoubtedly, Viard and other successors of Lagerfeld will have massive, fashionable shoes to fill, we'll be looking forward to seeing how they reinterpret Lagerfeld's iconic sense of design, and the beautiful tributes to him that will come out of it.