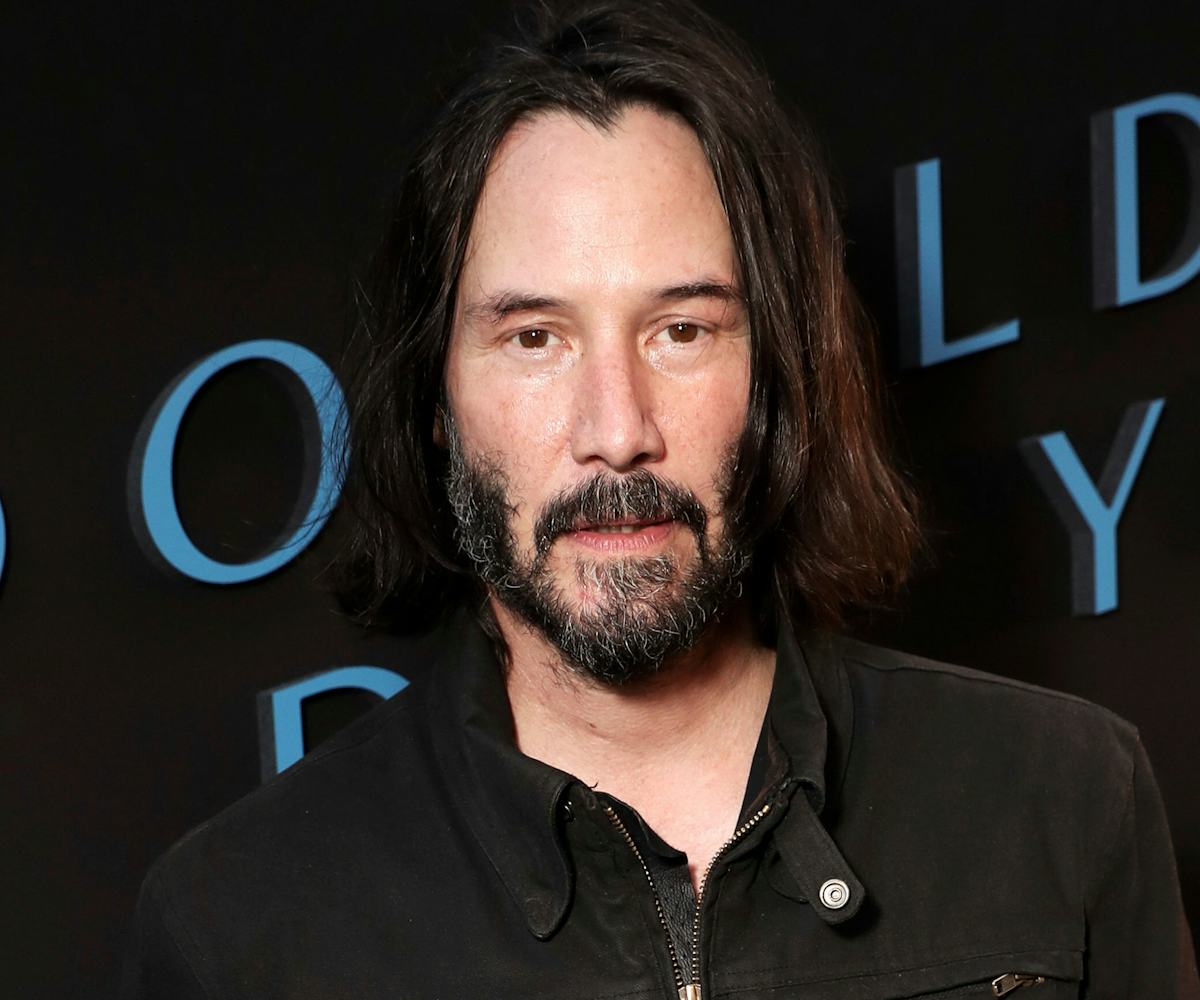 Photo via Todd Williamson/JanuaryImages/Shutterstock
Keanu Reeves' Transformation For 'Bill & Ted Face The Music' Is Terrifying
Keanu Reeves was spotted on the set of the movie Bill & Ted Face The Music, and the photos are... terrifying. This is not the Reeves we all know and adore.
The forthcoming film is the third in the franchise, with Bill & Ted's Excellent Adventure and Bill & Ted's Bogus Journey releasing in 1989 and 1991, respectively. For the latest, Reeves revives his role as Ted, a time-traveling high school slacker now grappling with life as a middle-aged man. A visitor from the future prompts him and Bill (Alex Winter) to create a rock and roll song that will save the world and "bring harmony to the universe." That doesn't mean he does it in style, as we've learned from these photos.
Page Six released photos of the unconventional look, which includes a makeshift crop top and a haircut I truly hope is fake. He's wearing a white Under Armour long-sleeve shirt with the fabric pulled up and bunched under his chest, leaving his stomach bare but his arms completely covered. It's truly making me wonder if this is a character fashion statement or a result of the hot weather.
The hair is what really gets to me, though. Instead of Reeve's normal glossy long locks and perfectly styled beard, he looks completely unkempt. He has a huge fluffy beard and mustache and an overgrown mohawk. The side of his head looks like it's been shaved in real life, so please join me in mourning his perfect long hair.
Though this is an out-of-character look for Reeves himself, it's exactly what I would expect from his Bill & Ted character. Of course, Ted grew up to have terrible fashion taste.
Bill & Ted Face the Music comes out in 2020.