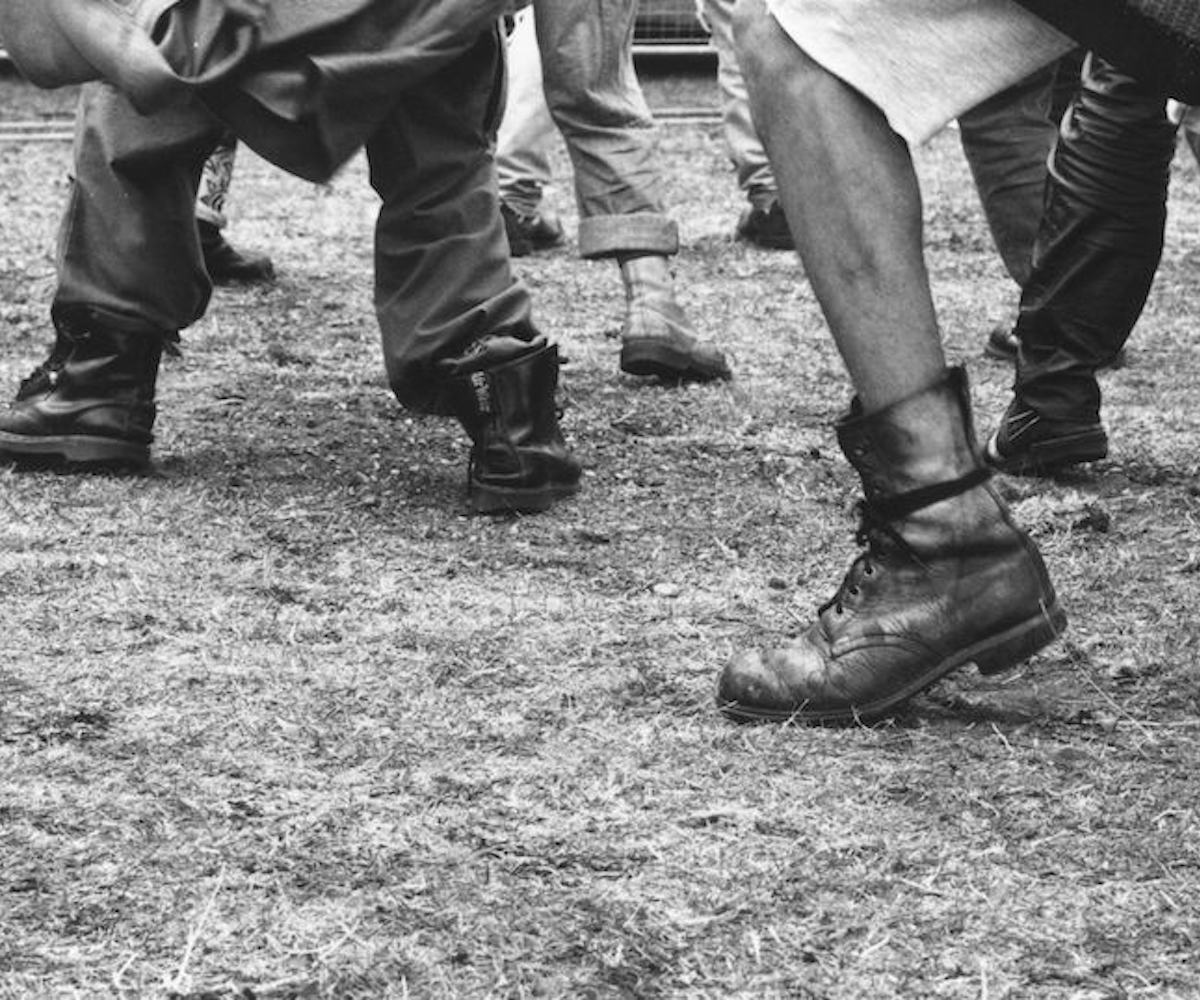 Photo by Steve Eason/Hulton Archive/Getty Images
Excuse Me, But Dr. Martens Can't Make A Comeback
They never went anywhere to begin with, so the Hadid-Jenners certainly can't "bring them back"
It's recently come to my attention that Kendall Jenner and Gigi Hadid might be "bringing back" a certain favorite shoe brand of '90s grunge kids: Dr. Martens. And I'm here to tell you: UmMmMm, no.
In recent weeks, Jenner has been spotted wearing a pair of the brand's mary-jane shoes, while Hadid was seen in a combat boot style. Good for them. Those are great shoes. But, I can assure you, wearing them does not mean Jenner and Hadid have sparked some sort of fashion revolution. This isn't a fanny pack moment. And why is that? Because Dr. Martens shoes never went anywhere to begin with.
Everyone knows (and, as stated already), Docs were a popular shoe of choice amongst '90s punk and grunge kids (pictured above at London's Deptford Free Festival in 1993), but Docs were actually born in the '60s, made popular by British youth culture and the anti-establishment underground in the '70s, made their way to America in the '80s, and, um, are still quite popular today. (You can read the full history of the brand, here.) And they've been seen on many a runway in recent years, from VFILES to Prabal Gurung to Pyer Moss, in addition to the streets of New York, London, Milan, and Paris Fashion Weeks.
As someone who has worn a pair of Docs multiple days of the week for, like, as long as I can remember (my favorites include the classic 1460 boot and, more recently, this chunky take on a Chelsea boot that I am literally wearing at this very moment), they have been my go-to shoes for just about any situation. I pair them with my mom jeans, and I pair them with my frilly dresses. I wear them to the office, and I wear them to fancy after-work events. They've become my footwear of choice for even the slightest chance of inclement weather. And they're also the ideal shoe for a rowdy house show, because they are the only things that will protect my precious toes from being stomped on in a mosh pit. (Do you think Hadid or Jenner have ever found themselves in a house show mosh pit? Probably not.)
I'll give it to the Hadid-Jenner crew for, at times, giving us some truly extraordinary fashion moments captured by the paps, such as the time Miss Hadid sported those convertible pants-shorts. But, I'm sorry, Docs never died, and rich kid models of today certainly aren't responsible for "bringing them back."
Okay, end rant!