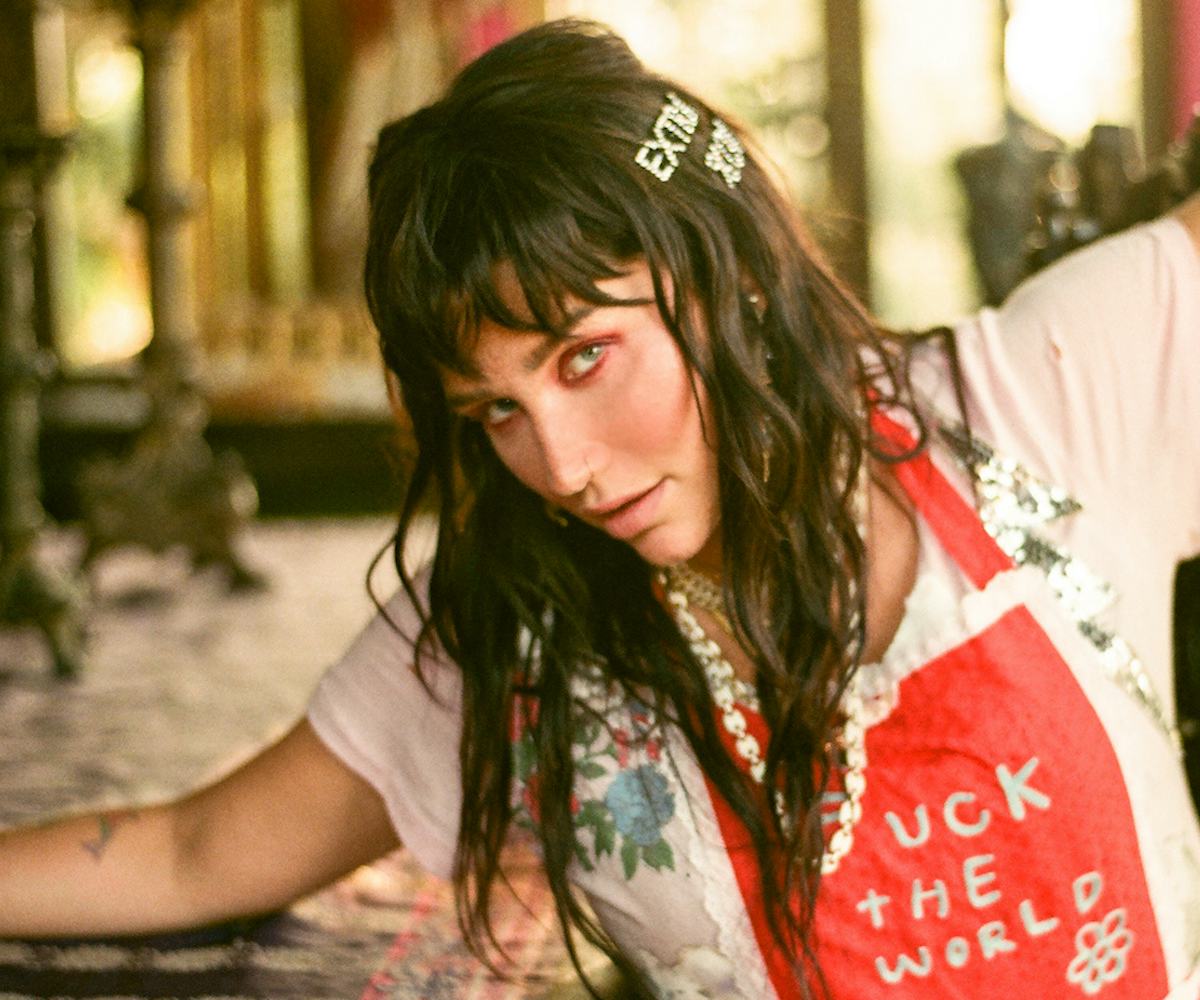 Photo by Dana Trippe
Kesha On 'High Road,' Therapy, And Transitioning Into A New Era
"I can have gone through really terrible things, and also really want to enjoy my life today."
Last year, after bringing the crowd to its feet for the New Orleans bounce-inflected "Raising Hell" with Big Freedia at the 2019 AMAs, Kesha stunned her fan base by breaking into "Tik Tok," the over-the-top 2009 party anthem that introduced us to the swaggering artist who brushed her teeth with whiskey and compared herself to Diddy. Closing out the decade with one of the best-loved songs felt like both closure and rebirth — for Kesha herself and for pop at large.
"I really wanted to pay homage to the song and how far my fans and I have come, " she told NYLON of that performance. "We've made it this far. My fans have really stood by me through so much. It also helped me segue Rainbow into my new record… I had a lot of really serious things to address on Rainbow, but I really wanted for people to feel that I've worked on myself. I will continue to do so. I'm definitely far from perfect, but I'm just ready to live now and here, and not in the tragedies that my past has a reputation for."
Kesha's fourth studio album, High Road, released on January 31, opens with her belting a soaring ode to the freedom of nightlife on "Tonight." As she sings, "Tonight's the best night of our lives/ Can you feel it? I can feel it," it's like being reunited with an old friend — one whose arrival used to signify the beginning of a party, and whose departure meant the end of it. When 2009-era Kesha (née Ke$ha) unforgettably declared, "The party don't start till I walk in," it not only felt obvious but made the pop girls and gays singing along feel the exact same way. The woman who gave us condoms as hair accessories and more glitter than could be good for the environment would always be welcome at any rager.
That alone is enough reason for fans and critics alike to embrace High Road as something of a return to the pop music which Kesha is known for. Kesha noted that "Tonight" was inspired by Queen, a band also known for its dynamic ability to straddle genres and capture emotions of cinematic proportions. "I've always been a massive Queen fan," she said. "I was on this whole Queen kick [while recording the album], because when you hear those harmonies panning and being used as an instrument, the mixing process, it's just really inspiring. There are just so many ways to make music interesting, or slightly off but in an intentional way."
This much is clear on High Road, which features radio-made bangers like "My Own Dance," "Resentment" (featuring Sturgill Simpson, Brian Wilson, and Wrabel), and "Raising Hell," but also has the kooky, quirky tracks die-hard Kesha fans (Animals) love her for. "Potato Song (Cuz I Want To)" finds the Tennessee native fantasizing about leaving it all behind, to live with her loved ones on a private island and grow potatoes. "I'll be out riding my pony till it's time for candy/ And I'll be naked 'cause I want to," she croons. "Birthday Suit" is a sing-songy rap track that sounds like a schoolyard rhyming game found its way to the club before dipping home to play Mario Kart. "Kinky," which cheekily features "Ke$ha," opens with the singer calling her mom to fangirl over the Spice Girls, who are recording in the studio next to her. On High Road, Kesha is not only in her element but sounds truly happy for the first time in a long while.
Kesha says she decided on the title High Road to give herself "permission to go back into the realm of making songs that are just a little ridiculous... [Queen] played seriously the most beautiful, tragic songs of all time, but then, they also wrote just some kind of crazy ones that are about random, weird things that make you really happy. And I took that as an inspiration. I wanted to write about the weird shit that made me happy."
As previously reported, the singer has been embroiled in a high-profile legal battle with her former producer and his record label over years of alleged emotional and sexual abuse, in addition to being stuck in a contract that kept her from making artistic choices freely. The aftermath — the twists and turns of healing, and the vulnerability of finding your way through life with a fresh perspective — was clearly documented on Rainbow, particularly the towering single "Praying" that rattled the 2018 Grammys.
"I think it was a huge milestone in my career. And it was something I dreamt of doing since I was a little kid. Obviously, it was very different from how I'd dreamt of doing it. I never imagined singing a song like 'Praying,' but that's what needed to happen at that moment in my life, and I'm happy I lived through it," she said of the experience. "Every time I think about it, I get goosebumps. I have goosebumps right now. It's an experience that is so surreal. I'd be curious if other people feel the same, but for me at least, it still feels surreal, it still feels like, Thank God I survived and I didn't just black out." The ensuing tour similarly saw the typical Kesha ethos of good time lovin' capped with messages about self-care and recovery.
Despite the outsized notoriety of her particular case, Kesha's wrestling with mental health in the limelight is far from an anomaly in pop. Taylor Swift, Ariana Grande, Lana Del Rey, Billie Eilish, Selena Gomez, and Demi Lovato, to name a few, have all recently dedicated records with varying explicitness to their experiences overcoming the mountain of challenges that young women face (that the aforementioned women are all white or white-passing reveals a lot about who gets to make pop music about traumatic experiences, too). What makes Kesha, and in particular High Road, stand out is the continuing dedication to embracing revelry as a ritual in service of healing.
"I really wanted this album to be reclaiming my voice in fun music, because I like to have fun," Kesha said. "And given everything I've gone through in my entire life, I kind of felt like it was taking away, maybe, from my past experiences, but I had to come to terms with the fact that I can be a dichotomy of all things. I can have gone through really terrible things, and also really want to enjoy my life today. So, it's just me reclaiming my joy as a woman who's really fought for it, and earned the rights to my voice and my happiness. And just not being held in the corner as a victim for the rest of my life. That's not the narrative I want to leave as my legacy."
"I can have gone through really terrible things, and also really want to enjoy my life today."
That said, on High Road, Kesha doesn't shy away from tough topics, penning some of her most nakedly personal lyrics to date on "Father Daughter Dance," in which she laments not having a solid relationship with her dad. That song, she says, is the one she's most proud of on the record, though she struggles to give herself even that accolade.
"I think that I actually really am proud of myself, which is hard for me to say because I feel like I sound like a douchebag, but that's also part of the self-care — being nice to yourself," she explained. "That was an incredibly difficult song to make, and I hope that it resonates with people, and can help someone out there not feel alone."
Despite Rainbow's overt themes of reckoning with trauma, High Road is, in some ways, a record about therapy in its many forms. Fans will likely see themselves in songs about dating, spending time with family, dancing all night, and tripping in nature with friends as much as in songs with direct call-outs to traditional psychotherapy. Taking care of herself and her mental and spiritual health is clearly Kesha's top priority at the moment. "I do have a therapist, and I do chanting and meditation," she said. "Some days I forget to, so I'm not like some perfect person about it, but I just notice when I get really stressed out, and I try to just make time to be a person. And honestly, I just think it's really important to surround yourself with people who love you for you. I have a couple amazing friends; I could probably count them all on one hand." She also credits "making honest music" as "one of the most life-saving things I've ever done in my life... Even if the music never goes into the world, just getting it out of your system is almost like exorcising a demon."
What may have sounded debaucherous, nearly unhinged in 2009 has been remixed with an underlying sense of hope and resilience. The new era of Kesha looks less like reckless, wild abandonment and more like carefree joie de vivre with crystalline layers of tenderness underneath. Kesha noted that tracks like "Raising Hell" and "My Own Dance" are in recognition of that duality, that you can "have a massive heart and be so kind, and you can also like to raise hell. I think that's an important thing," she said, "because a lot of my fans probably fall into that category. If you're my fan, you probably like to dance and raise a little bit of hell, but you can still be an incredibly empathetic, kind person."
Stream High Road below: