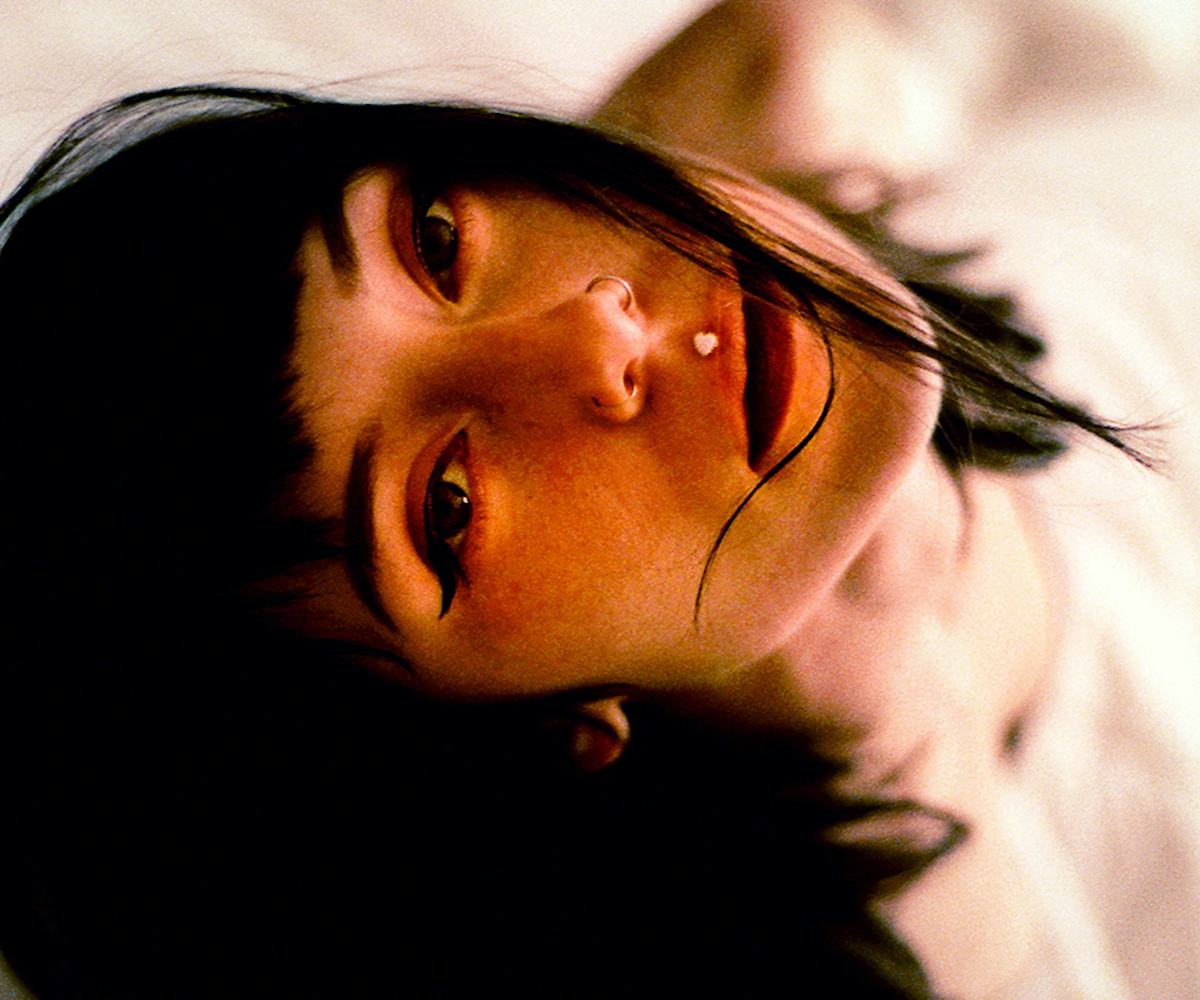 Photo Courtesy of Kitty
Kitty Is That Renaissance Bitch
She's been iconic forever, and her newest work proves just that
Kitty wasn't necessarily expecting her sophomore album Rose Gold to climb to number nine on the Billboard dance/electronic charts this April, but it's a milestone she calls a "cool surprise." The mainstream recognition was a long time coming for the singer, rapper and producer, who recorded her first "big-girl record" Miami Garden Club in 2017. Her debut album had been crowdfunded via Kickstarter, and with the help of her dedicated following, Kitty had exceeded her initial $25,000 goal.
"I had never made an album before, and I was like, 'I wanna do all this stuff by myself,' and at that time I thought that I knew how to do all that stuff, and I did not," she says. "It was just kind of like a comedy of errors." Despite the setbacks, Miami Garden Club was a gorgeously slick, chillwave-tinged synthpop album full of deceptively bouncy songs that simmered with unease below the surface, perhaps betraying, in part, the stress of recording it.
"By the end of it, so many things had gone wrong that I was like, 'You know what, I need to just finish this shit and put it out,'" says Kitty. "I cared about it a lot, you know. I loved all the songs, but once I was done with it, I was like, 'I'm sick of this shit.'"
Yet, even when she's discussing her more frustrating setbacks, Kitty doesn't come across as jaded or bitter. The self-described "renaissance bitch" is a real 21st-century artist, combining a pop sensibility and distinctly DIY ethos and continually asserting herself as more than just a one-off wunderkind.
She first struck viral fame in 2012 as a precocious teenager who posted webcam videos of herself rapping while working at Claire's in Daytona Beach, amassed thousands of followers and was alternately celebrated and skewered for her stylistic choices in select internet circles when she still rapped in earnest under the name Kitty Pryde (she's since dropped the surname to avoid being harassed by Marvel fans).
"It used to be scary, a little bit, to make the songs that I was making, and calling it 'hip-hop' and being like, 'I'm a rapper,' because people would get so fucking mad at me no matter what," she says. "There were a lot of people constantly calling me fake, like, 'This is not your thing,' and I was like, 'I feel like I'm not doing anything fake. I'm only talking about, like, Justin Bieber.'"
In 2012, Jezebel even had an entire tag devoted to clowning on "the little white girl ruining hip-hop," (Kitty's own words, from 2012's "smiledog.jpg") Even her own tongue-in-cheek self-deprecation, like calling herself "white and fucking terrible" on "DEAD ISLAND" in 2013, didn't do much to deter critics and internet trolls. "That's kind of why I stepped back from it in the first place, because I just was sick of pissing people off," she says.
The court of public opinion is notoriously merciless against young female artists in particular, and social media has made it easier to scrutinize every little misstep, something Kitty understands all too well. "I think about it more when I see other people, like Billie Eilish," she says. "When I see her, I hope that every single thought that she has is monitored, because it's so easy to be a dumb idiot when you're 16 and 17. I don't know, that shit stresses me out."
As somebody whose work has been almost inextricably intertwined with her digital presence since she was a teenager, Kitty recognizes the double-edged sword of social media. "Over the past year or two, I've sort of grown into myself, I think, and just become a little bit more confident and not as concerned, but it used to plague me," she says. "Like, I would have nightmares about Twitter. I would say things, shit would get taken out of context, and I would be like, 'What the hell is going on?' That gave me so much anxiety."
"Now I deal with it way better by just logging off. I get really mad about stuff people say sometimes, but I always try to type something, save it as a draft, and then go take a walk or do something else for a little bit, and then I'm like, 'Do I still really want to get in this fight on the internet?' The answer is always no. I feel like that's the only way, because I've got to log on every day. I have to post about what I'm doing, or else I don't make any money. So it is the most necessary evil."
Social media has also been a means of connecting with her cult following through the years, who, in addition to crowdfunding her first album and regularly flooding her Tumblr inbox and donning merch emblazoned with "STAN KITTY" in black metal font, also contributed Photobooth footage to her 2014 music video for "BRB."
Earlier this year, after taking a break from solo music to work on other projects, Kitty released Rose Gold, which was heavily inspired by her time working in a Baltimore strip club. The lyrics of the celestial opening song, "Counting All The Starfish," call back to Miami Garden Club's title track, incorporating the hook of the former, "Take all of my pearls away." The album is a referential treasure trove for longtime fans, but the real standout is an updated version of "Florida," a fan favorite Kitty re-recorded and included as the closing track for Rose Gold.
"Florida," which was first released in 2013, was originally produced by Kitty's ex-boyfriend, Nick Koenig (aka Hot Sugar.) "When we broke up, I gave him the rights to it because I never wanted to hear from him again, so I was like, 'You know what, you produced this, you can just have it, have all of it, do whatever you wanna do, dude,'" she says. "I've always wanted to go back and do something with it, but I worried a lot about getting sued by him, or just having to deal with him at all, so I was like, 'This isn't worth it.'"
Last winter, Kitty was one of the multiple women to come forward and publicly accuse Koenig of abuse. "There were events that occurred that kind of made it impossible for him to sue me, so I was like, 'You know what, fuck it, let's make a new beat and I can finally release this song that is very personal to me,' so that was kind of the best part." After weathering the ensuing media storm, releasing an updated version of one of her most beloved early songs as the album's denouement is true poetic justice, especially with a viciously amended final verse: "Do you really think it's fair that I've had to be scared of you?/ Are you embarrassed? I guess you better go and hide in Paris."
The lo-fi production dampening Rose Gold's more shiny pop elements is just one instance of the sonic contradictions Kitty has played with throughout her genre-spanning career, though such choices may be perennially misunderstood by some critics. A recent album review from a prominent indie music publication, for instance, implied that the production was amateurish, the kind of backhanded jab Kitty has come to expect and remains largely unfazed by. "I guess they shitted on my production and said it doesn't bang, or something like that, and I was like, 'Dude, it's run through cassettes,'" she says. "But when I was making songs that were produced in a big-ass fancy studio in L.A., everyone was like, 'This is too produced.' Like, there is no pleasing anyone."
Before Rose Gold, Kitty and her husband, Sam Ray (aka Ricky Eat Acid), had been focused on touring after releasing an EP last fall as The Pom-Poms, one of the pair's several collaborative projects. Her interest in releasing new solo material was revitalized, in part, by recording the EP, a process which took just two weeks and provided the opportunity to tour as a duo last winter. "That was part of the reason why I started wanting to release Rose Gold," she says. "I was like, 'Let's just make really big EDM songs that are fun, so we can go on tour and do fun stuff, and music will be fun again,' and it worked," she says.
With delightfully absurd lyrics, like "I got your girl in pilates with me, I'm stretching her out/ So she'll know how to flex on you when you let her down," chanted cheerleader-style over crunchy EDM, the Pom-Poms' music was a tonal departure that was heavy on the bravado; "This song is about how much money I have," Kitty tells the crowd before launching into "Mary Poppins" when the pair opened for Sir Babygirl at Elsewhere in Brooklyn this June, before adding, "It's not real, but it's a fun thought."
With her most recent album, we certainly hear a more tempered, grounded Kitty, though that's not to say Rose Gold is lackluster in any sense. The album crackles with slow-burning energy at every turn. Even against the rest of Kitty's discography, which tends to err on the side of confessional, Rose Gold feels uniquely personal. It features collaborations with her husband (credited alternately as American Pleasure Club, Ricky Eat Acid, and Sam Ray) as well as album artwork by Josephine Ray, Kitty's mother-in-law. "There's no single part of the entire thing that wasn't made by me or my husband or his mom, and I like that." The physical copy of Rose Gold includes a handwritten dedication "for everyone who still believes," Kitty's family, husband, lawyer, doctor, "the man who tries to ruin everything … enjoy the last song," her Overwatch team, and, finally, "I think, for me."