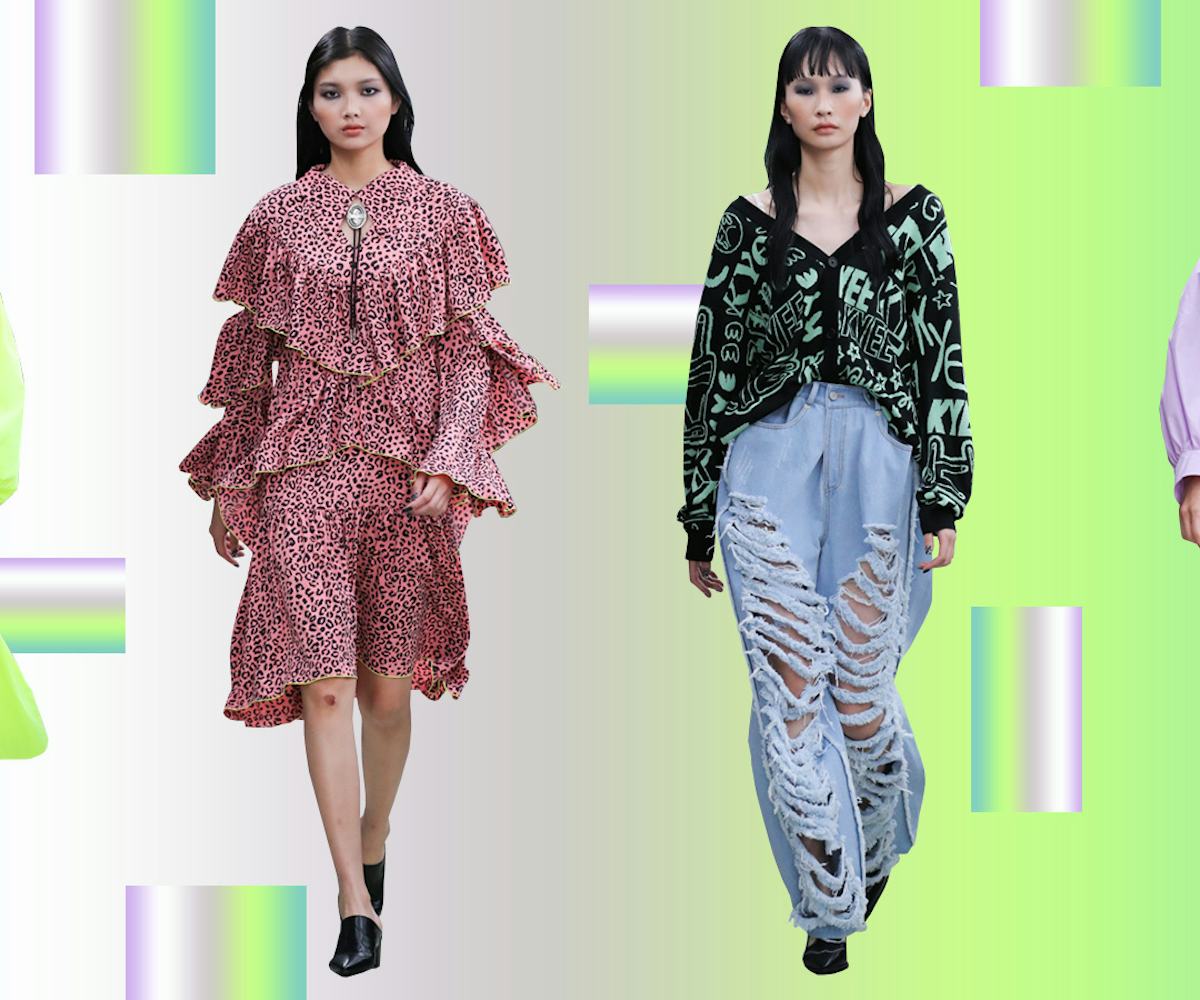 Photos Courtesy of KYE
Meet KYE, The Streetwear Brand Seen On Rihanna, Bella Hadid, And Hailey Bieber
Kylie Jenner is also a fan of the in-your-face Korean label
The shows may have ended last weekend, but we're still thinking about a certain label's very Wild West-meets-warehouse rave of a collection from Seoul Fashion Week Spring/Summer 2020. We're talking about high-end streetwear brand KYE — one of the biggest names found on this season's schedule — whose collection was arguably the strongest in the head-turning, neons-heavy, add-to-cart department.
Launched in 2011 by Korean-American designer Kathleen Hanhee Kye, KYE pieces have since been seen on New York Fashion Week runways and — multiple times — on Rihanna, Kylie Jenner, Bella Hadid, Hailey Bieber, and many very famous more. (We especially live for the bold blue faux fur coat previously rocked by bad gal RiRi and a rhinestone choker worn by Kylie.) Take note that K-Pop stylish superstars, including G-Dragon, Hyoyeon from Girls' Generation, and CL, have supported the brand from the get-go, sitting front-row at KYE's pre-going-global SFW shows. Speaking of global, you don't have to be in Seoul to try on some KYE — stockists include Opening Ceremony and VFILES, whose ever-hip racks make an apt home for seriously shredded pieces, a kaleidoscope of colors/eye-bugging animal prints, and fantastically zany layering, all standouts seen in the most recent collection, titled "Untamable."
We chatted with Kathleen, the LVMH Prize nominee and Asia's Woolmark Prize 2017 winner, after her K-Pop stars-packed electric show at SFW about everything from the recent all-things-yeehaw obsession to why Seoul is the fashion place to be. Read the interview, below, and get ready to want to start wearing bedazzled cowboy boots.
What is your earliest memory of being into fashion? How did you launch KYE?
Ever since I was a little girl, I just loved clothes and dressing myself. Whenever my mom dressed me, I always changed the looks before we left the house. After my M.A. studies at the Central St. Martins in London, I was uncertain what my next move would be; although I always wanted to have my own brand, I wasn't sure when. At my graduation show during London Fashion Week, this prominent store in Tokyo ordered the collection. I didn't even have a brand name or line sheet at that time, but that was the moment I decided to launch KYE, and that was the very first store that we stocked in.
Which celebrity fan were you most surprised to see wearing KYE? Who's been the most supportive?
There are so many to just pick one. But Rihanna is one of my favorite artists, and she wore KYE a couple of times, and that was great. Many of the K-Pop stars are huge supporters of KYE too. I have to say Hyoyeon from Girls' Generation and Irene Kim would be the biggest supporters though.
How would you describe your Spring/Summer 2020 collection? What's your favorite look from the collection?
"Untamable" is KYE's interpretation of a Western contemporary look with many vibrant colors and patterns. My personal favorite look would be the animal print puff sleeve shirt with frayed denim.
You've incorporated Western elements in your designs in past collections. Lately, there's been so many articles about the yeehaw takeover, and how especially musicians across all genres are obsessed with Western-inspired aesthetics and attitude. Why do you think people are identifying with all things yeehaw these days? Why are you drawn to Western style?
The Western style has always been one of my personal favorite fashion themes for a very long time, which is why I'm so glad to see this is coming as the major thing in cultural movement. I always loved the carefree and rebellious attitude and the aesthetic part of the whole culture. It has been around for a long time but hasn't been very popular in the Asian market. I think because of the music and popular culture, it's finally coming around.
Your SS20 show's awesome soundtrack included Nancy Sinatra's "These Boots Are Made for Walkin'" and hip-hop, and so many musicians (Rihanna, Kehlani, Ellie Goulding, etc) have worn your clothes. Does music and/or musicians inspire your designs? And how do you put your show soundtracks together?
Music is quite important to KYE. Because of our pop style, musicians tend to wear a lot of KYE especially. So the inspiration goes both ways I guess. We always work very hard on the runway music. We collaborated with The Misshapes, Primary and Somdef in the past.
What made you return to Seoul after graduating? How do you feel about Seoul's creative scene?
The main reason why I came back to Seoul is because my parents were living here, and I wanted to be close to my family. But also, Asia was becoming a strong market, and I wanted to be a part of it. I knew Seoul was about to be something — not just with fashion but with music, movies, and other cultural stuff. And the world today is so ubiquitous that I felt like it didn't really matter where I was. I could stay in one place and be international.
What do you do when you're feeling uninspired?
I usually get inspired by people. I meet a lot of people who I think have great tastes — artists, musicians, influencers. I go to their studios and offices and just talk a lot until I find some inspiration.
How do you want people to feel when wearing KYE?
I want to make clothes that you can't really find somewhere else and to make people special — to feel like you own something that's designed just for you.
For those unaware, how would you describe Seoul Fashion Week?
Seoul Fashion Week is quite crazy! It's not just about shows and business, but people just love to be photographed and to express themselves hanging out at the venue. It is almost like a festival — it's very vibrant, and it is great to see how people really enjoy fashion. And not just for "the scene."
What will define KYE in the upcoming years?
KYE is getting a bit mature, as a brand and with our style. We hope to continue producing good collections and collaborations so we have a great archive. Eyeye, the diffusion line of KYE, is and will be another focus of the company.