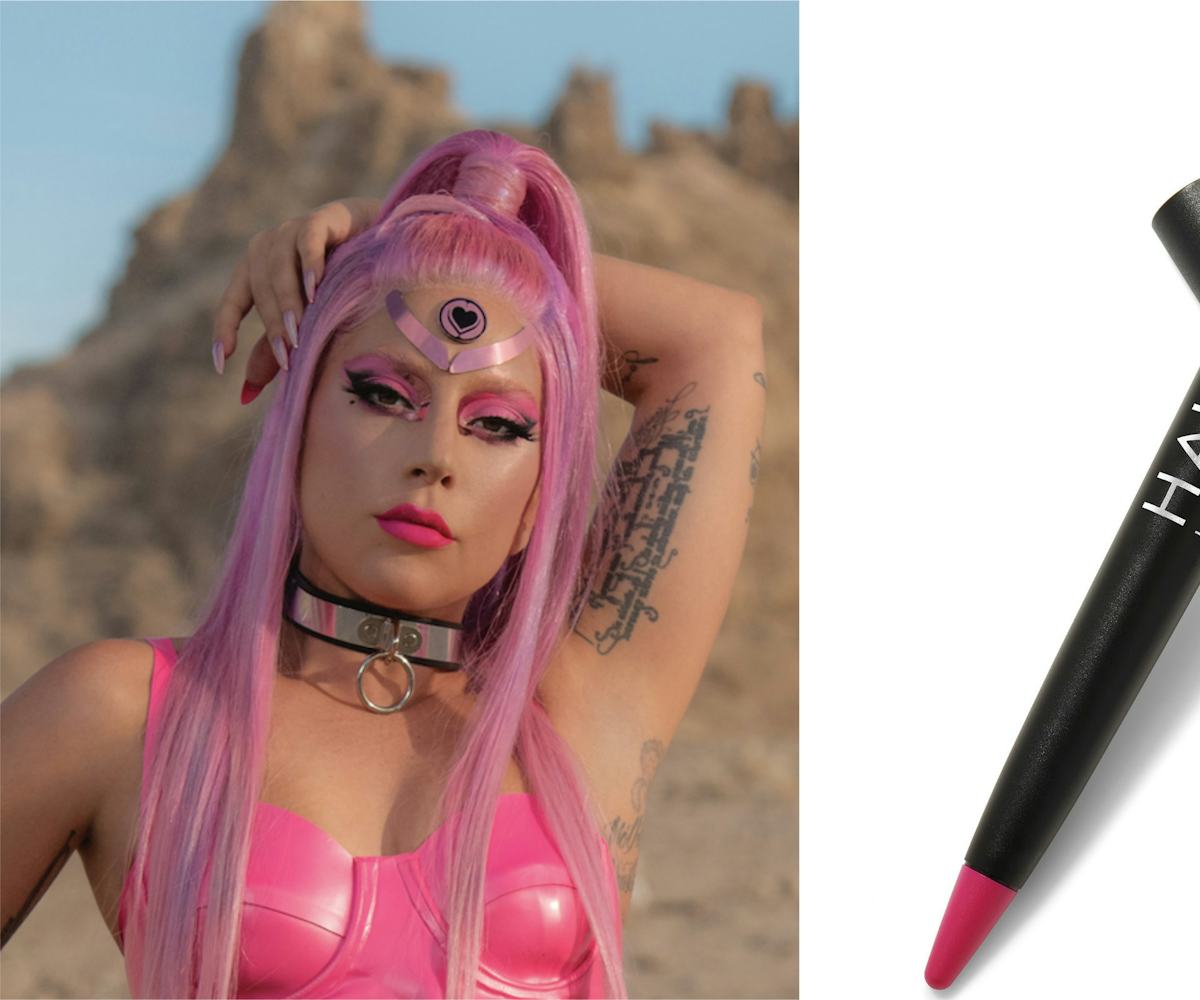 Lady Gaga Portrait by Mason Poole
The $18 Product Behind Lady Gaga's Perfect Pink Lips In New "Stupid Love" Video
Her makeup artist breaks down the whole look — and it's all under $20
After four years, some time in Hollywood, and an Oscar win, Lady Gaga returns to music with "Stupid Love," the first single off of her forthcoming #LG6 album, alongside some very on-brand new visuals. The video, filled with dance numbers and strong Coachella-on-Mars vibes, is the first to be released since the launch of Gaga's makeup line Haus Labs — so naturally, the beauty looks are worth freaking out over on their own.
The multi-hyphenate enlisted longtime makeup artist and Haus Labs Global Artistry Director Sarah Tanno for the video. "An important question I always ask Gaga is, 'How do you want to feel?'" Tanno said of the inspiration in a press release. "She wanted to feel strong. She wanted to exude a 'Kindness Punk,' someone who fights for kindness and leads with love." Tanno then landed on a look that Gaga "could put on to empower self-love, self-acceptance, and kindness to both herself and others, which is also the ethos of Haus Laboratories."
To accomplish this, the beauty look was anchored in monochromatic pink — from the singer's long wig styled in a half-up, half-down wrapped ponytail to her claw nails and bold pigment on her lips and lids. "For this new era, It was so important for me to create something strong and impactful for her iconography," she shared. "I wanted color to be at the forefront of all the glam."
According to Tanno, Haus Labs Le Monster Matte Lip Crayon in Hot Rod ($18) was used to achieve the bright pop of pink on her mouth. "It is full-coverage color; one swipe goes on super smooth, and then dries down to a budge-proof matte finish," she shared. For the singer's dynamic wing, Tanno used the Haus Labs Liquid Eye-Lie-Ner in Punk ($20) to get the ideal sharpness and definition: "It's a flexible felt tip that I used to draw and create all the artistry looks for Gaga and her dancers." And as for the the "Kindness Armor" Gaga wears on her forehead in the video, Tanno created that too, with the help of Phyllis Cohen of Face Lace.
Speaking with Harper's Bazaar, Tanno explained that this addition to the look was just another example of how she and Gaga work to push the boundaries of art and beauty with every project. "In the Born This Way era she had these cheek prosthetics — so I thought, what is the new special thing that I can make for her? This armor naturally will come in different shades of metallic pink," Tanno said. "Once we start something we kind of stay there and build off it." Prepare to see more Kindness Armor — and this fantastical, intergalactic new world — as more of #LG6 lands.
In the meantime, check out (and shop) the two key beauty products from Lady Gaga's "Stupid Love" video, below.
Haus Laboratories Le Monster Matte Lip Crayon 
Haus Laboratories, Le Monster Matte Lip Crayon in Hot Rod,$18, available at Amazon.com.
Haus Laboratories Liquid Eye-Lie-Ner
Haus Laboratories, Liquid Eye-Lie-Ner in Punk, $20, available at Amazon.com.
NYLON uses affiliate links and may earn a commission if you purchase something through those links, but every product chosen is selected independently.