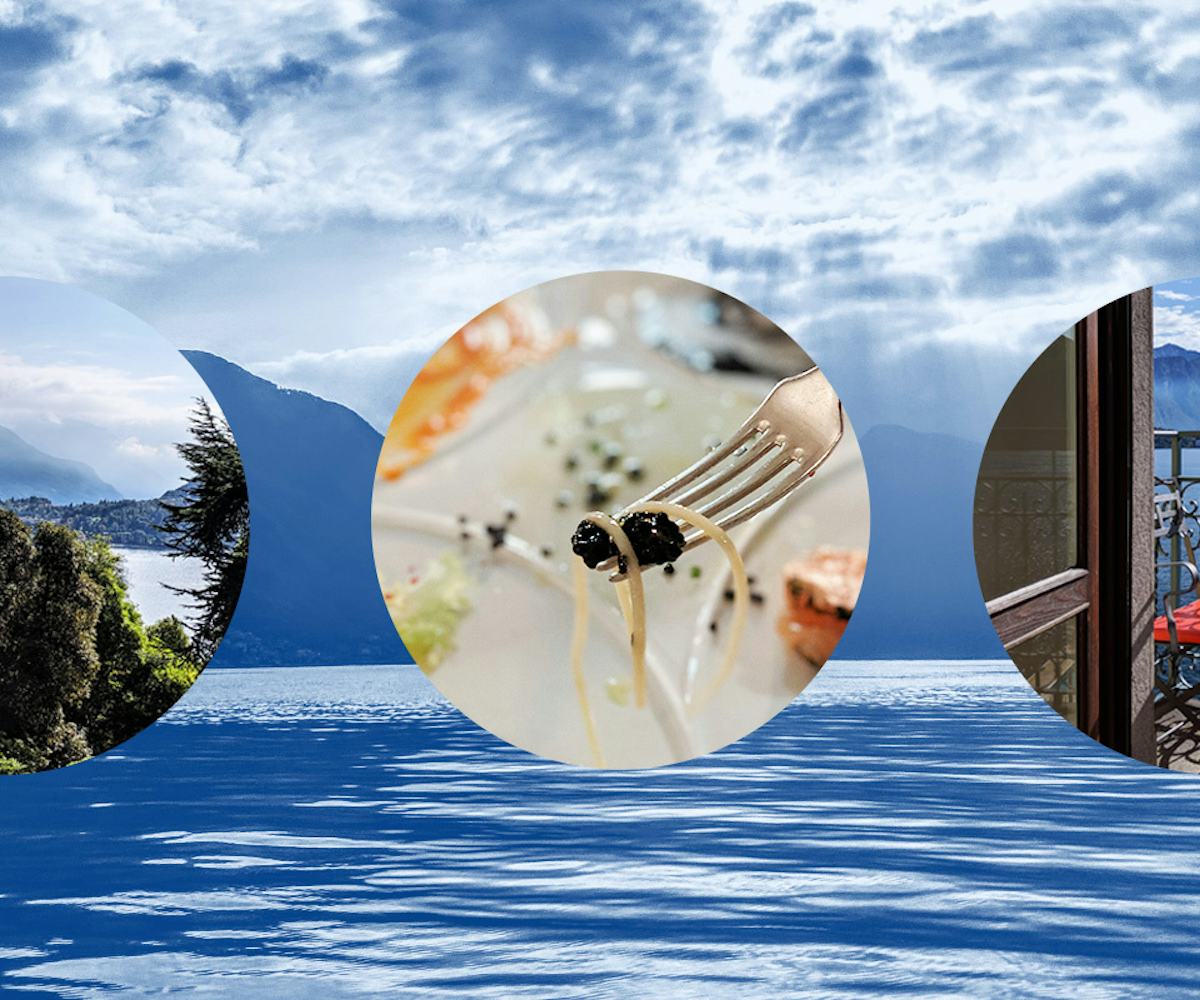 Photos by Kristin Iversen
You Should Always Travel During The Off-Season
Go to Lake Como in the fall… and spring… okay, and summer too
"If it were summer," Carlo, my motorboat's captain, told me, as we whipped through the pristine blue waters of Italy's Lake Como, "this area would be full of swimmers. It would be hard not to hit them!"
As it was, the Y-shaped lake in northern Italy was emptied of swimmers, certainly, but also, it was not even populated by that many boats, allowing me to feel like we—me, Carlo, and also my boyfriend—had it almost to ourselves on the mid-October day that we explored its perimeter, venturing from our starting point at the Grand Hotel Tremezzo, past the famed "pearl of the Lake," the village of Bellaggio, and down along its shoreline, marveling at the glorious villas, and at the way the silvery light made it seem like we were slicing through a lake made of mercury, rather than water.
There are plenty of reasons why it's a good idea to travel to popular places during their off-peak times (prices, for one very significant reason), but still, it wasn't until I went to Lake Como as it began winding down its season (virtually all commercial enterprises shut down during the winter) that I truly understood the allure, and the very specific pleasure of feeling like you have a place all to yourself—which is pretty much the height of luxury.
It didn't hurt that we were staying at the Grand Hotel Tremezzo, a Wes Anderson-esque palazzo situated right on the lake, which is pretty much the height of luxury no matter what your definition of luxury might be. For example: If you think luxury is, say, a self-serve candy buffet in the lobby, then, yes, you're in luck. Or, if you think luxury is a floating pool set into the picturesque lake? Check that off your list, too. Or maybe you think luxury is a spa with several different saunas, an infinity pool, and an array of Santa Maria Novella products? Then, guess what, yup, you're all set. Or maybe luxury is getting DVDs for Fellini's Amarcord and the George Clooney-starring Up in the Air and watching them in bed while wearing plush hotel bathrobes and eating handfuls of licorice from said candy bar while sipping on prosecco? Then, yes, you'll find that too, and also, we could be really good friends, maybe.
Beyond that, though, what felt best about this trip was that the relative emptiness added to the vacation's dreamlike quality. Even as we made our way through the labyrinthine paths at the wondrous botanic gardens of Villa Carlotta, there were still places we could duck into and feel all alone. Whether winding our way up through ancient olive groves or wandering through the centuries-old villa, admiring the statues and frescos within, there was an enviable stillness, a reminder that part of the desire to travel comes from our need to escape—not just from our point of origin, but from the chaos of everyday life.
Because life is chaotic—there's always too much to do, too many people to see, too much noise, too many unwanted surprises, too many things to navigate and negotiate. It's hard to slow down. But visiting Lake Como at a time when it was preparing to hibernate allowed me to breathe more slowly too, to remember to savor the stillness and to seek it out, to taste things more carefully, to sit with my words before speaking, to absorb the meaning behind what was being said to me, to be careful, to be complete.
This… might seem a lot to take away from a few days during the quiet season at a resort town in the northern reaches of Italy. And maybe it is! Still, though, if you do want to get away from it all, and have always wanted to go to Lake Como, may I gently suggest doing so during a time of year before or after everyone else has descended, when you can feel like all that you see is yours—oh, and when it costs about a quarter of what it does during any other time of the year.
Where to Go
Definitely visit the absolute marvel that is Villa Carlotta, where the plants come from all over the world (redwoods next to cacti next to Asian palms? Okay!), and where the views of the lake are unparalleled. Also, consider doing a day trip into Switzerland, and specifically Saint Moritz, where you can go hiking and feel excited about getting two (2) stamps on your passport during just one trip!
Where to Eat
Since we didn't have a car while there, we did most of our eating within the hotel, and were especially taken with the veal Milanese and charcuterie at the wine bar L'Escale. But do make sure to make reservations for dinner at La Terrazza Gualtiero Marchesi, which is one of just a few restaurants serving food in the style of the late culinary master. Of special note are the saffron risotto with gold leaf; the "Drippings di Pesce," which is a seafood dish that also serves as an aesthetic homage to Jackson Pollock; and the perfectly al dente spaghetti with caviar, about which I'll be dreaming forever.
Where to Stay
We stayed at the Grand Hotel Tremezzo and could not have loved it more, from the gorgeous rooms outfitted in the silks for which Como is internationally known, to the many pools, to the beautifully appointed exercise facilities and T spa, wherein the facials are among the best I've ever had.