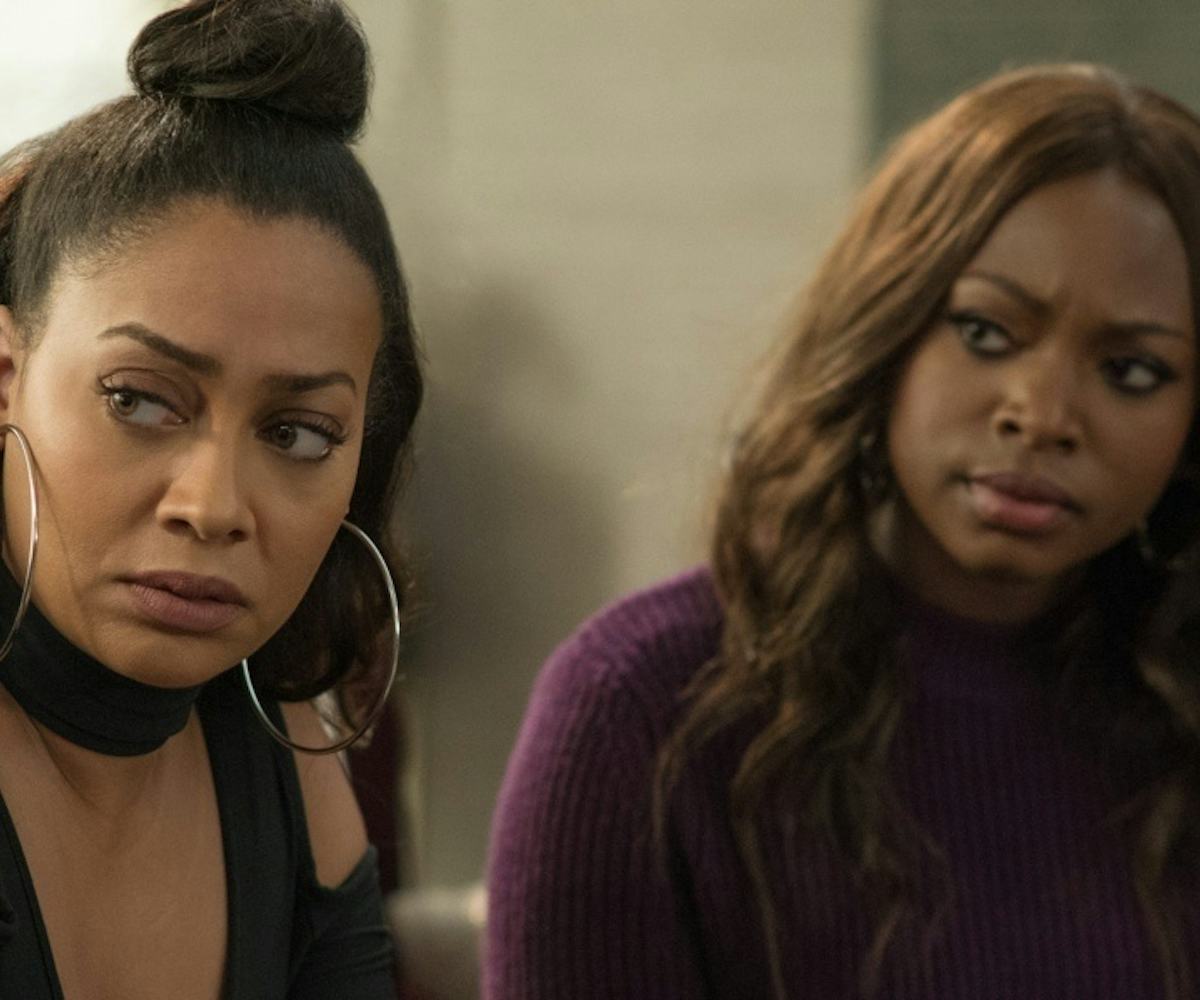 Photo courtesy of Starz.
La La Anthony And Naturi Naughton Reflect On The 'Power' Of Women
And the legacy of the Starz drama
For some, a television series about a Black nightclub owner who is also New York City's biggest drug kingpin, created by a rapper who built his career on tales of selling drugs and being shot multiple times, felt a little too on the nose to be taken seriously. But, Power, which debuted in 2014 with 50 Cent executive producing and acting in the show, had an undeniably addictive quality that quickly made it one of the Starz network's highest-rated programs.
In some ways, Power has filled in the gap for gritty, urban, street drama that HBO's The Wire left when it went off the air. It mastered on-screen diversity way before the Oscars were deemed "so white," and its racial diversity is complemented by its dynamic female characters.
Tasha St. Patrick (Naturi Naughton) is the wife and longtime partner of the show's main character, Ghost (Omari Hardwick). Just as willing to hold on tightly to their family's power as her husband is, Tasha isn't afraid to get her hands dirty. She managed the pain of infidelity, betrayal, and loss through a series of strategic moves that have helped propel the story forward throughout the show's six seasons. LaKeisha (La La Anthony) is her best friend, who wants the lifestyle Tasha has but realizes she's cut from a different cloth.
Over the course of the show, Naughton and Anthony have put on gripping performances, navigating scenes filled with meaningful violence and nudity. Naughton has won several NAACP Image Awards for her role. They represent two of the most fascinating women of color on a major cable network. As the sixth and final season of Power begins, I spoke with Naughton and Anthony about the show's legacy, their own evolutions, and what it has taught all of us about women and power.
On making it through six seasons of a show everyone else underestimated:
Anthony: "It's an amazing feeling. It's something that we are all very proud of. But at the same time, it is the final season, and we are emotional. It's our life. It's just a show to people, but it's something that we put our blood, sweat, and tears into. We spent endless hours and time away from our families, and it's a lot riding on it. People are really excited for this final season, and I don't think we'll disappoint."
Naughton: "It's pretty powerful and humbling. It's a little bittersweet to end an era. It's almost like when you graduate from high school or college, and you're all looking at each other like, 'We made it! We did it!' It's a huge accomplishment. Six seasons of fans that continue to support us. Six seasons of characters that will be written in history. Especially in the culture that we live in, we will always be a part of the conversation, and that's an honor. As an actor, I got to play this female character who is strong. She's sexy, she's a boss, she's ride-or-die. [I got] a chance to be an actor who grows. I get a chance to be complex. I'm not a one-dimensional wife who is just a pretty girl on screen. She's smart, she's driven, she's a mother, she's focused, she's unapologetic about who she is. That's something that I'm proud of."
On women having power:
Anthony: "Power gives women confidence. It makes you feel bold and strong [like you're] owning your life and decisions. That's a beautiful place to be. I think power also allows us to be less judgmental in a sense. Because we always say what we would or wouldn't do until we're in certain situations. You might say, "She should leave Ghost." Until you're in it, and then you have a better understanding of why people make certain decisions. [In terms of the show], it's great for women to see these powerful women who are standing up for themselves, and making really major decisions and owning them. I think that is inspirational for women who are watching."
Naughton: "We have a Black female showrunner, Courtney Kemp. When I was reading the script, that was always attractive to me. I knew 50 Cent, but to see this strong Black woman creating strong Black female characters that are layered and multi-dimensional is something that you don't see every day, especially in the world of television. It's happening more now, but it wasn't happening when we first started. People said Power is breaking the mold. There were shows that they were trying to make like ours, or do what we did. But you really can't do that because Power is so original. The truth is that the women of the show are just as important to the story. You don't just see the female characters being the trophy wives, or keychains, or accessories. We're not tools, we're part of the whole story."
The thing they've learned the most from their roles on the show:
Anthony: "You can be loyal to a fault. Not that I didn't know that in my real life, but watching it play out with [LaKeisha's] friendship with Tasha, she was loyal to a fault. She finally realized that she was more loyal to this person than they would ever be to her. Loyalty is always what people look for it in someone else, but then it gets to that point where you can be loyal to a fault, and I think that's what happens to LaKeisha."
Naughton: "I have learned to pace myself. I've learned that this is so much harder than it looks. I've only done TV shows that didn't last. I've done movies, like Notorious and Fame, but doing a television show that goes the distance is exhausting. It is hard work. It is commitment. Being a mother now, and having a baby while shooting, I was like, Whew, Lord I'm tired, and I'm still tired. [laughs] I learned that you still need to make time for yourself. The show is important, but if you're not able to make time for yourself, none of this matters. The show will go on without me. This is an amazing blessing, and it's great, but if I don't take care of Naturi, it's nothing."
On those sex scenes:
Naughton: "Although it's sexualized, and we have a lot of sex and nudity, people think that we are objectified and over-sexual. But women are making choices to have sex. Women are making a choice to have an affair. It's not like we're being raped or taken advantage of. White women on Game of Thrones are naked every five seconds. But it's so different when they do it. It's so "artistic." But when your Black behind is up there, it's, 'Oh she's being a hoe.' No, I'm telling a story, and I'm telling the truth. Real husbands and wives have sex. For real, affairs happen, and when they do, people get naked. We're not on ABC. We're on Starz for a reason. The way that this story needs to be told in a gritty environment like New York City, we can't water it down or sugarcoat it."