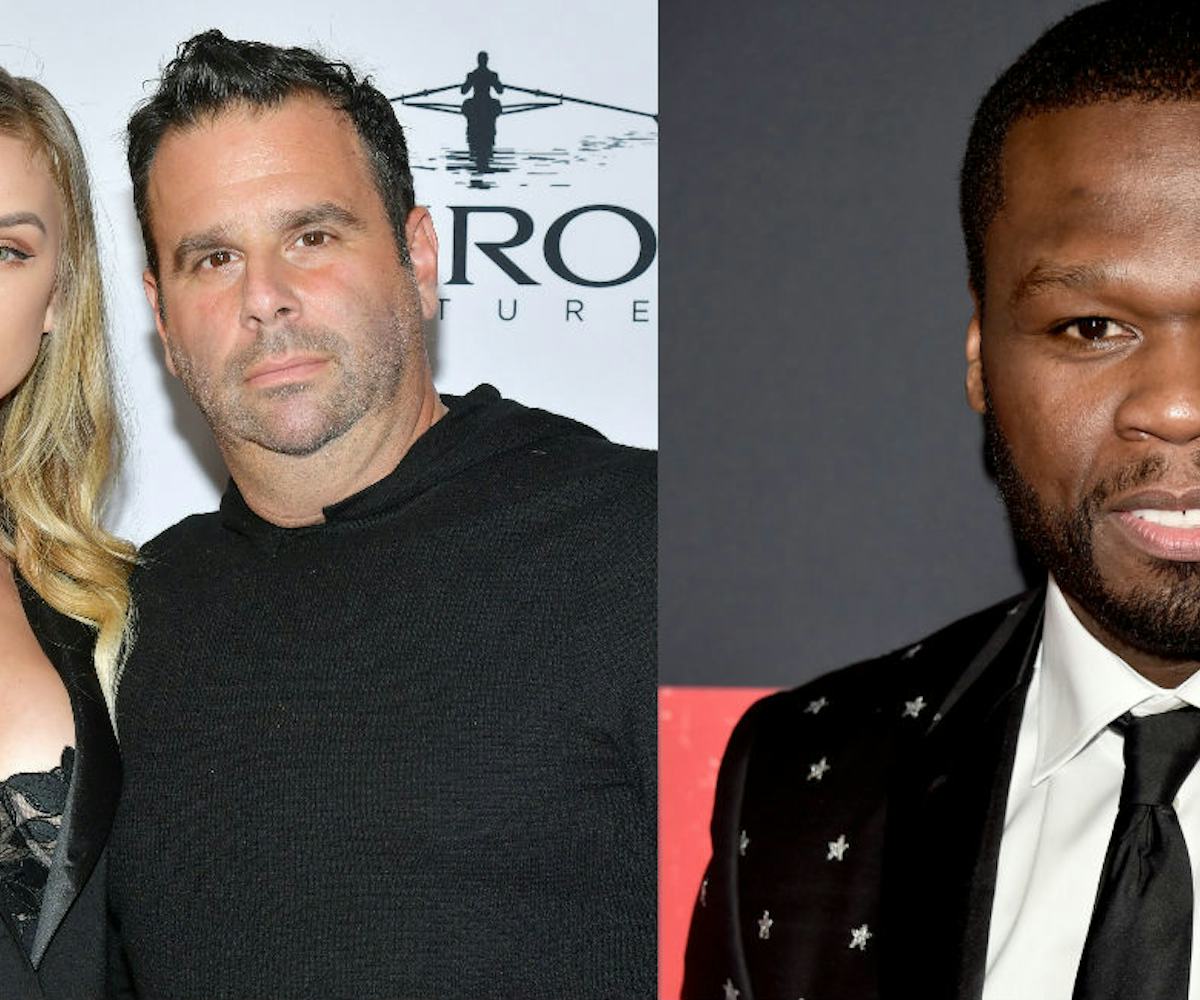 Photo by Amy Sussman/Getty Images; Photo by Amanda Edwards/Getty Images.
50 Cent, Lala Kent, And Her Fiancé Have Apparently All Made Up
After some online drama and "I'm Sorry, Fofty" memes
Rapper and professional troll 50 Cent has apparently made amends with Vanderpump Rules star Lala Kent and her fiancé, Hollywood producer Randall Emmett, after some wildly petty online drama.
It all started last Friday when 50 Cent came across a clip of Kent discussing how she met Emmett. "I met him through The Row," she says in it. "Rand saw me and sent his assistant up to ask me if I was an actress. I told him to go to my Instagram account. The next day, I get a phone call that says, 'You have an audition!'" She adds that she "let him hit it the first time" and they were immediately inseparable. "He would just send me, like, really expensive gifts," Kent goes on to say. "The first night we banged, I got a car the next day. He was like, 'Do you want a Range Rover?' I was like, 'Yeah!'"
50 Cent then commented with some inappropriate things to say, and Kent wrote some unsavory words in return:
Kent next went on to say that 50 Cent's comments served to "diminish the validity of the #MeToo movement" in an Instagram Live video.
If you're wondering why 50 Cent even felt the need to comment on Emmett and Kent's relationship, let us rewind a bit. Emmett is an executive producer on 50 Cent's show Power, which is how they know each other. Apparently, back in the day, the rapper lent Emmett one million dollars which he has yet to pay him back, which could explain why he got so heated over Emmett giving Kent a car after their first date.
After his back-and-forth with Kent, 50 Cent began posting text exchanges between himself and Emmett, which basically include Emmett apologizing a lot (his one text, "I'm sorry fofty," quickly turned into a meme) and mentioning that he's on his way to the hospital. 50 Cent, with no sympathy whatsoever, basically told Emmett that he has until Monday to pay him back. "Keep playing with me and get ya fucking head cracked in front of everybody," he wrote.
Which brings us to today. According to 50 Cent, Emmett sent him the money and all is good. "I got my money, so I have no problem with Randall Emmett, in fact I'm wishing him and his family a very blessed day," he wrote on Twitter. "Positive vibes now guys."
While that may sound like the end of this feud, 50 Cent didn't waste any time in selling "IM SORRY FOFTY" T-shirts on his social media accounts.