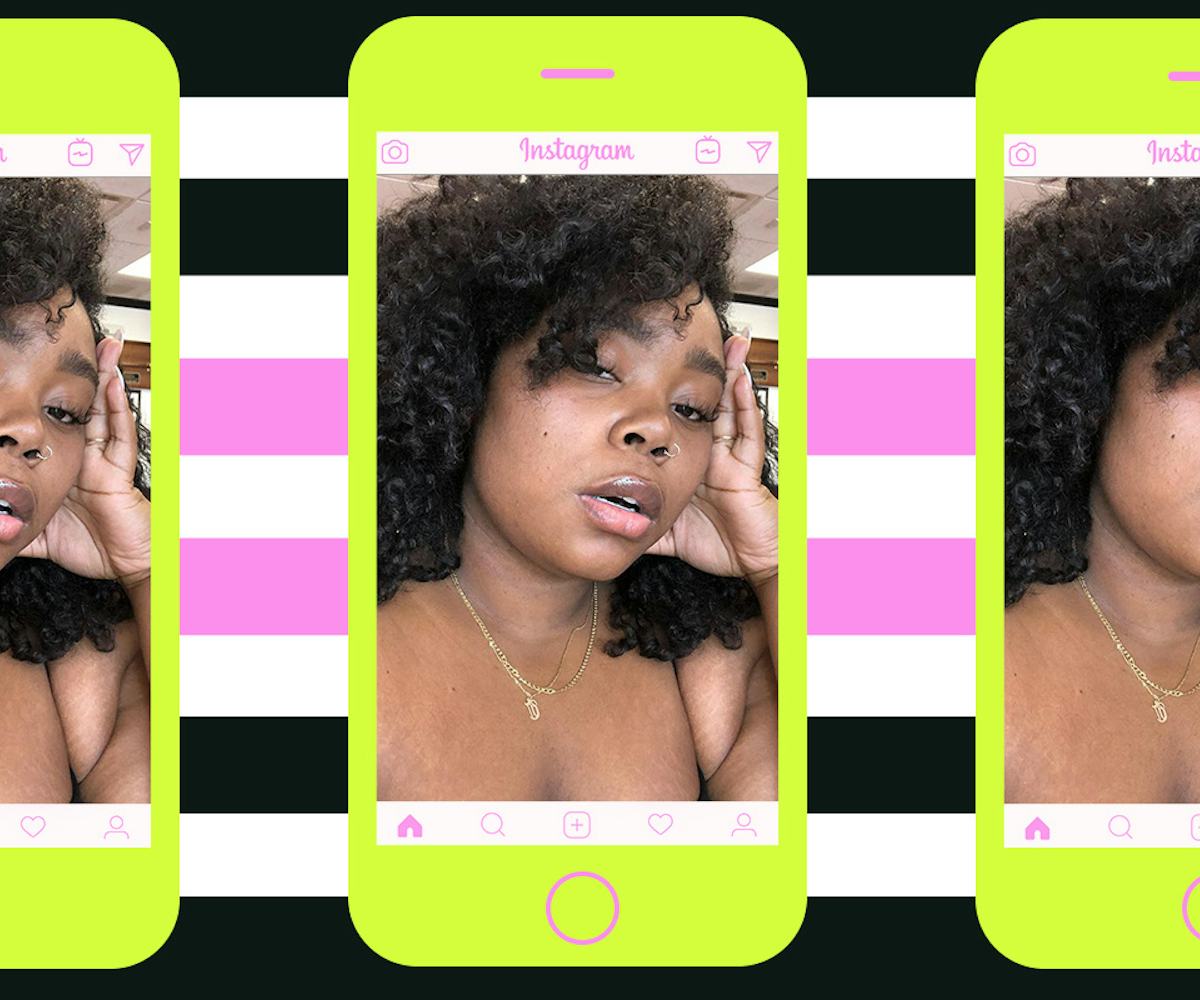 Instagram Pressured Me Into Getting Lash Extensions
Me:Lash Extensions: Breakup with your falsies, 'cus I'm bored
Welcome to Instagram Made Me Do It, where we subject ourselves to the (sometimes ridiculous) trends blowing up on the 'gram.
I'm probably one of the last people I know to try lash extensions, because, truth be told, I was scared. My fear stemmed from a Twitter thread where a young woman took it upon herself to do her lash extensions herself—an experiment that resulted in hospital visits, a viral Twitter thread, and me being terrified. And this wasn't a rare exception: There are plenty of horror stories to accompany lash extensions across the internet, ranging from unfortunate to horrific. Why, I wondered, would anyone subject themselves to such a thing?
But then I remembered how good they look, and the allure of waking up pretty. Everyone I've met who regularly wears them mentions that extensions eliminate the need for eye makeup, and make their eyes look more "open," and "awake." Some people just straight-up said that the extensions make them look great waking up.
While this may or may not be a groupthink regurgitation of information, it turns out that it's (at least) a little true. No-makeup makeup tutorials and "5-minute makeup looks" continue to dominate the internet, but, as we all know, those looks contain enhancement, whether it's a little concealer, a touch of highlighter, or a swipe of mascara—unless, of course, you use lash extensions. Then you can skip that last step. Because I, too, am obsessed with looking like I "woke up like this," fully appreciate the power of a filter-less selfie powered by the sun's rays, and want to use as little product as possible. So: extensions are it.
Up until the moment I decided to try extensions, strip lashes were a regular part of my routine, and I was wearing them weekly, if not more than that. I was so good at applying falsies that people regularly asked me how I did it, which would then lead to me pantomiming how I use thin strips of glue and cut the lashes to perfectly fit my eye shape. But there was an issue with this. Although I was good at putting them on, I wasn't patient when it came to taking them off. This often resulted in me ripping off my strip lashes—a few of my real lashes inevitably going along for the ride.
After one particularly bad strip removal (I counted four of my own lashes on a micellar water-soaked cotton pad), I decided to reply "yes" to a PR event hosted by Amazing Lash Studio that offered a full set of weightless, natural-looking lashes.
Days later, I slipped out of an Uber and into the hotel where the event was being held, searching the internet for evidence that people had lost all of their lashes, gotten infections, or gone blind. The results all sort of sung the same tune: Many people who had a bad experience had often taken the cheap route (i.e. got them done for $40 at a local nail salon), tried to do them themselves with minimal experience, or had an allergic reaction to the glue (my most-likely scenario if I was being honest with myself).
Still, I pressed on—my want outweighing my fear—and found myself lying beneath a fleece blanket, peppering my tech with probing questions I claimed were relevant to a story I had yet to write. She patiently answered all of my queries, which ranged from, "Can the glue get in my eye?" (short answer, no), to "What can't you do once you have them?" (sleep directly on your face, because you might wake up with them going in different directions, though that is easily fixed by combing them with a clean spoolie).
After an hour and a half of lying ultra-still, I was free to survey her work, and, to put it mildly, I was thrilled. Similarly to DryBar, which offers a menu of different blowouts, Amazing Lash Studio has a range of lash styles available. I opted for their featherweight option—a new offering—designed to feel invisible while still offering a dramatic look that doesn't weigh down the eye. I chose their "Sexy" style in the short length (this offers a winged-liner look), as I wanted something that looked a little dramatic, but still natural, and accentuated my almond-eye shape. I also showed my lash tech photos of myself wearing falsies to serve as a guide for the look I was going for—which I think was critical to how beautifully my extensions turned out.
I can confirm that the lashes are, in fact, weightless, and as I write this, I'm currently scheduling my third full set (it ranges from $79.99 to $250) and dazzling passersby with my extensions. And, the truth is: They're remarkably low maintenance, do make me look like "I woke up like this," and, although I've had to sacrifice sleeping face down on my pillow, it's been totally worth it.
So, yes: Instagram made me do it, and (you hate to see it), but I'm never going back.