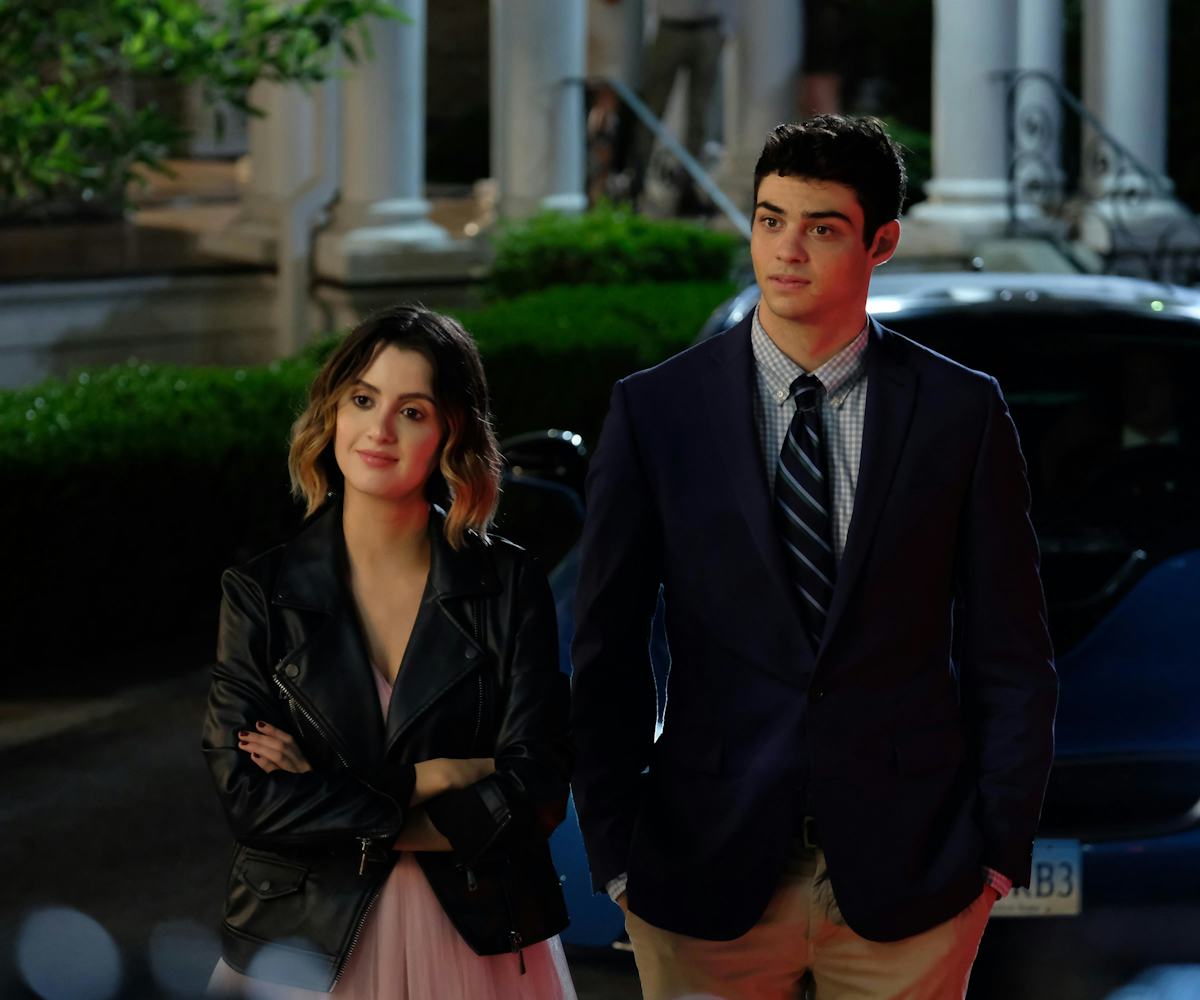 Photo courtesy of Netflix.
Laura Marano's Dream Guy Is A Barista Who Loves Harry Potter
The 'Perfect Date' star's crush isn't oddly specific at all!
Laura Marano's acting career has taken her from pop sensation on Disney Channel's Austin & Ally to Catholic school girl in Lady Bird. Now she's hopping on the Netflix romcom train. You know, the one that started rolling full steam ahead when To All The Boys I Loved Before dropped last year and kept going right through Christmas with The Princess Switch.
Next up is The Perfect Date, which hits Netflix tomorrow and stars the boy we loved before, Noah Centineo; Riverdale's Camila Mendes; and Marano. It's about a high school boy (Centineo) who creates an app where people can hire him to be their date for the night. They can even make specific requests about his attitude, style, and language. He's hoping that the money will help him pay for college and live the life that so many of his wealthy friends have been enjoying. Marano plays Celia, a crass, sarcastic high schooler. Our romcom antihero who would never order a date from an app.
Marano insists that she's way more optimistic and romantic than her Perfect Date character, and I could tell. When I asked her what her own version of a perfect date would be, she'd already put some thought into it. But I'll let her explain.
Ahead, we talk with the actress.
Tell me a little bit about how you got involved in the project.
Well, it's so funny, so we filmed it last March, and when I got the script, I was actually a bit busy in February. I hadn't had time to really read through it, so I was a little all over the place. In March, they were gearing up to make it, and they were still interested in having me be part of it. Finally, I read the script and I was like, "Oh my god, this is so funny and so cute!" And I love romcoms so much—they're like one of my favorite things, ever. So I signed on, and when we started filming it, it was so fun. This was before To All the Boys… had come out, and you never know the future of any movie or project that you're filming. But it felt so fun to do, and the whole cast truly bonded over the making of it. When we found out a few months later that it was going to be on Netflix, we were freaking out. I was so, so, so beyond excited.
Can we talk about your character—who I love? I think your character is who so many girls identify with in high school.
Yeah, that's actually something that really attracted me to the project, because Celia's really such a boss badass. It's not that she's not your typical kind of romcom lady, but she's definitely—and The Perfect Date does this with all of our characters—not your typical gender stereotype. If anything, Celia brings light to that and hauls every sort of gender stereotype you could have out of the movie. And she's so funny. She's so sarcastic and funny, I felt like I really connected with her even though I feel like I'm definitely a little bit more positive, and a little bit more of a romantic than she is. But there's just something about her that I was like, Ah man, I wanna be this girl. I wanna play her and see if I can embody her. So it was really fun to get the opportunity to do that.
You said that you're more optimistic and romantic than Celia now, but how were you in high school?
It's a little complicated because I had a little bit of a weird high school experience. I was going to high school in between working on Austin & Ally. I was really lucky that I was able to have a semi-normal high school experience with a semi-hardcore work schedule. Every time I would go there, I was fortunate to have such an awesome group of friends that were so supportive and really embraced me even though it could have easily become an awkward and uncomfortable thing—an actress on this kid's show and blah blah blah. But it was such an awesome experience, and I was lucky to have that. It's funny because I know plenty of other people who had high school experiences who did not wholly share that same experience, and I feel like Celia is someone who doesn't really have the social group that she totally wants to have at her high school. She calls everyone out at her high school. She goes to a high school that is mostly for people who are a bit more upper class, have a little bit more money, and she feels that she just doesn't belong in that world. And I don't know if she has—we don't dive too deep into it—but I don't know if she has a group of friends like I was lucky enough to have, that make her feel comfortable in her world.
The Perfect Date is kind of a traditional romcom, but one of the more interesting things is how it touches on how a new generation of high schoolers. This kid basically starts a tech company to fund college for himself. Celia is very supportive of that aspect of it. If one of your friends came up with it, would you even recommend they still go to college? That's kind of a million-dollar idea [laughs].
Oh, totally! It's fun with a perfect angle because added some other aspects to it. Everything else is like a traditional romcom, except it's a romcom in 2019 where the premise is about an app idea. It's funny how the idea comes about in the movie. But I think that if one of my friends told me about this app idea, I'd probably, first, question, as you'll see Noah's friend in the movie does, what the boundaries are exactly. I think it could be a little bit shady on how someone is hired to be a perfect date. But once the boundaries are set, explained, and clarified, I do think it's a million-dollar idea. I wish we could have dove more into how much money they could have made.
I have to ask: What would be your perfect date if you could specifically order one off an app?
I, weirdly, would go with a barista. I'm not sure why. I just feel like there's something so attractive about the idea that you're in a bookstore and the little coffee shop cafe has a really hot barista, and he can make great drinks. I don't even love coffee, I just love the idea of a barista. Someone who is smart, someone who is funny. Funny is a really big thing for me. And someone who loves Harry Potter, as hilarious as that sounds. I really feel like that solidifies a connection, when you can talk about the wonders of J.K. Rowling and the wonders of Harry Potter.
The Perfect Date premieres on Netflix April 12.