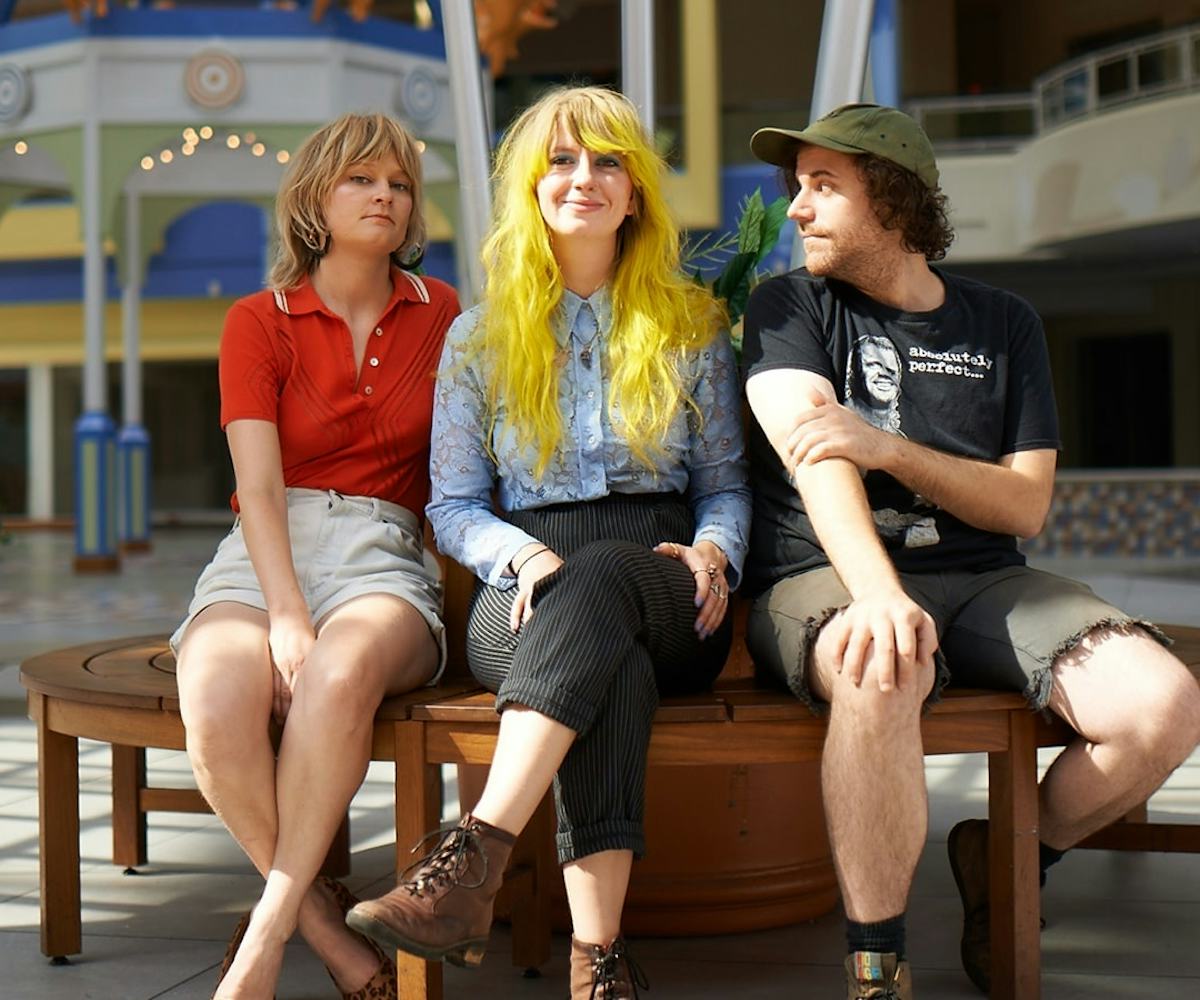 Meet Leggy, The "Lush Punk" Band Who Idolize Lana Del Rey
Their album, Let Me Know Your Moon, is out today
"I'm always looking for signs from the universe," Véronique Allaer, vocalist and guitarist of Leggy, tells me over the phone, "I'm like, 'Oh my god, today is a fucking special day.'" It's February 13, the day of our scheduled phone interview. It also just so happens to be the five-year anniversary of the Cincinnati-based band's first-ever show and the four-year anniversary of the band playing Indie Pop Prom in New York in 2015 with Priests, Amanda X, and Mannequin Pussy, "a fucking big deal," according to Allaer. It's also her girlfriend's birthday. "I love stuff like that," she says. "I think I'm gonna buy a lottery ticket today."
The coincidence seems especially on-brand for a band with a fairly fatalistic origin story. Allaer met bassist Kerstin Bladh and drummer Chris Campbell as teenagers. "Kerstin and I were in a band in high school, and we loved it, but I never thought that it was anything that would be realistic to pursue," says Allaer. She went to college in Washington, D.C., to study political science, and by the time she graduated, she hadn't played music in years.
"I had this crazy epiphany, because I was wasted and had this near-death experience," she says. "I pretty much blacked out and woke up in the hospital. I had fallen off a fire escape." Allaer broke her hip and spent the next two months couch-bound. "I had this reassessment of priorities, and I was like, 'Okay, I honestly don't want to do anything besides try to play music, so I'm gonna go for it,'" she says. "So I moved back to Cincy and hit up Kerstin and Chris, because we were still really good friends. We were just sort of like, 'Let's fucking do it!'"
The band chose their name based on a phrase often repeated by Allaer's mom. "It's kind of old-fashioned, but she'd say, like, 'We've got leggy women in our family,' so I grew up hearing that," she says. "Me and my little sister used to always make fantasy bands when we were like 7 or 8 years old. One of the names we were gonna do was Leggy, and I remembered that when we were choosing to rename this project. It's kind of a little bit suggestive, and I wanted it to sound kind of feminine."
During her recuperation period following her accident, Allaer had listened to Lana Del Rey's music "nonstop." The singer serves as the namesake for "Even Lana," a song from Leggy's 2016 EP, DANG, which references Del Rey's "Blue Jeans" with the line, "And even Lana found a man who fit her better than her favorite sweater."
Working within the framework of punk, a genre of music originally predicated on the rejection of all things mainstream, this genuine pop culture reverence is almost startlingly earnest. But Allaer just loves Lana Del Rey—nothing tongue-in-cheek about it. "I just read her lyrics, and you can, like, feel what she was feeling in that moment. It's so cool," she says. "I want her, one day, to know that we have a song about her. I would fucking flip."
Allaer is as comfortable counting Brody Dalle among her other musical influences as she is Kesha, and clearly, Leggy's strength as a band comes from their enthusiastic embrace of such hybridity. The saccharine smoothness of Allaer's vocals should, in theory, sound at least a little bit out of place against jagged punk instrumentals, however, the result is anything but incongruous; the fuzzy guitar lends Allaer's vocals a commanding edge, and likewise, the poppy melodies help anchor the sound. It's a unique give-and-take.
"I was listening to our album this morning and smoking weed, because that's my favorite thing to do, to overanalyze the songs," Allaer tells me. "I was like, it doesn't really sound like another band that I can think of, and that's such a positive thing in my opinion."
The band describes their sound as "lush punk," and lush, indeed, is an apt descriptor for everything about Leggy's music, from their shoegaze-y sonic abundance to the richness of the melodrama their lyrics frequently evoke. Take "Eden," a recent single, on which Allaer sings, "And when I like your status once a week/ I skinny dip in your stream of consciousness consciously," It's an off-kilter love song about the fevered rituals of infatuation, from cyberstalking to comparing birth charts.
Leggy's new album, Let Me Know Your Moon, draws its astrologically-oriented title from the song's outro, sung by bassist Bladh. "It's like, 'Let me know your moon, so I can overanalyze it and think about us together and whether or not we're compatible,'" says Allaer.
Naturally, I have to ask about Allaer's sign; she's a Sagittarius, for the record. I tell her that I'm a Sagittarius rising, but a Pisces sun. "I dated a Pisces and it was, you know, like water and fire," she tells me. "Actually, the album is pretty much the aftermath of that Pisces relationship." It's another seemingly cosmic coincidence, and knowing this I can't help but think about the polarities of the album's sound, at once melodious and grating, lilting and brutal, languorous and frenetic. From the playfully erratic "Taffy" to the menacing drawl of "Prom," Leggy have, in many senses, utilized seemingly incompatible elements to make something special.
In addition to playing SXSW in March, Leggy will be touring the U.S. starting in April. Listen to Let Me Know Your Moon now.