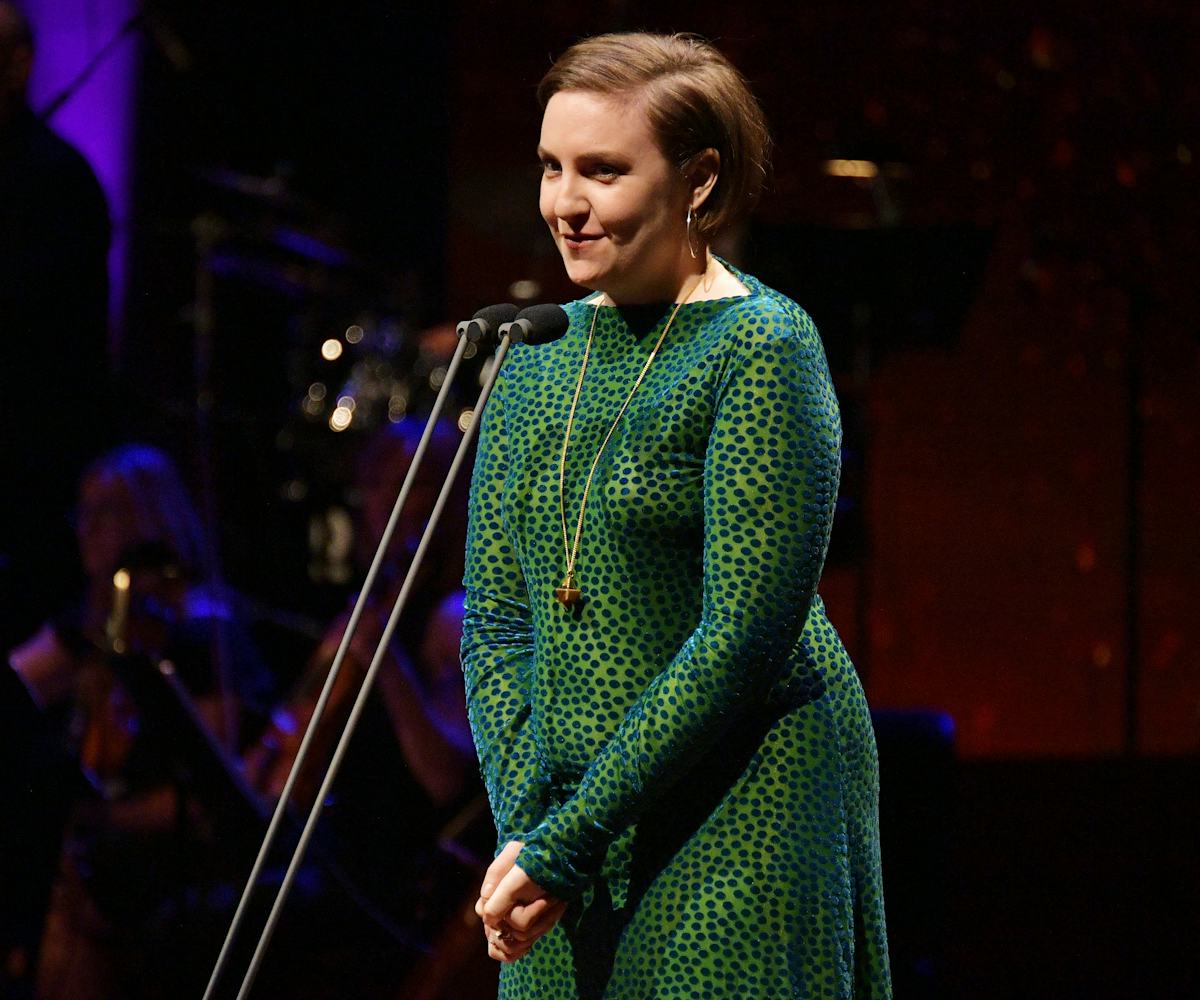 Photo by Dia Dipasupil/Getty Images for Lincoln Center.
Lena Dunham Issues Yet Another Apology
Which again misses the point
More than a year later, Lena Dunham is finally ready to publicly apologize to actress Aurora Perrineau.
For a refresher: When Perrineau accused Girls writer Murray Miller of sexual assault last November, Dunham came to his defense, claiming that this is "one of the 3 percent of assault cases that are misreported every year." The next day, she issued a statement in which she said that "it was important to share my perspective on my friend's situation" and vaguely apologized to "any women who have been disappointed." She never publicly said the words "I'm sorry" to Perrineau, even after it was proved that Miller lied about Perrineau demanding money. Now, she's taking the time to do so in a letter published in The Hollywood Reporter, but, in typical Dunham fashion, something about the declaration seems off—specifically the part where she seems to put the burden of her awakening on someone else.
"This year has been incredible for women in Hollywood," she opens the piece. "There has been unprecedented dialogue about issues like wage equality and systemic bias and, most notably, sexual assault and harassment." She goes on to say that she cheered and clapped when Harvey Weinstein was revealed to be a sexual predator. She adds that she, too, has hidden her trauma and worked hard to separate herself from it. "I never stopped, much less stopped to consider that I might be capable of traumatizing somebody, too (the exact complaint I've always had about old white man artists)," she writes.
Referring to her defense of Miller as a "mistake," she declares: "There are few acts I could ever regret more in this life." She then dedicates a whole paragraph to Perrineau and thanks her for making her a "better feminist"—a task that Perrineau should've never had to take on.
To Aurora: You have been on my mind and in my heart every day this year. I love you. I will always love you. I will always work to right that wrong. In that way, you have made me a better woman and a better feminist. You shouldn't have been given that job in addition to your other burdens, but here we are, and here I am asking: How do we move forward? Not just you and I but all of us, living in the gray space between admission and vindication.
Dunham can maybe start by lifting that "burden" off of victims and, specifically, women of color. It shouldn't land on Perrineau nor anyone else to help make her a "better feminist" or tell her how to "move forward." It's on Dunham to educate herself and learn these lessons on her own.
Dunham continues to address the actress later in the piece, adding:
Aurora—your bravery, openness, forgiveness, dignity and grace in the face of legal proceedings and endless questioning and in the face of my statement has been astounding. You've been a model of stoicism, all the while reminding other women that their assault experiences are theirs to process as they wish (with noise, with silence, with rage — it's all OK). You have generously allowed me to speak about your many virtues here and tell these readers that you are moving on as a woman and as an artist. You have inspired me to do the same, and I know I'm not alone.
The actual apology comes at the very end, when she writes: "Sometimes healing starts with the words: I'm sorry."