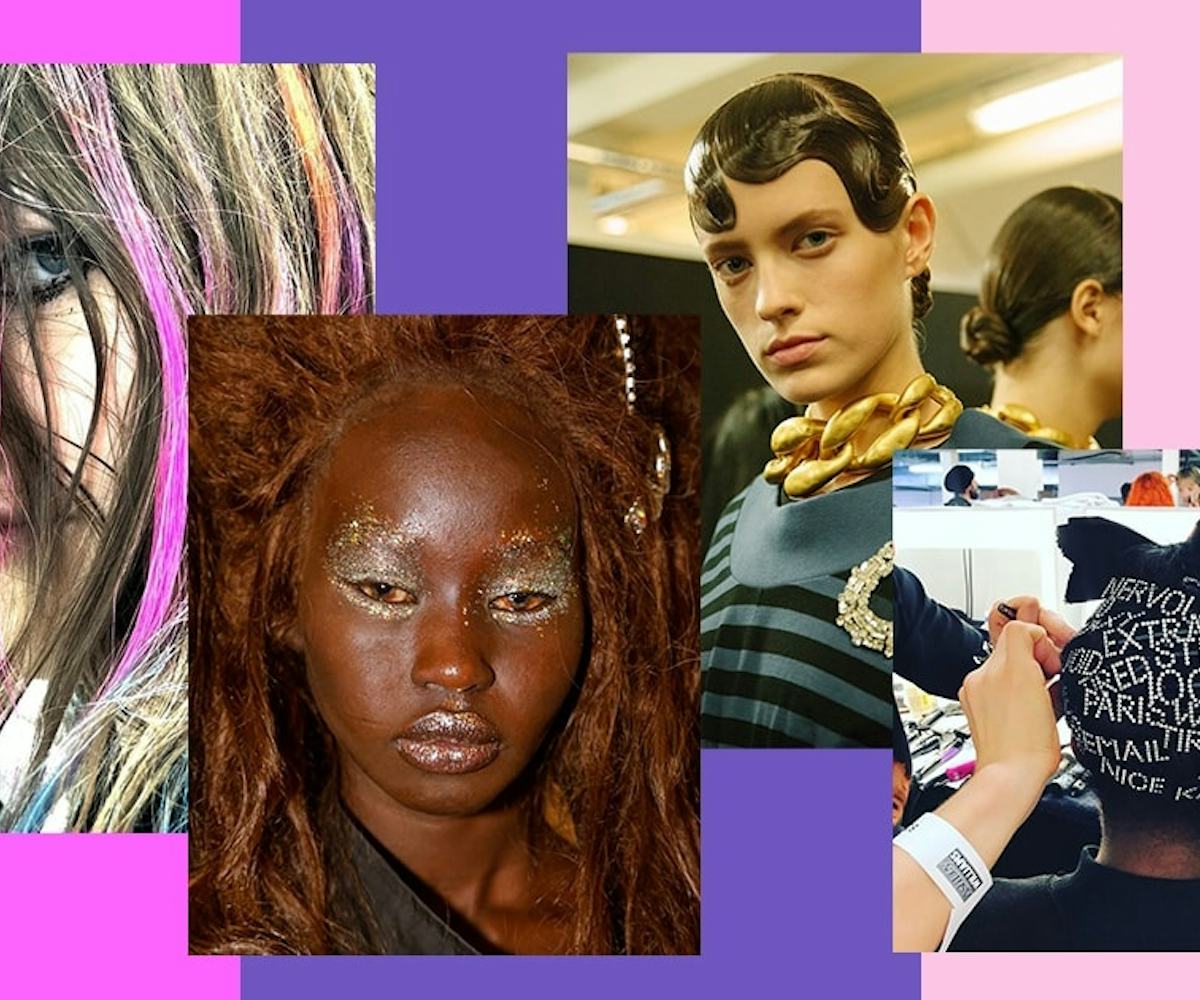 Photos via @anthonyturner, @isamayaffrench, @jw_anderson, @alexbrownsell Instagram
The 7 Coolest Beauty Looks From London Fashion Week
From foiled eyes to sky-high hair
London Fashion Week has come to a close with today marking the start of the Milan shows.
But, before we move on to embrace all things Italian, we have to take a minute to look back at all the magic that came out of London. Aside from some truly remarkable collections—from Mary Katrantzou's elemental-inspired rainbow offering to cult-favorite coat label Shrimps' very first runway show—it was the beauty that really got us. We gotta hand it to the Brits—they really know how to put out some interesting beauty looks that we don't see anywhere else.
Below, check out our seven favorite beauty looks to come out of London's Fall 2019 shows.
Ashley Williams' clip craze
Ashley Williams is the true originator of the crystal hair clip. But now that it's a full-on trend? They were piled on for this season's show.
Glitter bombs and mega-teased hair at Ashish
Makeup artist Isamaya Ffrench created some stunning, glittery looks for Ashish, dousing everything from the brows and lids to lips with colorful sparkles, while Sam McKnight created mile-high hair for most of the models.
JW Anderson's sculptural waves
Hairstylist Anthony Turner created these plastered-down, sculptural masterpieces at JW Anderson.
Gold foiled eyes at Halpern
Again, Isamaya Ffrench made magic backstage at Halpern, giving each model stunning foiled eyelids.
Tie-dye hair at Mary Katrantzou
A handful of models wore tie-dyed extensions created by colorist Josh Wood, which were made to match the fabrics used in the Fall 2019 collection.
Erdem's striking cat eyes
Many of the models' faces may have been veiled at Monday's Erdem show, but that didn't stop these gorgeous bold cat eyes by makeup artist Val Garland from stealing the spotlight, even with the ornate clothing.
Pigment splatters and sky-high updos at Gareth Wrighton for Fashion East
Gareth Wrighton showcased his incredible collection for Fashion East this season along with some wilder beauty looks, pigment splatters by Dominic Skinner and rainbow painted, sky-high updos, amongst other oddities.