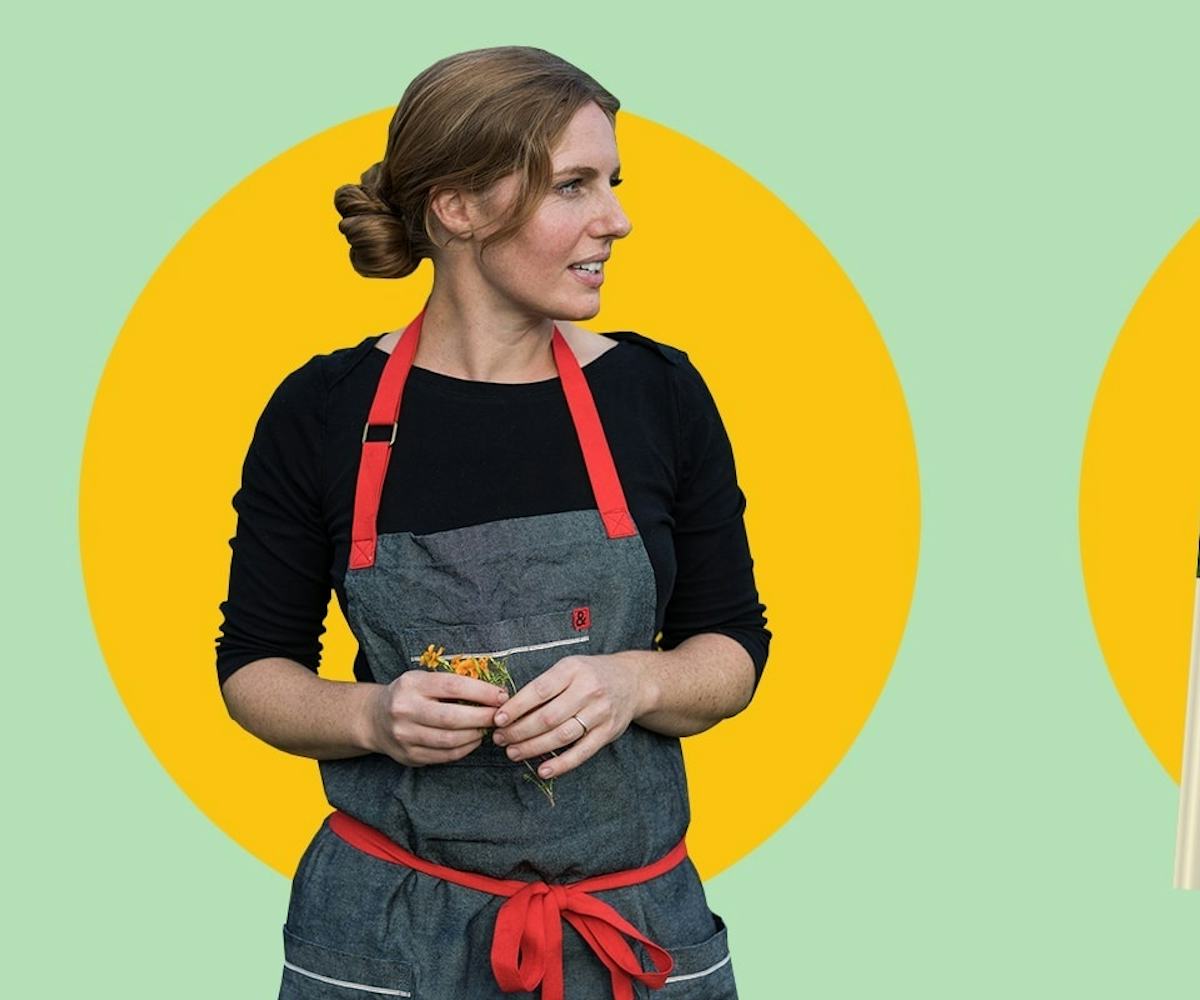 Cooking Vegan Is Easy—Once You Know How
Abra Berens' cookbook 'Ruffage' offers insider knowledge we all could use
In our monthly column, Meatless Mondays, writer and host of the podcast, Meatless, Alicia Kennedy will explore veganism, social justice as it relates to food, and home cooking—and, yes, there will always be a new recipe to try out for yourself.
Going to the farmers' market or building a restaurant menu around seasonal produce might be fashionable, but cooking them at home can remain a dull act. Ruts develop. Maybe asparagus always gets steamed, dressed simply in salt, pepper, and olive oil; perhaps eggplants are always breaded and fried, served with pasta and a simple green salad. A new cookbook by Abra Berens, a former farmer and the chef at Granor Farms in Three Oaks, Michigan, can help change that. Ruffage: A Practical Guide to Vegetables contains over 100 recipes and more than 230 variations on top of that. Each chapter takes on a new item, from broccoli and fennel to greens (delicate) and greens (hearty).
Like many cookbooks, Ruffage begins by setting its intentions and running down a list of pantry ingredients that will be useful as one cooks through the recipes. But Berens doesn't just give notes on pans or olive oil: She makes her own process known. Salt instructions are light so that each cook can season to their taste. Oil is measured in "glugs," defined as "the amount of liquid poured from a container before air is pulled in past the 'seal' formed by the flowing liquid in the neck of the container, creating a glug sound." Terms often seen on restaurant menus such as "blistering," "escabeche," and "confit" are demystified in clear, readable language. There is even a recipe before the recipes called "adventures in seasoning" that seeks to teach one how salt and acid function in cooking, using one egg, oil, salt, and apple cider vinegar. Before the reader even gets to the asparagus chapter, they've briefly gone to cooking school.
All of this was done out of a desire to give the produce its due, which is how Berens cooks, inspired by her time as a farmer. With her friend Jess Piskor, she started Bare Knuckle Farm in 2009 in Northport, Michigan, after studying cooking in Ireland and working in restaurants since she was 16. At the end of that first year, she writes, she was incredibly poor, living off the vegetables that hadn't sold at the market. "It's a very thin margin work that's very hard and physical, that's very uncertain," she tells me, of her time working there, "but it fully changed the way that I cook."
It was under those circumstances that she learned one could transform the same ingredients—carrot, kale, egg—into various meals. Once she got back on her financial feet and returned to eating as she had in the past, she realized she didn't feel quite as good as when she had been eating so simply. This taught her the value of vegetables and their transformative abilities.
Though the bulk of the book focuses on vegetables in various forms, from poached to raw to roasted and everything in between, grains, beans, pasta, grits, bread, and more are discussed to show how one can round out a vegetable-driven meal. Vinaigrettes, infused oils, and nut mixes like dukkah are also given pages so that one never lacks for a way to dress their vegetables—even the more obscure, like kohlrabi. Berens also made a point of recommending ingredients that could be easily found in any grocery store, in pursuit of an accessibility not always associated with vegetables.
Ruffage is not a vegan cookbook—it's vegetarian, but all of the recipes can easily become vegan, and the key points made are universal. From guides on how to buy and store every vegetable to notes that tell you whether, say, beets can be eaten raw (yes, but cautiously, because oxalic acid can irritate throats), it, along with Samin Nosrat's Salt Fat Acid Heat, focused on the cooking basics, and Ronna Welsh's The Nimble Cook, which will help one figure out how to cut food waste by turning scraps into usable items, is part of a new kind of canon that seeks to provide people with knowledge rather than rules. Not knowing how to cook vegetables so that they're as satisfying as animal products often keeps people from making a leap toward meatless eating driven by seasonality and locality. Finding empowerment and control by cooking with these concerns at the fore begins with the right tools, and Ruffage feels as essential as a chef's knife.
Beet-Dressed Pasta with Golden Raisins and Poppy Seeds
Generally, I use a microwave to warm up my forgotten morning coffee and for little else. But there are other uses. The beets in this recipe will purée to a significantly smoother texture if they are warm. If you have prepared a load of beets earlier in the week and want to make this sauce, simply warm them up in the microwave with a splash of water. Alternatively, if you are cooking loads of beets, it's smart to make the purée when they are warm out of the oven. It will store in the refrigerator for a week or in the freezer for a good long time.
This pasta salad also works as a cold salad, but often needs an extra pinch of salt, since the flavors will be muted when cold.
1⁄4 cup (35 g) golden raisins
Juice of 1⁄2 lemon (0.75 fl oz | 22 ml)
2 steam-roasted beets (1 lb | 455 g)
1⁄4 cup (60 ml) olive oil
Salt and freshly ground black pepper
Cream (optional)
1 lb (455 g) small pasta, bow ties, orecchiette, or penne
1 Tbsp (10 g) poppy seeds
Soak the golden raisins in 1⁄2 cup (120 ml) hot water with a squeeze of lemon for 10 minutes or until they are plump. Strain the raisins, saving the water.
In a food processor, purée the beets with the olive oil, raisin water, and a good pinch of salt and pepper until very smooth. If you like dairy, toss in a glug of cream.
Boil the pasta in well-salted water and drain.
Toss the pasta with the beet purée (to warm and coat), soaked raisins, and poppy seeds. Transfer to serving platter or individual bowls. Drizzle with additional olive oil.