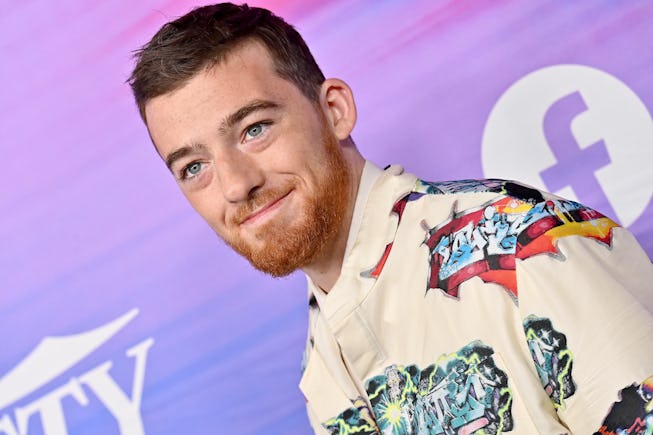 Axelle/Bauer-Griffin/FilmMagic/Getty Images
Euphoria Cast Pays Tribute to Angus Cloud
The actor tragically passed away at the age of 25 on Monday.
Angus Cloud, who played Fezoco, the dealer with a heart of gold on Euphoria, passed away at the age of 25 on Monday. Today, a stream of tributes and remembrances are rolling in from the cast and crew of the series.
Cloud's family released a statement Monday announcing Cloud's death: "It is with the heaviest heart that we had to say goodbye to an incredible human today. As an artist, a friend, a brother and a son, Angus was special to all of us in so many ways. Last week he buried his father and intensely struggled with this loss. The only comfort we have is knowing Angus is now reunited with his dad, who was his best friend. Angus was open about his battle with mental health and we hope that his passing can be a reminder to others that they are not alone and should not fight this on their own in silence."
"There was no one quite like Angus. He was too special, too talented and way too young to leave us so soon," said Euphoria creator Sam Levinson in a statement obtained by Deadline. "He also struggled, like many of us, with addiction and depression. I hope he knew how many hearts he touched. I loved him. I always will. Rest in peace and God Bless his family."
A cause of death has not yet been determined, though Cloud "was determined to be already deceased" when first responders from the Oakland Fire Department were dispatched on Monday for a medical emergency, according to CNN.
Below are the tributes for Cloud from Euphoria cast members, producers, and guest stars.
Hunter Schafer
Shafter, who plays Jules on Euphoria, posted a Polaroid of Cloud on Instagram on Wednesday, writing: "been trying to figure out what to say, but idk if any combination of words can articulate all of the big feelings. for now i just wanna say:Angus was a sunshine. to have known his warmth, his light, and his love was nothing short of a gift. i'm so grateful to have shared so many enormous fits of laughter, so many sweet moments, and the joy of getting to make something together that we loved so much.i love you angus 💗 thank you for everything.my heart goes out to his family and all of his loved ones right now."
Maude Apatow
Maude Apatow, who plays Lexi, posted a series of photos of Cloud on Wednesday, writing:
"Angus was the funniest person ever," she wrote. "I would get so excited to see on the schedule that we would be working together because I knew we'd have the best day, laughing so hard. He was the sweetest and made everyone around him so happy. He was just the best. Words can't really capture how magical of a person he was. My heart is broken. Angus, getting to know and work with you was one of the greatest joys and blessings of my life. I will love you forever."
Sydney Sweeney
Sydney Sweeney posted on Instagram on Tuesday afternoon, with a carousel of images and videos of her and Cloud, writing: "Angus you were an open soul, with the kindest heart, and you filled every room with laughter. This is the hardest thing ive ever had to post, and im struggling to find all the words. You will be missed more than you know, but I'm so blessed to have known you in this lifetime, and I'm sure everyone who has ever met you feels the same. This heartache is real and I wish we could've had one more hug and 711 run. All my love is with you."
Zendaya
Zendaya posted a heart-wrenching tribute on Instagram Tuesday afternoon, sharing a black-and-white photo of Cloud.
She wrote: "Words are not enough to describe the infinite beauty that is Angus (Conor). I'm so grateful I got the chance to know him in this life, to call him a brother, to see his warm kind eyes and bright smile, or hear his infectious cackle of a laugh (I'm smiling now just thinking of it) I know people use this expression often when talking about folks they love…'they could light up any room they entered' but boy let me tell you, he was the best at it. I'd like to remember him that way. For all of the boundless light, love and joy he always managed to give us. I'll cherish every moment.
"My heart is with his mother and family at this time and please be kind and patient as grief looks different for everyone."
Drake
In an Instagram Story Monday evening, Drake, Euphoria's executive producer, posted a photo of Cloud, writing "Good soul 😥🕊️."
Javon "Wanna" Walton
Walton, who played Cloud's younger brother Ashtray, posted a tribute on Instagram, writing: "rest easy brother❤️🕊️."
Kathrine Narducci
Naducci, who played Fezco's grandmother in Season 2, posted on Twitter: "you were a gentle beautiful soul. You exited to soon."
Storm Reid
Reid, who plays Rue's (Zendaya) younger sister Gia posted a video of Cloud on her Instagram Story, writing "The tears just won't stop."
Lukas Gage
Gage, who was in Euphoria Season 1, posted a group photo with Cloud, writing alongside the photo "Rip @anguscloud" with a broken heart emoji.
This story is developing.