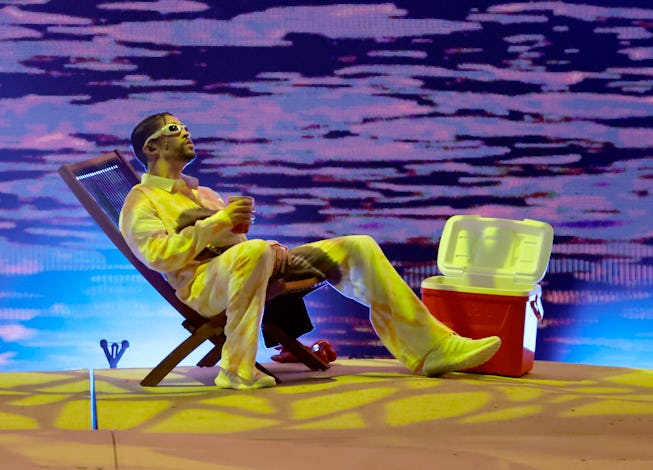 Kevin Winter/Getty Images Entertainment/Getty Images
One Year After Un Verano Sin Ti, Bad Bunny Is Provocative & Commodified
A year after the release of Un Verano Sin Ti, Bad Bunny the idol is much more easy to digest than Bad Bunny the prophet.
In early May 2022, the release of Bad Bunny's fourth solo studio album marked a new phase in his career. Over the course of the next year, Un Verano Sin Ti (A Summer Without You) would launch his already blossoming career to exponential heights. Debuting at the top of the Billboard 200 chart (the second Spanish-language album to do so) and staying there for 13 consecutive weeks, the album also helped Bad Bunny maintain his position as the most listened to artist in the world on Spotify for the third year in a row.
Consisting of equal parts party anthems and "summertime sadness" tunes, Benito (as his fans affectionately call him) fuels his existential waxing on themes ranging from nostalgia and heartbreak to sex and the fear of finitude with both traditional caribbean rhythms (mambo, bomba, reggae, and reggaeton) and experimental sounds (indie pop, lofi, house, and afrobeats).
The addition of synths, guitar wah-wahs, and the sound of waves and gulls chirping in the background feels like you're sitting on the beach as the warm, salty sea breeze, and the buzz from your Corona bottle planted into the sand by your beach chair begins to overtake your body. The party's dying down, and slowly you begin lucidly dreaming about an ex-lover you wish was still around. Listening to the album for the first time on that mildly warm (but not warm enough to venture outdoors without layering) mid-Spring afternoon in Brooklyn had me nostalgic for a summer that had yet to begin.
Admittedly, at no point over the course of this last year since the album's release did such visions materialize. My idyllic summer getaway infused with UVST's songs remained the stuff of fantasy. Yet UVST managed to "take me away" in another sense, bringing me to contemplate the power that pain and longing have over our being. Benito has an affinity for oscillating between the extreme poles of living in the moment and searching for something "more"...of forgetting his problems by immersing himself in hedonistic revelry ("Party," "Titi Me Pregunto") and of painstaking introspection, self-doubt, and even spiritual searching ("Ratito," "Andrea"). By doing so, he taps into the richly textured historical and cultural legacy of reggaeton, whose rhythms and lyrical themes live between this tension.
"This album and tour is just a vibe," said one fan who attended Bad Bunny's World's Hottest Tour last summer. Her outfit, inspired by said vibe, was giving "carefree" and "bad b*tch." The tour spontaneously inspired a UVST-uniform of sorts: sunset-colored two piece sets, butterfly hair clips, and intricate eye makeup fit for the halls of Euphoria high.
The party continued over the course of the winter months as UVST-themed nights sprang up at bars and clubs (and the subsequent trend of Rauw Alejandro, Karol G, and general Reggaeton nights) throughout Manhattan and Brooklyn. These parties ranged from "Safaera x NFT Night" in an underground club on the Lower East Side, to "Neverita Night" at a bar in a gentrified section of Bushwick and the heinously overpriced "Gasolina Night" at Webster Hall (packed tight with NYU kids who couldn't seem for the life of them to figure out how to move their hips in time with the rhythm of the dembow).
Fast forward to May 2023 — a year after the album's release — and my Instagram feed continues to barrage me with advertisements for t-shirts featuring variations of the crying one-eyed heart logo that's come to be associated with UVST, stills from his music videos, and the infamous "SINGING IN NON-ENGLISH" screenshot from his Grammy Awards performance. The UVST "vibe" has set the internet ablaze not only with shirts, but also with all facets of merchandise, including stickers, croc charms, water bottles, masks, and even party supplies and birthday cakes inspired by the album. (I admit to having fallen prey to buying three UVST themed t-shirts, but was able to resist the temptation to buy the cake for my birthday — saving myself $60.) Despite having allowed myself to get fully immersed in the hype of it all (or rather, because of having done so), I can't help but feel that something of the album's allure has been muted…made hollow.
Medios y Media/Getty Images Entertainment/Getty Images
Gerardo Mora/Getty Images Entertainment/Getty Images
"We live in a spectacular society," claims cultural theorist Larry Law, "that is, our whole life is surrounded by an immense accumulation of spectacles." Law's theory of spectacles draws on Marx's insights on "commodity fetishism," which refers to how the value of a product under capitalism shifts away from the product itself to the "brand" or the idea of it. This distancing enshrouds the product in a quasi-religious aura, which in a way fills in the existential vacuum created by consumerism. "Things that were once directly lived," continues Law, "are now lived by proxy…As a commodity the spectacular is developed to the detriment of the real. It becomes a substitute for experience."
Bad Bunny certainly has become a master of the spectacle. Whether for his impromptu concert on top of a truck riding around Washington Heights, kissing one of his male backup dancers at the VMAs, tossing a fan's phone, or horseback riding with Kendall Jenner, the public can't seem to stop noticing him. UVST has devolved into a "proxy," a substitute that distracts from experiencing the real stuff of his artistic genius. Bad Bunny the idol is much more easy to digest than Bad Bunny the prophet.
Perhaps the best person to provide us the tools to make sense of the Bad Bunny spectacle is the queer Italian Marxist artist Pier Paolo Pasolini. His greatest concern about Italy's turn toward consumer capitalism in the post-Mussolini era was not only economic, but was largely cultural and spiritual in nature. He described a "cultural genocide" in which people felt "the degrading anxious yearning of being equal to everyone else with respect to consumption, to being happy, to being free." This led to the loss of "a sense of the sacredness of life," which had been sucked out by the oppressive effect that spectacles have over our collective psyche (this theme made up the bulk of his controversial 1977 film Salò).
One could easily argue that the spectacle of Bad Bunny has sucked out the "sacredness," the deeper meaning of his artistry. Bad Bunny has become a totem of our dark, taboo-breaking impulses which we find ourselves too timid — or deem ourselves too respectable — to bring out into the light. His music and public persona are marked by a brazen disregard for convention and an affinity for the abnormal, even the absurd, forcing us to question the ideals we take for granted to be true. Even his most iconoclastic feats — namely his irreverent expressions of sexuality — have been rendered mundane, generating fodder for gossip sites and TikTok feeds rather than genuine questions about the nature of human sexuality.
Pasolini, according to writer Eve Tushnet, "lamented the way the sexual revolution had ossified into its own rules and expectations" and "found pop culture more threatening than political repression." He noticed how the brand of equality championed by the revolution, says Pasolini scholar Simone Invernizzi, was "false…exterior and not interior," and was forced on the public using "the homogenizing violence of television propaganda and fashion: faces are sadder, full of anguish."
I felt the truth behind these comments while watching fellow clubbers at one of those many Bad Bunny nights in New York. Surely, the party was undeniably lit. As tracks from UVST blared over the speakers and lights flashed, couples danced perreo with a drink in one hand and vape in the other, shouting out every lyric to each song. And yet I couldn't help but feel like there was a certain mindlessness in which we all were immersed…a certain void. This moment of would-be revelry, ecstatic joy, and indulgent pleasure felt tame, anticlimactic, as if the full potential of our passion had been stunted by some elusive force looming over the room.
UVST topped the charts and album of the year lists, and was blasted out of speakers from buses in Puerto Rico to discos in Brooklyn, and even a cafe I stopped by before visiting the Pasolini park in Rome. It's fair to say it took over the world this year, and rightly so. Yet the true magnitude of the album remains misunderstood, drowned out in the stultifying waves of global capitalism.
The wider globalization of reggaeton — furthered thanks in part to Bad Bunny's massive success — has been the subject of criticism for whitewashing the genre's Afro-diasporic roots, and of praise for bringing attention to the innovative art form created by colonized communities. Reggaeton's bittersweet present moment makes me question its future trajectory, and whether a global audience will allow itself to be captivated by its ability to tap deep into human nature, to take hold over our bodies, speak to our psyches, and open our souls to depths that transcend ourselves, carrying us away to a summer on another plane of existence that might possibly never end.
Despite having been horrendously commodified, UVST will continue to be a source of provocation for those who choose to sift through the consumerist discord, and will play on into the next summer, and the following summer…ad infinitum.