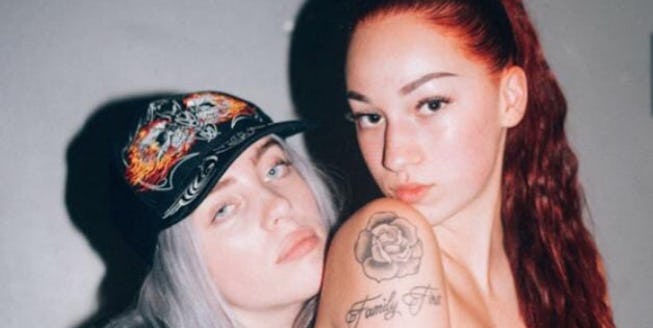 Photo Via @PopCrave Twitter.
Bhad Bhabie And Billie Eilish Are Not Dating
UPDATE 7/24/18 8pm: According to Billie Eilish's representative, Eilish and Danielle Bregoli are not dating. Eilish has also addressed the rumors via social media, posting a photo of herself along with the caption, "i'm not dating danielle y'all stupid that's my baby sister." See her post, below.
--
Turns out that Billie Eilish and Danielle Bregoli (aka Bhad Bhabie) are super-tight. So much so that recent photographs of the two hanging out together, as well as one of Bregoli's Snapchats, has the rumor mill working overtime.
As Rummler noted, social media has been speculating that the two are an item since the beginning of July after Bregoli retweeted this fan post:
According to the Rummler, Bregoli also posted an Instagram that had tongues wagging, though it appears she has since deleted whatever the photo was. However, there are screenshots of one of Bregoli's Snapchats of Eilish with the caption, "You have to look like this to be my girlfriend." 
People have also been reposting a screenshot of another alleged Snapchat, in which Bregoli captioned a text exchange between her and a contact labeled "My Love," by writing, "Billie be playing with my emotions."
In the wake of all this, Twitter has gone bananas. And the responses to the rumors are very mixed, with many still (rightfully) questioning the veracity of it.
As some have pointed out, the two could be just very close friends. According to some of Eilish's fans, she has previously said she is straight via an ask.fm account that appears to belong to her but is unverifiable. 
Whatever may be going on between the two, it's way too early to be speculating—especially when the "evidence" is this shaky. So maybe it's best to take this particular rumor with a grain of salt and just ship them for what we know they definitely are: friends.