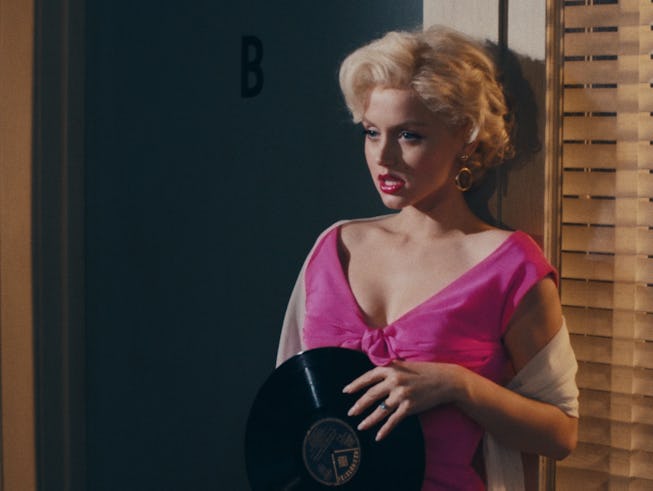 Netflix
Ana De Armas Is Annoyed By Blonde's NC-17 Rating
Starring Ana de Armas, Blonde is an NC-17-rated, deeply psychological approach to Marilyn Monroe's life.
People get a little obsessive about Marilyn Monroe. From praising her iconic performances to speculating on theories about her tragic death, there's something about the star that will always keep her exalted. One of these obsessors is Andrew Dominik, who's directing an upcoming adaptation of the bestselling Joyce Carol Oates novel Blonde, which explores the inner life of the actor, starring Ana de Armas.
Dominik finished a script based on the novel back in 2008, and the film has been in the works since 2010, with actors like Jessica Chastain and Naomi Watts originally attached. "I just think about Blonde all the time," Dominik recently told Collider. "I mean, there's other sh*t that you can do and you just can't be f*cked thinking about it. It's boring. Or you think about it for a while, 'wow, this is good,' and then you get bored with it, but Blonde never did."
Along with de Armas, the film stars Adrien Brody as the playwright and Monroe's third husband Arthur Miller, and Bobby Cannavale as her second husband, Joe DiMaggio. Filming wrapped in July 2021, and a release at the 2022 Venice Film Festival is planned in September, as well as on Netflix.
Blonde is out on Netflix on September 28. In the meantime, here's everything else we know so far about the film.
It's a feminist interpretation of Marilyn's life
Joyce Carol Oates recently said on Twitter that she had seen a rough cut of the film and called it "startling, brilliant, very disturbing & [perhaps most surprisingly] an utterly 'feminist' interpretation... not sure that any male director has ever achieved anything this.)"
The film takes a hard look at Marilyn's psychological underpinnings
Blonde takes a distinctly psychological approach to the life of Marilyn, and from what Dominik says, sounds like it's very aligned with the toiling, necessary psychological work of "healing the inner child."
"Well, the whole idea of Blonde was to detail a childhood drama and then show the way in which that drama splits the adults into a public and private self," he told Collider. "And how the adult sees the world through the lens of that childhood drama, and it's sort of a story of a person whose rational picture of the world as being overwhelmed by her unconscious, and it uses the iconography of Marilyn Monroe."
Its director compares it to Citizen Kane and Raging Bull
"Blonde is a movie for all the unloved children of the world. It's like Citizen Kane and Raging Bull had a baby daughter," Dominik told Collider. (This man is a branding expert...) "It's sort of like an unwanted child who becomes the most wanted woman in the world and has to deal with all of the desire that is directed at her, and how confusing that is. It's kind of a nightmare. It's about being in a car with no brakes. It's just going faster and faster and faster." The psychological underpinnings of a modern celebrity? We have lots of questions on this topic.
Theres been some controversy
Blonde is the first film produced by Netflix to receive an NC-17 rating, a rating the film reportedly received for a rape scene that was in the novel and for a scene that Screen Daily described as featuring "bloody menstrual oral sex." "It's a demanding movie," Dominik told Screen Daily in March. "If the audience doesn't like it, that's the f*cking audience's problem. It's not running for public office."
Dominik stands by the films intensity, noting that if the film had come out during the heyday of #MeToo it would have reflected the movement. "We're in a time now, I think, where people are really uncertain about where any lines are," he said to Vulture. "It's a film that definitely has a morality about it. But it swims in very ambiguous waters because I don't think it will be as cut-and-dried as people want to see it. There's something in it to offend everyone."
De Armas looks uncannily like Marilyn
In the chilling teasing trailer for the film, we see de Armas crying as someone applies mascara to her lashes: "Please come. Don't abandon me," she says, softly, as a slowed-down, eerie cover of "Diamonds Are A Girl's Best Friend" slowly emerges. It's a little scary how much she resembles Monroe as she breaks into the actor's trademark huge smile in the final shot of the trailer — a smile you can't quite tell is real or fake. Watch it, below.
De Armas did a deep dive into the Marilyn archives for the role
"We worked on this film for hours, every single day for almost a year," de Armas told Netflix Queue/ "I read Joyce's novel, studied hundreds of photographs, videos, audio recordings, films — anything I could get my hands on. Every scene is inspired by an existing photograph. We'd pore over every detail in the photo and debate what was happening in it. The first question was always, 'What was Norma Jeane feeling here?' We wanted to tell the human side of her story. Fame is what made Marilyn the most visible person in the world, but it also made Norma the most invisible."
A new trailer shows de Armas losing her mind as Marilyn
The film's official trailer gives us a look at the sheer range of emotion de Armas displays as Marilyn, who we see crashing her car, exploding in screams, and standing in a room on fire. "I've played Marilyn Monroe, Marilyn Monroe, Marilyn Monroe," she tells a reporter in the trailer. "I can't face doing another scene with Marilyn Monroe. Marilyn doesn't exist. When I come out of my dressing room, I'm Norma Jean." Watch the trailer, which reveals the tagline: "Watched by all. Seen by none," below.
Monroe's estate is defending the casting of de Armas
Some people are upset that Monroe is being played by a Cuban actor — a decision that de Armas described as "groundbreaking" in 2020. Never the mind the fact that de Armas bears an uncanny resemblance to the star and from the trailer, appears to have mastered her breathy accent, some are claiming that she still sounds Cuban in the the trailer. I couldn't hear her accent, but even if it's there, who cares? It's called art, people! In the wake of criticism, Monroe's own estate is coming to her defense.
"Marilyn Monroe is a singular Hollywood and pop culture icon that transcends generations and history," said Marc Rosen, president of entertainment at Authentic Brands Group, which owns the Marilyn Monroe Estate, told Variety. "Any actor that steps into that role knows they have big shoes to fill. Based on the trailer alone, it looks like Ana was a great casting choice as she captures Marilyn's glamour, humanity and vulnerability. We can't wait to see the film in its entirety!"
And for what it's worth, de Armas worked extensively on Marilyn's breathy accent. She told The Times of London last year that she spent an entire year working on the accent, including nine months of dialect coaching she described as "torture."
de Armas doesn't understand why Blonde was given an NC-17 rating
In an interview with the French fashion magazine L'Officiel, de Armas said she doesn't agree with the rating. "I didn't understand why that happened," she said. "I can tell you a number of shows or movies that are way more explicit with a lot more sexual content than Blonde. But to tell this story it is important to show all these moments in Marilyn's life that made her end up the way that she did. It needed to be explained. Everyone [in the cast] knew we had to go to uncomfortable places. I wasn't the only one."
The topic of the rating has been often written about. Director Andrew Dominik has long predicted the film's NC-17 rating, telling Screen Daily in February: "It's a demanding movie. If the audience doesn't like it, that's the f*cking audience's problem. It's not running for public office. It's an NC-17 movie about Marilyn Monroe, it's kind of what you want, right? I want to go and see the NC-17 version of the Marilyn Monroe story."
And this is after Netflix apparently insisted on hiring an editor "to curb the excesses of the movie," which includes a rape scene that was in the book. Ratings seem generally unimportant nowadays anyway, as the film is premiering on a streaming network from the living rooms of people who will surely be under 17.
This article was originally published on