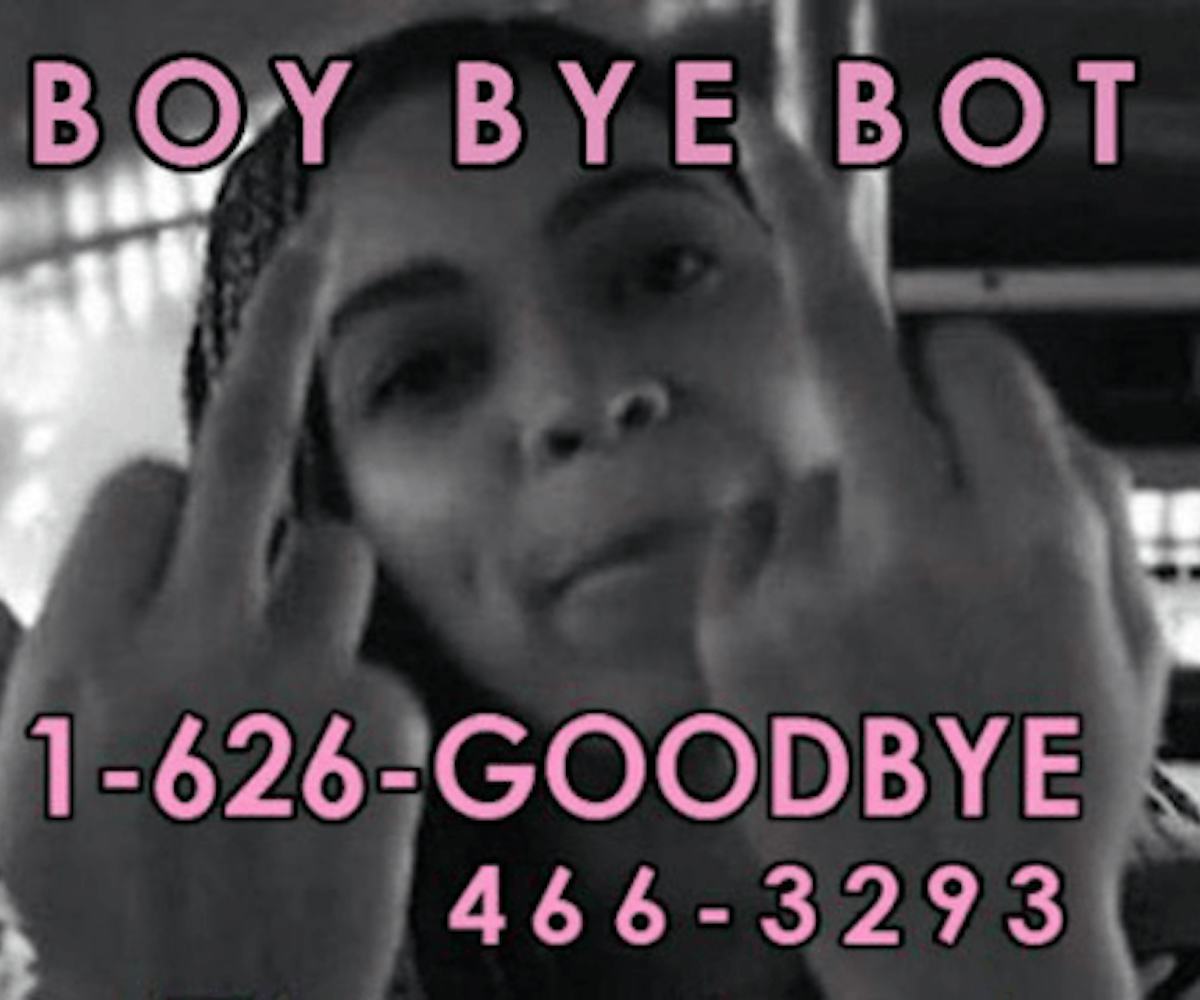 Photo via BoyByeBot.com
The Boy Bye Chatbot Will Hilariously Text Creepy Dudes On Your Behalf
So necessary, so hilarious
If you've found yourself, like so many women around the world, dealing with guys while out and about who find it hard to understand "no" when asking for a phone number, fear not! Now you can have Boy Bye Bot deal with that creep.
When some dude approaches you while you're trying to enjoy a drink with your friends and refuses to take "no" for an answer after repeatedly asking for your number, give them the Boy Bye Bot number (1-626-GOODBYE) and it will send him a programmed series of messages when he texts that include requests to donate to Planned Parenthood and links to fuccboi-related articles at Jezebel and Reductress. Other responses are more innocent, like "I should put you in my phone as Thermostat, because you're so hot and cold," and a message asking what the fuccboi's favorite cheese is.
Similar to Jonah and Chelsea Perretti's Rejection Hotline in 2002, a number that went to a recording informing the person you're not interested, Boy Bye Bot was created by comedian Hassan S. Ali, who got the idea while talking to a group of female friends who were complaining about some of the more aggressive and disgusting messages they've received from men. So far, Ali's said, the messages he's read have been 50 percent hilarious and 50 percent sad. Sounds about right. 
Some of the best exchanges with the bot are on Boy Bye Bot's website. Check out a few of our favorites below.