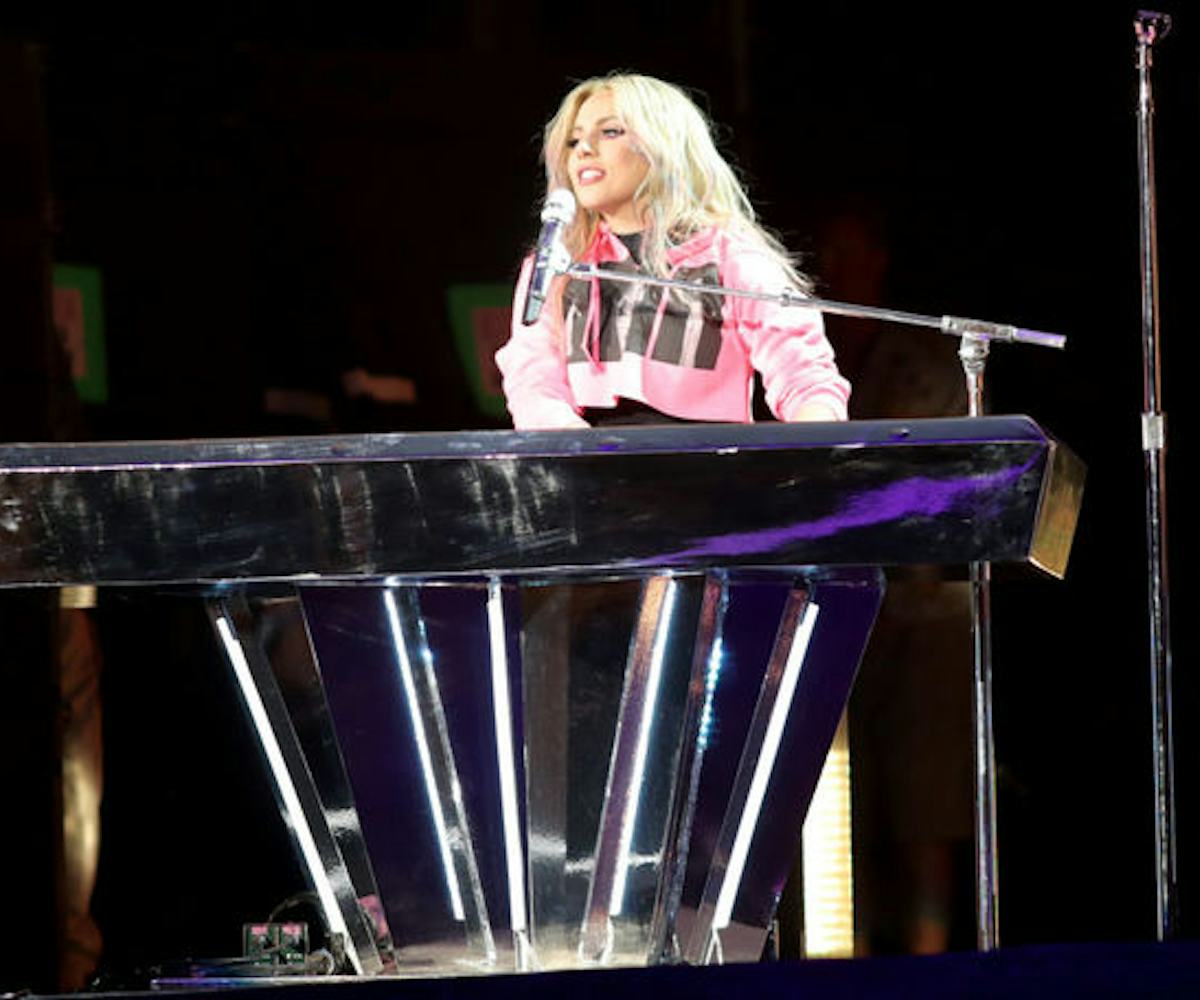 Photo by Neilson Barnard / Getty Images
How Should Celebrities React In The Aftermath Of Neo-Nazi Protests?
The dangers of good intentions
Since the deadly protests in Charlottesville, Virginia, we've seen an outpouring of celebrity support for those who confronted neo-Nazis and white supremacists. On the day of the protests, Lorde took to Twitter to acknowledge her own white privilege, while John Legend reminded fans that Nazi sympathizers are thriving in the White House. Meanwhile, Pharrell shared the now-infamous photo of Deandre Harris being beaten by white supremacists, while Tegan and Sara Instagrammed the simple (albeit effective) words: "Reject white supremacy."
But, as the week went on, something got lost in translation.
After Trump's press conference on Tuesday, Lady Gaga took to Twitter to ask whether Trump blaming "both sides" for incidences of domestic terrorism made him "a racist supporter." (Spoiler: It definitely does.) This came after she'd asked the black community to "tell the non-racist white community" how to "do better," a request which unfairly puts the burden on black people to educate their own oppressors. She then created another poll: "How do you think it's best to solve the world's problems?" Options were the reductive "#BeKind" and "#BeViolent." 
Two days later, Tina Fey took to Weekend Update to suggest that in moments of rage, we stress-eat and scream into a sheet cake, a skit that came off as tone-deaf and privileged. Despite the defense that Fey was just using satire to express her exasperation, the fact is that we need action, not just moments of lamenting how shitty everything is.
Fey's sketch is an accurate reflection of the disconnect between celebrity privilege and the rest of the world. As much as tidings of "hope" or "love," or suggestions to "laugh through pain" seem like positive messages in the wake of violence, they're also an example of passive rhetoric that reflects an inability to zoom out and acknowledge the current social and political reality. What happened in Charlottesville began as a white supremacist rally which was protesting the removal of a statue of Confederate General Robert E. Lee. In other words, this rally was not a refutation of American values, but rather predicated on them; it was the result of centuries of racist thought, speech, and practice. And, as seen during the first time Lee was removed from a position of power, it will take more than just "thoughts and prayers" to make a change. It will take action.
And yet, icons fluent in equality still seemed to be shocked. Kim Kardashian opted for a rather vague message of unity and disbelief. Clay Aiken went on record revoking his previous nice comments about Trump, P!nk apologized on behalf of white people, and Kirk Franklin sent messages of love and regret. And then there was a shit-ton of personalities who've failed to say anything at all. 
Which, like, look: to watch the president of the United States offer his support to neo-Nazis is an image few are prepared to mentally or emotionally process. But while nothing about the last week has seemed normal, the only unique thing about it is its obviousness. White nationalism has always been prevalent in America, in Canada, and in the U.K., as our histories of colonialism, slavery, and segregated school systems have bred a climate in which racists and xenophobes are allowed to feel comfortable and righteous. Trump is just amplifying on an official level what men like David Duke have been shouting for years.
There's a reason Steve Bannon made it all the way to the White House.
But that doesn't mean everyone's ready to use social media for anything other than "love and prayers" sentiments, especially since committing to a cause and condemning parties and the president will undoubtedly invite vitriol. Not everyone can be Lin-Manuel Miranda, Kumail Nanjiani, LeBron James, or Ava DuVernay, who've all been using their accounts as calls to action or to amplify the voices of activists and journalists on ground level. But they can certainly try.
Celebrities exist and boast success because they've cultivated a fan base, a group of people who love them and follow and support them. Which also means that it's time for those celebrities to give back. It's not enough to offer prayers, hope, or to ask black people how not to be racist. It's not enough to assume satire is free of responsibility. (And it's certainly not enough to apologize on behalf of racist white people—what the hell?) In 2017, as Nazis march and the president defends them, we need public figures to use their reach to educate their audiences, to promote charities and nonprofits, and to offer a platform to activists who don't have access to that level of audience. We need them to condemn Trump's policies and challenge his place in office, reminding followers that no, they aren't alone, but, more importantly, that we're all in this fight together. Love and hope are great, but it's not a phone call to your government representative, that's for sure.
And we are seeing real things happen. We saw Olivia Wilde and Mark Ruffalo march with Michael Moore to Trump Tower, and women like Gina Rodriguez utilizing their social media as a platform for resistance. But when we look at a figure like Kylie Jenner, who has used black culture to build her own brand, remain quiet or white singers ask people of color to do their homework for them, that's not progressive. That's disappointing. Especially since with endless resources at their disposal, there's no excuse for passivity anymore—it's just another word for "complicity" now.