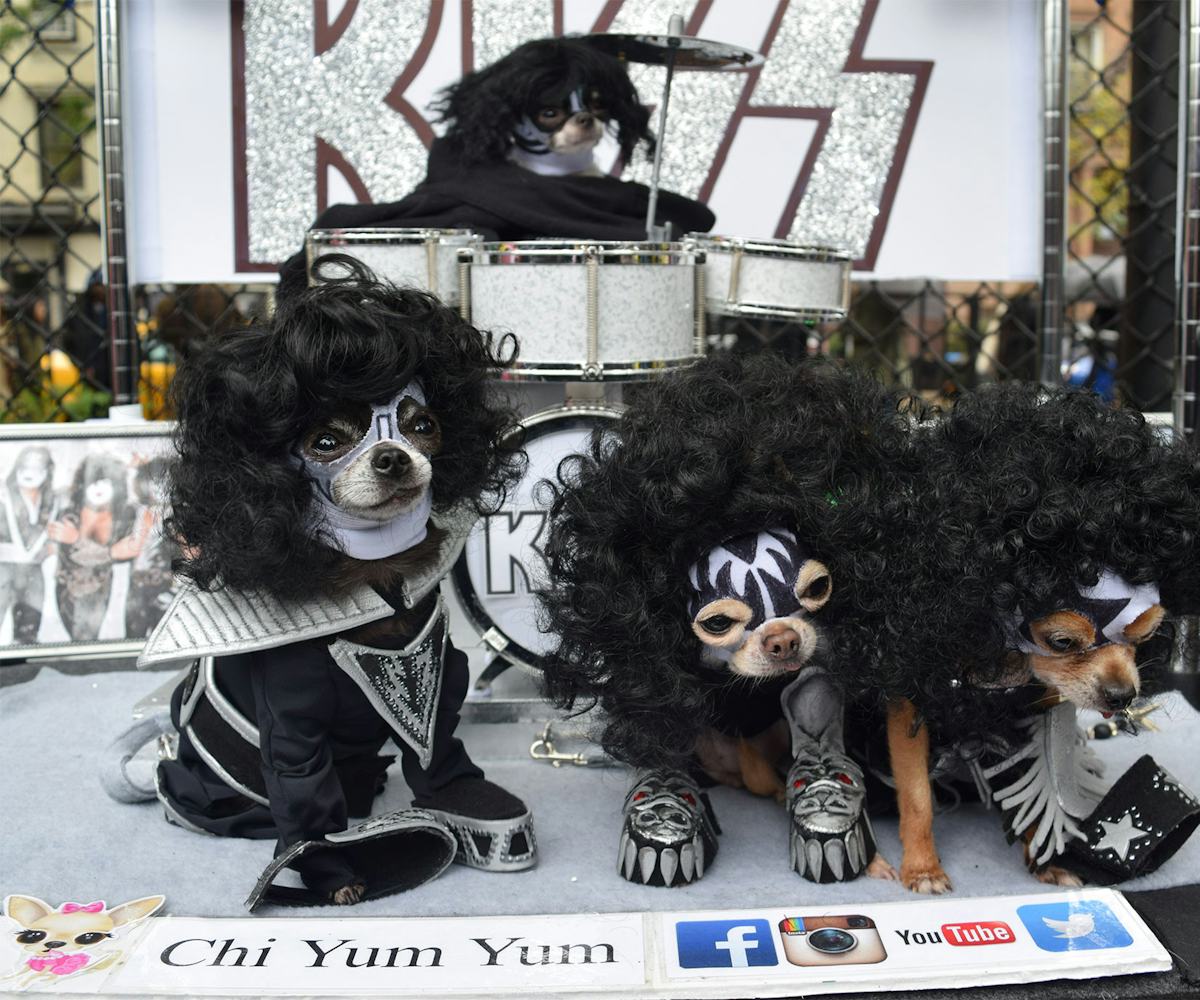 Photographed by Claire Fitzsimmons
What 20 Really Cute Dogs Were Probably Thinking At The NYC Dog Halloween Parade
I won't lie to you, sometimes New York City is the actual worst. Like, for example, when you're walking down the sidewalk in sandals and a rat actually runs across the top of your foot. Or, like, when your cab driver spends the whole 20-minute ride giving you an unsolicited critique of your outfit, hair, etc. These are the bad day experiences that make up the genetic code of this god-forsaken city.
But, obviously, there are plenty of great things that manage to keep me around: my job, the really nice guys who work at my bodega, countless fascinating humans, halal trucks, and, perhaps one of my favorite beacons of hope and joy in New York, The Tompkins Square Halloween Dog Parade.
If you didn't know already, dogs—especially dogs in costumes—are basically the antivirus for bad days, and this annual event is considered "the largest dog costume parade in the world." It consists of hundreds of very creative owners dedicating hours of their lives to coordinate intricate Halloween costumes for their pooches. Think: four chihuahuas dressed up as the band KISS, complete with tiny platform shoes. In other words, it's pure art. Thousands of people pour into Tompkins Square Park just to look at these bundles of absolute joy, and there is just so much cuteness exploding in the area that it floods over to the streets, the good vibes spreading from Manhattan all the way up to the Bronx and down to Brooklyn, and for this one day, no one can justify being an asshole, including the rats and the cabbies. Or something like that.
So, here then is a roundup of some of our favorite pups from the parade this past weekend—from a sassy witch to Jared Leto's dog doppelgänger—and our take on what they were probably thinking at the time. Soak up all the good vibes and save them for your next bad day, wherever you are.
"Really wish I had opposable thumbs so that I could use this little bat to smash fire hydrants like Beyoncé… I guess peeing on them will just have to do."
"I will take what is mine with fire and blood."
"Head witch in charge, bow down, peasants."
"These water balloons on my feet are bullshit and ruining my outfit."
"Chillin and killin', but mostly chillin'."
"We really wanted to be leather daddies, but our human said this was a 'family parade,' soooo here we are."
"What is this chicken doing here?"
"I'd be a better Wayne than you..."
"Way too old for this shit."
"IT'S A LIVING DOCUMENT FOR GOD'S SAKE…. also, yeah, we saw 'Hamilton'... it was okay."
"Oh hi there, so you noticed we're 'bugging out,' eh? Yeah, it's called method acting. Look it up."
"I told you I wanted to be Winona Ryder's character… I need a cigarette."
"Okay, so I'll be the itsy bitsy spider, and you can be the water spout."
"Accio porchetta sandwich!"
"Seriously, though, how much do I look like Jared Leto when I turn my face like this—crazy, right?? It's the jawline."
"Really wanted to be ballerinas, but some people don't understand gender is a construct."
"Single red lobster dog seeks mermaid dog for 'Under The Sea' duet, please have your human contact my human."
These dogs are literally thinking nothing because they're sleeping.
"Don't know or care what my costume is because I'm too busy thinking about how crazy season three of Black Mirror was, holy shit."
"I'm not even old enough to vote."