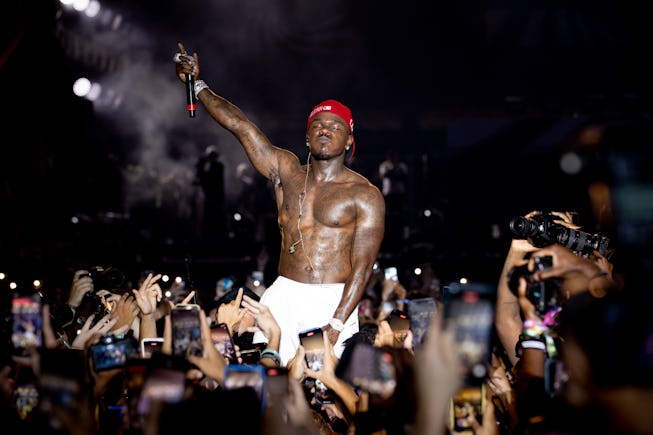 Rich Fury/Getty Images Entertainment/Getty Images
Everything You Need To Know About DaBaby's Rolling Loud Fiasco
The rapper went on a homophobic rant and then some at Miami's Rolling Loud Festival.
On the closing night of Miami's Rolling Loud hip-hop music festival, the rapper DaBaby ignited controversy with an upsetting performance, in which he went on a homophobic rant and brought out Tory Lanez to perform with him — directly following Megan Thee Stallion's performance.
Below, we answer everything you need to know about the controversy, the fallout, and what people are saying.
What did DaBaby say in the rant?
DaBaby went on a homophobic rant during his set, saying: "If you didn't show up today with HIV, AIDS, or any of them deadly sexually transmitted diseases, that'll make you die in two to three weeks, then put your cellphone lighter up," he said. "Ladies, if your p*ssy smell like water, put your cellphone lighter up. Fellas, if you ain't sucking d*ck in the parking lot, put your cellphone lighter up."
Yikes!‌‌
Wait, and he brought up Tory Lanez after Megan Thee Stallion?
DaBaby, whose set directly followed Megan's, said, "I'll give somebody out here a million dollars if they can guess who in here," while Lanez unveiled himself from a mascot outfit.
Last summer, Lanez allegedly shot Megan in the foot after an argument in his car. (He pleaded not guilty to two felony charges in November.) And last month, Megan and DaBaby feuded on Twitter after he promoted Lanez's "SKAT" record.
Bringing out Lanez as a surprise guest after Megan's set is already at outrageous levels of disrespect, especially considering DaBaby's history with the Houston rapper; the two were previously collaborators, having worked on Megan's tracks "Cash Sh*t" and "Cry Baby" together in 2019 and 2020, respectively.
There was at least one instance of immediate backlash. According to a video from PopCrave, someone threw a shoe at DaBaby after he brought out Lanez.‌
Any Tory Lanez fallout?
On August 23, Lanez' bail was increased from $190,000 to $250,000, for violating a protective order that prohibited him from going within 100 yards of Megan Thee Stallion — which he violated during the Rolling Loud set.
"You're facing years in prison, over 22 years in prison," the judge told Lanez in court on Monday. "They could have filed an additional charge based on violating the protective order because that's a violation of law, as well. You do not want to be doing things like this, sir. You have the means and the wherewithal and a lot of smart people around you to advise you as to how you should be conducting your life so we don't have to have hearings like this." Maybe DaBaby can pitch in for bail?
Has DaBaby tried to defend himself? How did that go?
Not well! The rapper took to Instagram Live to defend his rant, saying: "I wasn't going on no rant — that's called a call-to-action," he said. "That's what that's called because I'm a live performer … Look. All the lights went up — gay or straight. You wanna know why? 'Cause even my gay fans don't have f*ckin' AIDS."‌‌‌‌
Has DaBaby apologized?
He's put out a few statements that could maybe be considered apologies, but aren't really. None have been particularly well-crafted, nor have they been well-received.
His latest attempt to apologize ended in calling critics "crybabies" at the Hot 97 Summer Jam concert in New Jersey on August 22, his first performance since Rolling Loud — and probably his last for awhile, judging by how many lineups he's been dropped from.
At the concert, DaBaby played a video montage, showing concert clips and videos of the rapper and his fans, where he said he was sorry for his homophobic remarks. "I never, ever meant to offend anybody," he said in the video. The montage is already a too little, too late moment, but it might have been fine, except that DaBaby being DaBaby, went rogue after the video.
"Check this out," he said, according to Complex. "Other than the people that, you know, was truly offended, I feel like the rest of y'all motherf****s being cry babies." Seriously?!
Previously, on July 27, DaBaby posted a series of tweets, at first appearing the defend the rant, and then kind of apologizing. Was the word "apologies" used? Yes. Was it an apology? Not really.
"I tell fans to put a cellphone light in the air y'all start a million man March. I told you y'all digested that wrong but I ain't gone lie I'm impressed," he wrote on Twitter. "Now show this same amount of support when a racist cop kill one of our black ass…YA NOT."
He continued: "Anybody who done ever been effected by AIDS/HIV y'all got the right to be upset, what I said was insensitive even though I have no intentions on offending anybody. So my apologies But the LGBT community... I ain't trippin on y'all, do you. y'all business is y'all business."
What are people saying?
T.I. defended DaBaby, writing in the comments section of a video on The Shade Room's Instagram page of the rant: "If Lil Nas X can kick his shit in peace... so should dababy," with an emoji of a man shrugging his shoulders. T.I. then went on Instagram Live to explain his comment, saying, "Ain't nothing in the world gon' make me hate nobody just because they do something different in the bedroom than I do."
He continued: "And if you gon' have the Lil Nas X video and him living his truth, you gon' damn sure have people like DaBaby who gon' speak they truth and it ain't none wrong with none of it."
On Tuesday afternoon, Dua Lipa condemned DaBaby's comments, writing:
"I'm surprised and horrified at DaBaby's comments. I really don't recognise this as the person I worked with. I know my fans know where my heart lies and that I stand 100% with the LGBTQ community. We need to come together to fight the stigma and ignorance around HIV/AIDS."
Furthermore, clothing retailed boohooMAN cut ties with the rapper over the ordeal. "We stand by and support the LGBTQ+ community, and do not tolerate any hate speech or discrimination in any form," wrote the company in an Instagram statement.
On August 5, Miley Cyrus belatedly joined the conversation to let us all know that DaBaby deserves "forgiveness and compassion," as reported by Consequence of Sound.
Cyrus posted on Instagram on August 4, telling DaBaby to check his DMs. The singer continued: "Would love to talk and see how we can learn from each other and help be part of making a more just and understanding future!"
The post reads:
"As a proud and loyal member of the LGBTQIA+ community, much of my life has been dedicated to encouraging love, acceptance, and open mindedness.
The internet can fuel a lot of hate & anger and is the nucleus of cancel culture… but I believe it can also be a place filled with education, conversation, communication & connection.
It's easier to cancel someone than to find forgiveness and compassion in ourselves or take the time to change hearts and minds. There's no room for division if we want to keep seeing progress! Knowledge is power! I know I still have so much to learn!"
Ok, and what's Twitter saying?
It's a combo of calling him out, making jokes about the shoe, and about other events he's jokingly been dropped from, because, Twitter. Here are some notable tweets:
What's the deal with his new music video?
DaBaby seemingly addressed his homophobic remarks in his new video for "Giving What It's Supposed To Give" on July 28. It's a bizarre non-apology. Halfway through the video, he holds up a sign that says "AIDS," and the video ends with the message "Don't Fight Hate With Hate," which is of course in rainbow lettering to denote his acceptance of the LGBTQ+ community. It continues: "My apologies for being me the same way you want the freedom to be you."
What?!
Any additional fallout?
You know it. DaBaby was dropped at the last minute as the August 1 headliner at Chicago's Lollapalooza, and replaced with the more open-minded rapper, Young Thug. "Lollapalooza was founded on diversity, inclusivity, respect, and love," wrote the festival in a statement. "With that in mind, DaBaby will no longer be performing at Grant Park tonight."
The cancellation of DaBaby's headlining performance comes after the rapper bragged about his reputation as a "#LIVESHOWKILLER" on Twitter. Some might even argue that he proved himself right; the live show was definitely killed.
New York City festival Governors Ball followed Lollapalooza's lead, and axed DaBaby's performance slot. The festival dropped a new lineup poster without his name, and also released a statement that hinted at the controversy: "Founders Entertainment does not and will not tolerate hate or discrimination of any kind. We welcome and celebrate the diverse communities that make New York City the greatest city in the world. Thank you to the fans who continue to speak up for what is right. Along with you, we will continue to use our platform for good."
Furthermore, the Las Vegas festival Day N Vegas also dropped DaBaby from their lineup on August 2. He's since been replaced by Roddy Rich.
On August 3, Austin City Limits became the latest festival to axe DaBaby from its lineup, announcing on Twitter that a new lineup will be released soon.
And the fallout only continues: HotNewHipHop noted that as of August 9, Kanye West had removed a remix of his song "Nah Nah Nah" featuring DaBaby, from Spotify, Apple Music, and Tidal.
What's DaBaby saying now?
After a week of backlash and multiple festivals nixing his performances, DaBaby is doing an official, Notes App-level apology (and likely approved by a very stressed out publicist) for his homophobic rant.
"Social media moves so fast that people want to demolish you before you even have the opportunity to grow, educate and learn from your mistakes," read the statement. "I want to apologize to the LGTBQ+ community for the hurtful & triggering comments I made."
But on August 8, just five days after posting the apology, DaBaby appears to have backtracked, deleting the aforementioned apology from his Instagram account.