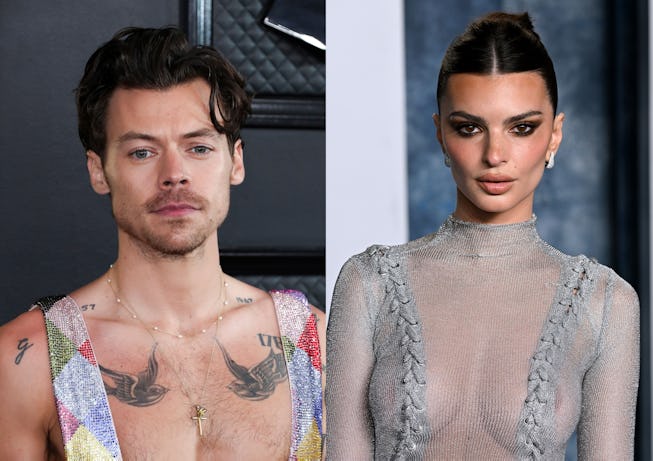 Shutterstock
Emily Ratajkowski Addressed That Viral Kiss With Harry Styles
If you're a certain level of famous, no lip lock goes unnoticed.
Basically the only good thing about being famous would be getting to make out with other hotties, a privilege Emily Ratajkowski and Harry Styles were all too eager to take advantage of one steamy night in Tokyo this spring. But the downside is that if you're as famous and hot Emrata or Styles, someone is probably filming you at all times — which was the case for their kiss, which was memorialized in a now-viral video. Luckily, if you're at this level of fame, you probably have a podcast or magazine interview on which you can address said makeouts.
Such is the case with Emrata, who recently spoke to Spanish Vogue about the lip lock. The video spawned a series of rumors that Harry's ex-girlfriend Olivia Wilde was upset with Ratajkowski over the kiss. When asked about it, Ratajkowski denied any type of confrontation and described the whole thing as "just an unfortunate issue." She then likened the makeout to the Adam Levine cheating scandal, bringing up the issues that matter: why everyone was "focused on slut-shaming a 23-year-old girl" instead of "asking what happens to the person who is in a relationship and as such has contracted obligation." She had a point.
"In the case you ask me about [the Harry Styles video], it's more of the same. I feel bad for Olivia because she has had to suffer this situation on several occasions," said Ratajkowski.
She then went on to talk about how strange it is to have her love life be so exposed, particularly after her public divorce from her ex-husband Bear McClard.
"It's very bizarre to have certain experiences and then have the whole world know about them and comment on them. I'm just a person who's gone from a three-year relationship to a four-year relationship, so this is the first time in a long time that I've been in a dating stage," said Ratajkowski. "The interest there is in that particular area is very strange. Not that I'm surprised, but it's a tiny slice of my life. Most of my life is focused on my son and my work. But I guess these issues don't inspire the same flashy headlines. The invasion of private aspects is very hard for me."
All I know is that I hope Emrata is still dating Eric Andre — because every girl deserves to laugh.