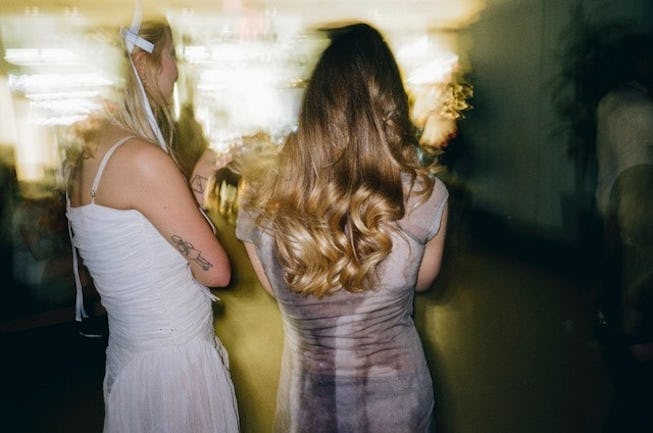 Grace Smidt
Inside Forever Magazine's Purity Ball
Photos from the fundraiser party for New York City's most exalted literary magazine.
On Sunday night, the Oculus was lit; not with the lights of commuters, but with the glow of Forever Magazine's Purity Ball.
Forever Magazine is the lifeblood of a new literary scene, one that's actually fun, one that throws good parties where readings aren't required. It's a magazine with an all too rare sense of play in its design, an honest to God DIY essence that's easy to emulate, but hard to actually embody these days. But not for Forever Magazine, which is built on the back of a true love of alternative literature and more urgently, of friendship.
But printing a two-pound glossy magazine in an economy where martinis suddenly cost $18 isn't cheap. Forever, thus far, has been funded by subscriptions, advertisers, and a lot of heart but on Sunday, held their first-ever fundraising event: The Purity Ball, Forever Magazine's most exalted party yet — a ball worthy of the cheeky glamour of the Tabi split toe glass slipper illustration that emblazoned the event flyer.
Held at The Canvas 3.0 at The Oculus, the ball included an opera performance by Dianna Lucia Dragonetti, visuals by Jon Rafman, classical piano by Julian Tepper. Dean Kissick, Kendall Storey, Leslie Jamison spoke, while guests threw in their raffle tickets for a chance to win gifts by Cafe Forgot, Zepherina, Hestia, Danny Cole, Adam Faze, Ditrapano Foundation, and Nicolaia Rips. Small bites were provided by by Juan, with a vanilla buttermilk cake by Cakes4sport. The party was bartended by ByRoads with liberations provided by Body, ette, June Shine, Misguided, and Recess.
Forever editors Anika Jade Levy and Madeline Cash, along with Creative Director Natalie Ruiz, shared an exclusive statement with NYLON following the event, which you can read below:
Thank you to our readers, our friends, and our contributors who came out on Father's Day for our first ever fundraising gala. For two years, Forever has operated by magic — our print magazines have been sporadically funded by our boyfriends, our bartending jobs, and the headlines we write for Jack in the Box. With recession looming, the cost of paper and shipping are doubling every year. Prestigious and important print magazines are disappearing every day. It would be easy to feel cynical about the current state of printed literature. Was mass literacy a mistake? Has the smartphone swallowed the paperback? Will we be burning our books for warmth by next winter? We don't have any of the answers. We just want to keep going as long as you'll have us. We'll keep publishing this magazine until the wheels fall off. We are so honored to have been able to work on this project for five issues, to publish our favorite writers and artists alive — writers like Emma Cline, Sheila Heti, Dennis Cooper, Sam Lipsyte, Eileen Myles, Leslie Jamison; artists like Jon Rafman, Maggie Dunlap, Andy Dixon, Petra Cortright, and Ryan Trecartin. We're not a registered 501c3, but we can promise you tax rebates in heaven. Buy the Daddy issue to support our next print project.
With love, ani, mad & nat
See below for all of the photos from Forever Magazine's Purity Ball.