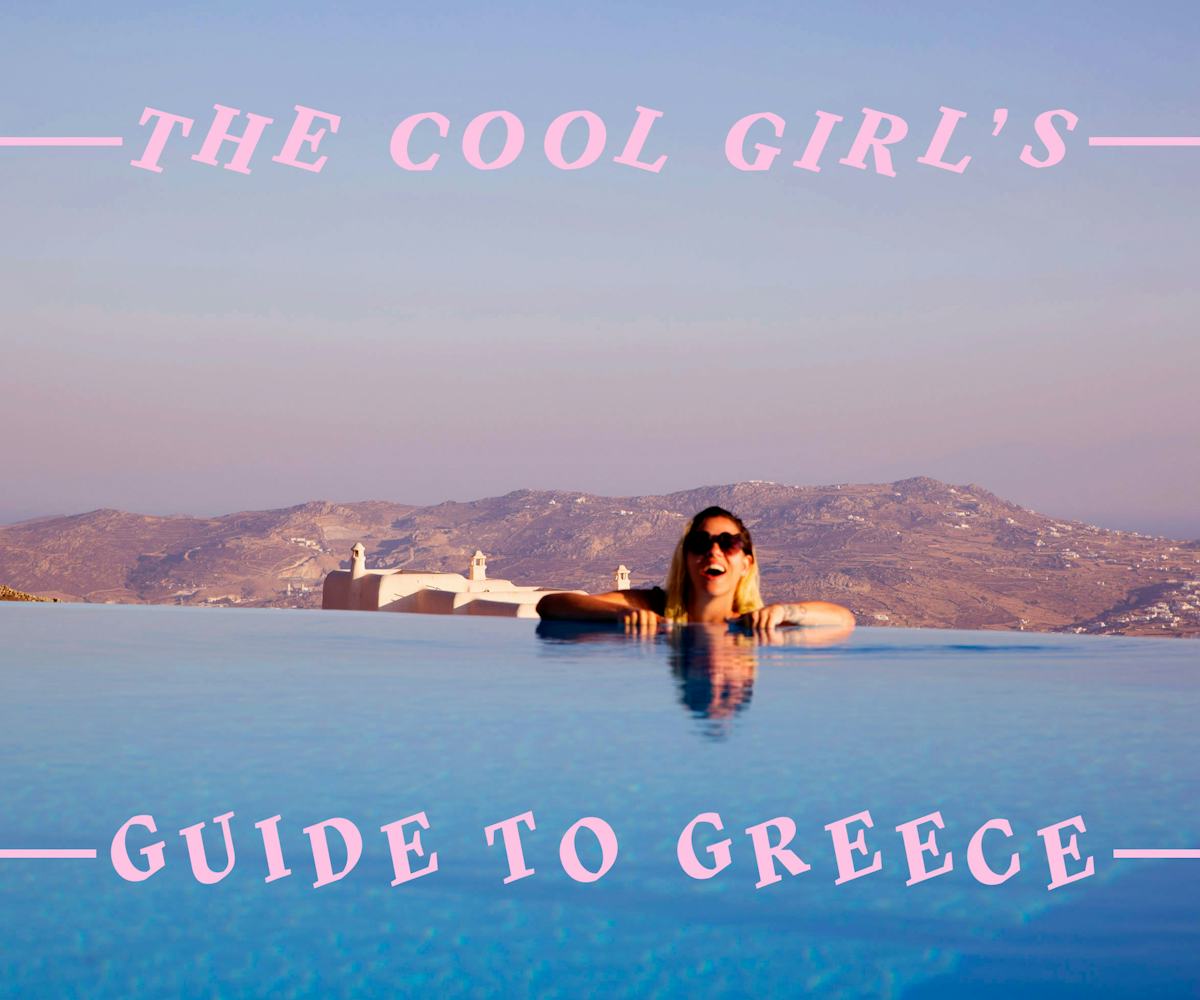 Photographed by Andrew Mixter
The NYLON Guide To Greece
If you can't handle me at my Medusa, then you don't deserve me at my Aphrodite
Sometimes the only thing that soothes a vicious hangover is planning an imaginary trip as a light at the end of the tunnel. So it was on one of those dreadful mornings, during which I thought I was hallucinating, that I decided to go to Greece. Why Greece? Well, I happened upon some extremely affordable flights there, and before I could think twice, I'd booked them, FaceTimed my BFF Bri, and soon enough, we were off. And since I am Greek, the fact that I'd never visited the islands my family came from was always a salty subject with my relatives, so once my tickets were booked, I turned to them for a travel itinerary. My dad's family-famous island hopping stories were a solid starting point, and after Bri and I made a few more modern additions, based on where we knew we wanted to go: Athens, Santorini, Mykonos, and Milos. Here's what we learned.
ATHENS
When we landed in Athens and began to drive into the center of the city, we noticed our surroundings began to vary; one moment we were driving past a breathtaking view of the ocean and the myriad of stacked houses spanning its shore, and the next thing we knew our Uber was encircled by a street bike gang as we drove through a collection of abandoned apartment buildings that have been taken over by graffiti. This juxtaposition of extremes is to be expected. Greece's economy has been fluctuating dramatically for years now (which is part of what makes it a very reasonable place to vacation to at the moment), and the wealth the city has seen for ages sits in stark contrast beside far less lavish residences.
WHERE TO STAY
Hotel Grande Bretagne: To get the full experience of Athens, we stayed at Hotel Grande Bretagne. From the tea and cookies upon entry to the lavish cigar room atrium in their courtyard and the rooftop dining room that overlooks the Acropolis, we were completely pampered in the ancient city. Was luxury invented here? It sure felt like it. We enjoyed putting on a robe, ordering some room service, and gazing off our balcony, looking over the bustling square below.
WHERE TO EAT
Kanella in Gazi: Gazi is the main square of nightlife in Athens, with its peripheral blocks full of open air restaurants whose tables pour out onto the sidewalks and streets. We ended up at Kanella and would recommend you do the same. We ordered every item on the menu and then some and our entire bill for four people came out to less than $40. Start off with a vat of table wine, some stuffed grape leaves, and some saganaki (broiled Greek cheese) before you dive into the real stuff. We doubled up on some moussaka (Greek lasagna with eggplant and potato), spinach pie, and calamari. Make sure to finish it off with some Greek coffee so you can still move afterward.
AND DRINK
S.I.X. Dogs: If you're looking to find the underground DIY scene in Athens, head straight to S.I.X. Dogs. Down a few twisting roads that are barely wide enough for a car, you'll happen upon its basement door that opens up to a wide indoor area and an even bigger backyard littered with candles and strings of lights. With little pockets of seating areas hiding around every corner, it's really easy to meet people and tag along to the next spot with them.
WHAT TO DO
In my personal opinion, the biggest tip for traveling Greece has got to be Tinder—and it doesn't even need to be used for hooking up. As soon we landed in Athens, and each of the other islands we hopped around to, my best friend and I immediately and ferociously began swiping right on everybody. We began asking every match the same question: What's happening tonight? We started to comprise a short tally of different events that multiple people mentioned to us. The most popular options that turned up that night were either a rooftop skateboarding party, an underground bar opening party, or an oceanside psytrance rave. We met up with a few new friends at a local bar and headed to the oceanside rave, where a couple hundred 20-something-year-old Greeks were dancing ankle-deep in the ocean. We stayed there until the sun rose and then everybody ended up skinny-dipping in the Aegean Sea. Don't tell my mom.
SANTORINI
All those vacation thirst traps you've seen on Pinterest are probably from Santorini. You know the ones: crisp white buildings stacked up on top of breathtaking island cliffs. Beautiful. To get to Santorini and all the other islands, there are cheap flights or ferries from Athens, so we hopped on a plane and arrived within an hour.
WHERE TO STAY
Perivolas: We arrived fresh off our 6am flight, and maybe it was our lack of sleep or maybe it was the extreme natural beauty all around us, but I could've sworn Perivolas was a dream. We arrived super early, way before our room was ready, so we stowed our luggage with the receptionists and made our way directly into the pool. Have you ever been hand-fed tiny sandwiches by your partner while floating in an infinity pool overlooking the cliffs of Oia? I'd highly recommend it. Pick a suite with a personal pool, and by some ancient architectural mystery, you'll be completely secluded from any neighbors, yet open to all the elements and view.
WHERE TO EAT
Sunset Ammoudi Tavern: We walked along the coast from Perivolas to the small tourist village full of shops and trinkets. If you keep walking, you'll eventually find a small offshoot of stairs that will trail down to the ocean (no easy descent, you'll be sharing the 1,000+ stair descent with herds of goats), but once you've reached the bottom, the Sunset Ammoudi Tavern sits directly in the ocean and local fishing boats tie up along the side of the building and deliver their fresh catches of the day. Make a reservation for 6pm so you can dine while watching the most beautiful sunset you'll ever see in your life.
WHAT TO DO
The island is incredibly small so, once you rent a car, everything is within your reach. We were there for two days, so the first day we did everything that was walkable from Perivolas, like taking a stroll down the northeastern coast along the cliffs to see the edges of the volcano that originally formed the island. This cliffside path turns into a small village of shops and restaurants, and you'll have to share the road with tons of donkeys who make a daily migration to and from their stables located in the area. On the second day, we rented a car to see the other side of the island. Driving is very easy as there's really only one main road that will take you to town and the major places you'd want to see. Driving to the other side of the island takes about 45 minutes, and that's where you'll find Red Beach. It's a short but hearty climb over some rocky terrain until you can see the beach but it's worth it. Once you settle in, take your top off; all the cool kids are doing it.
MYKONOS
Mykonos is the Greek island most renown for partying and revelries, just ask Lindsay Lohan. While every other location in Greece boasts a romantic or calming element, Mykonos serves the direct opposite purpose. With a party scene that goes strong through any hour of the day, it's good to be prepared for nonstop action.
WHERE TO STAY
Blue Villas: If you're partying for a good portion of the day, it's important to take a few moments for yourself. We stayed with Blue Villas and could not recommend it more. Once you arrive in the port, a Villa Consultant will greet you, grab your luggage, and drive you to your villa. While on one of the most infamous party islands, it's a good call to rest your head just outside of the hubbub; the rest of the island is a short drive away so you'll never be too far from a good time. Once you get to your villa, your consultant will run you through some amenity options. If you're a group, there are a few good ones to think about: a chauffeur (nobody wants a drunk driver and cabs are difficult to navigate since most of the villas are on private roads), a chef that will come visit and cook for your villa (the best cure for a hangover is rolling out of bed to an entire traditional Greek breakfast spread on your porch), or an archaeological tour of Delos for all you overachievers. Traveling with Blue Villas is like going on vacation with your mom, but not like a regular mom, a Cool Mom. You'll always have someone to help you out of a tough spot, give you some local advice, or sneak you into the secret balcony of a locals-only bar.
WHERE TO EAT
On our last morning on the island, we decided to stay in and have breakfast at the villa. I mean how often do you get to say that? Our villa-host-slash-new-best-friend Christine did all the coordinating, we simply let the chef in, went back to bed, and, before we knew it, we were being beckoned downstairs by the scent of fresh bread, honey, and magical spices we'd never seen before or since. The feast was laid out, and we were left to stuff our faces, purses, and luggage with as many leftover snacks as we could fit. From the menagerie of dips to the selections of cheeses and jams, it took us about three hours to eat breakfast, but then again who's counting?
AND DRINK
Christine picked us up from Mykonos to take us into town and told us it was her friend's birthday party tonight if we were interested in tagging along. Obviously, we weren't going to turn down an opportunity to party with the locals. We went to the balcony of one of the bars in the center of town, where everyone knew Christine by name, and poured drinks without counting. As her friends started arriving, the conversation and jokes didn't stop at the language barrier, and before we knew it it was past our bedtime.
WHAT TO DO
Scorpios: Our one and only night in Mykonos began when our villa consultant made us sunset reservations at the famed Scorpios. Scorpios is a sprawling beach restaurant-turned-club whose revelries rise as the sun sets. We went at about 6pm once again to watch the sunset and we highly recommend it. Watching a romantic restaurant transition into a raucous party is probably the most common activity of the Greek lifestyle. Stay for a few drinks, but then it's time to see the real nightlife. Even when we managed to forget our wallets at home, everyone was more than accommodating and truly showed the ancient Greek quality of xenia—Greece's legendary hospitality.
MILOS
Milos was the most low-key island of our trip, and the one I'm most excited to go back to. It's a little farther away from the mainland, so the tourism is a little more minimal because it's mostly where other Greeks like to go. It was also one of the cheapest islands by far: We rented an Airbnb that was about $20 a night and just a quick 15-minute walk from the center of town.Milos is known for their unusual beaches and day-long boat trips, so that's exactly what we did.
WHERE TO EAT
Barriello: On our last night there, we decided to just drive; once again there's really only one main road to getting lost wasn't an option. The only caution for driving in Milos is that any street is liable to turn into a dirt-and-rock road in an instant so don't get too comfortable. Driving along the steep cliffs of Milos, we eventually parked and wandered around a small village and came upon Barriello, the only restaurant in the whole place. Overlooking the major port of the island, we saw the sunset to the sounds of distant laughter, the slight clattering of silverware, and a nearby car that was blasting what I'm sure was a Greek love song. It was so romantic, I get butterflies in my stomach just thinking back to it.  
WHAT TO DO
As soon as the sun was up, we hurried into town to rent a car (for an easy $30) and laid out a crisscrossed route across the island so we could visit each beach at its peak time. The white stone embankments of Sarakiniko are what you would imagine a beach on Mars looks like, with little mini-shores along the banks for you to hide in seclusion. The beach of Papafragkas, best visited at sunset, involves a narrow climb down a wooden ladder to the shore, which is not for the faint of heart. And finally, only accessible by boat, are the beaches of Kleftiko. Back in town, we found a boat that looked like a pirate ship which could take us on a day trip along with a few other people; it was easily the highlight of the entire trip. Once the boat pulled around to the cliffs of Kleftiko, we were welcome to dive into the crystal clear waters, swim through the caves, and perch ourselves on the rocks for a few hours.