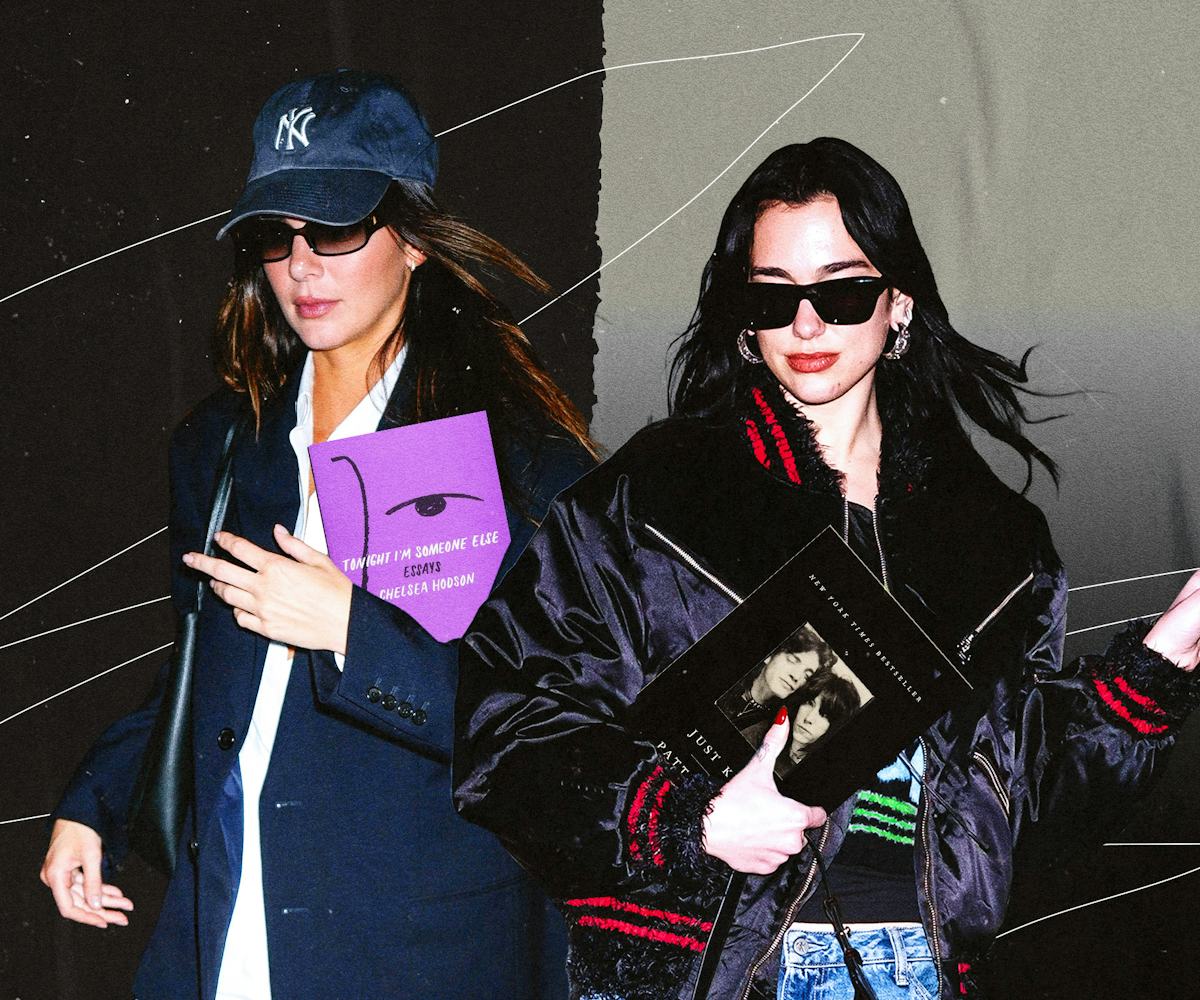 Nylon; Getty Images
Instagram's Hottest Summer Trend? Flexing Your Favorite Paperback
It's been a hot (and studious) girl summer.
Earlier this month, Dua Lipa posted photos of herself lying on a hotel bed holding Patti Smith's book Just Kids. The selection is the September Book of the Month chosen by her editorial platform, Service95, which Patti Smith herself thanked her for in the comments. This staged reading pic comes after years of celebrities holding up books in a similar fashion to sponsored beauty products or other branded content. Kendall Jenner posted candid bookstore shots in 2022; Kylie Jenner posted Colleen Hoover's It Starts With Us on her Instagram Story earlier this year; Kaia Gerber has famously started a book club with picks from the likes of Joan Didion and Jia Tolentino; and last month, Pamela Anderson posted holiday snaps where she is "reading to the trees." It's clear that physical books have become a form of social capital online — held as photo props or perhaps even accessories — so does it matter if anyone is actually reading them?
The Instagram paperback pic has bled from "relatable" celebrity posts to influencer content across Instagram and TikTok, with the likes of Victoria Paris posting bath selfies with a book covering her bare breasts. For model and influencer Gabrielle Richardson — who's also been known to post a candid reading snap or two — it's a great way to share her reading hobby and book recommendations with her followers. "It's like a book club that's live on the internet," she told NYLON. "Certain books highlight where you are in your life, so people really respond to it and they want to read the book as well. Then I get to have a dialogue with people who follow me." Richardson says she received the most questions and comments after posting Lapvona by Ottessa Moshfegh.
As with most things that relate to celebrity and influencer culture, there are always people who doubt that Dua Lipa is reading Patti Smith (or that influencers in general actually read at all), with TikTok creator Javell Lynton Carty admitting to taking selfies behind a book on vacation. After all, Bella Hadid just holding a book usually results in a flurry of book roundup posts (similar to "where to buy" posts for celebrity outfit details) or TikTok recommendations for how to "read like Bella Hadid". While it's true that fans are eager to wear, eat, or read anything that they see on their favorite celebrities, whether the celebrity or influencer has, in fact, read said book makes no difference when it comes to the impending spike in book sales.
"I'm a sucker for a moody, beautiful photo of someone holding a book and I wanna know what my friends and what people I admire are reading," says Carey Blankenship-Kramer, a junior agent at Belcastro Agency. "If the demand for physical books continues to rise, that helps everyone across the board. Whether a person is actually reading a book or just purchasing a copy to get some likes on their social media, who cares? As long as they bought the book, they're supporting the author." Blankenship-Kramer says that there's no question that when a celebrity posts a book, it will help with sales for that author.
While celebrity book clubs no doubt encourage reading in general, Blankenship-Kramer says many books that celebrities are choosing for their photo ops are already established. "I'm sorry, but Colleen Hoover has been on the NYT best-sellers list forever, she doesn't need another celebrity posting about her book," she says. "But you know who could benefit from that? Queer writers who are constantly facing book bans and declining sales thanks to the rise in hate crimes as anti-trans legislation passes across the country." Blankenship-Kramer says it's often frustrating to see celebrities lending their giant platforms to authors who already have a fan base and significant sales, as opposed to those who are less visible or privileged.
Since it's hard to take a cute selfie with an e-book, the rise of the Instagram paperback pic is good news for print sales. But, if the attention is continually directed at best-selling authors, it leaves emerging writers waiting for a small crumb of support from celebrity selfies and book clubs alike. Blankenship-Kramer has a proposed solution to this: for us to put the pressure on when it comes to what celebrities are reading. "Want your favorite celebrities to read your favorite, lesser-known books? Comment on their social media posts and tell them all about it," she says.
Brianna Holt, the author of In Our Shoes, says that her friends posting specific parts or quotes from her book on social media has been helpful in the promotion of her first release. "Someone who is a heavy reader wants to see something on the inside that will grab their attention as opposed to just seeing a cover," she explains. Holt compares the Instagram paperback pic phenomenon to judging a person you're dating after looking at their bookshelf. "I think reading has become a prop to show that you are cultured and educated," she notes, highlighting the missed opportunity for celebrities to show that their reading range extends beyond the best-seller list. "Celebrities posting books is a way to show, 'Look, I'm just like you. I read too,' and I hope it's in good faith."
In a sense, celebrities posting themselves reading is no different than the age-old practice of strategically placing books around the house (perhaps beside the bed) when someone is visiting, so it looks like you're an avid reader. In the literary world, there have always been acts of performative reading — and an underlying pressure to read more than you do — so social media has just become the newest frontier. Nevertheless, Holt would still jump at the chance for her book to be posted "as an accessory" by a celebrity. "Books are very hard to promote," she says. "So if Bella Hadid taking a selfie with my book and treating it like it's a prop is what it takes, then I'd be here for it."