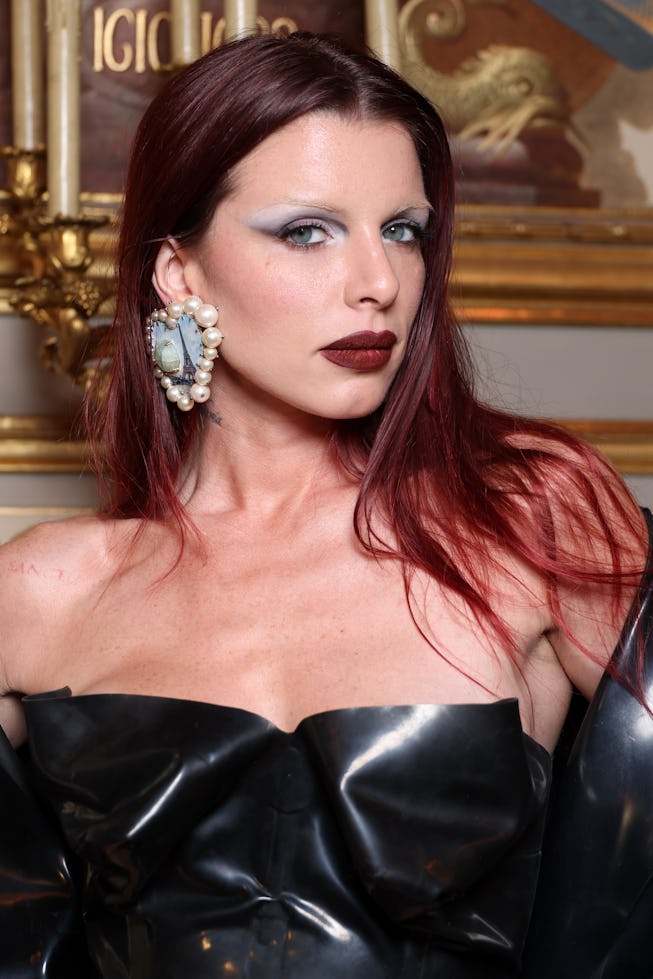 Pascal Le Segretain/Getty Images Entertainment/Getty Images
Julia Fox's Bares It All In Memoir Down The Drain
The actress is putting her life to the page in her forthcoming memoir, Down The Drain.
A year ago, Julia Fox announced she was writing not a memoir, but a masterpiece.
One of Fox's greatest talents is her approach to fame as a performance art, a constant process of metamorphosis. For her, fame is an art project, one that should be taken seriously. At times, it feels like she is the only celebrity that truly understands anything — who gets that the greatest gift she can give is providing us with an endless stream of low-stakes drama, intrigue, and levity, which is why the 30-second clip of her talking about her book instantly went viral.
"I don't wanna give too much of it away 'cause I'm very superstitious, so I don't like to speak of things before they're finished," she told Variety last March. "But it's so far a masterpiece, if I do say so myself."
We have no doubt about it. Now, finally, we're getting our first look at Fox's latest masterpiece Down the Drain, which will be published by Simon & Schuster in October. Fox officially announced the book today: "DOWN THE DRAIN IS FINALLY HERE!!!!!" she wrote on Instagram. "This is so surreal… ever since I was a kid I always wanted to be a writer & after writing every single word in this book, it's safe to say I AM ONE!!!!"
Fox has had a shocking, beautiful life, one where she's never sacrificed her greatest talent: being herself. The book covers everything we know her for, like her breakout Uncut Gems role, her trendsetting style, and her mastery of social media. It also includes the darker parts of her life: her parents' volatile relationship, her adolescence spent between New York City and Italy, her abusive drug-dealing ex-boyfriend, her work as a dominatrix, her heroin addiction, the near-fatal overdoses of her friends, her own near-fatal overdoses, a brief marriage, her struggles as a single parent, and her relationship with a man she refers to as "the artist." (Hmmm, wonder who that could be?)
"[A]s extraordinary as her story is, its universality is what makes it so powerful," her publisher writes. "Fox doesn't just capture her improbable evolution from grade-school outcast to fashion-world icon, she captures her transition from girlhood to womanhood to motherhood. Family and friendship, sex and death, violence and love, money and power, innocence and experience — it's all here, in raw, remarkable and riveting detail."
Down the Drain is out October 10. You can pre-order the book here.