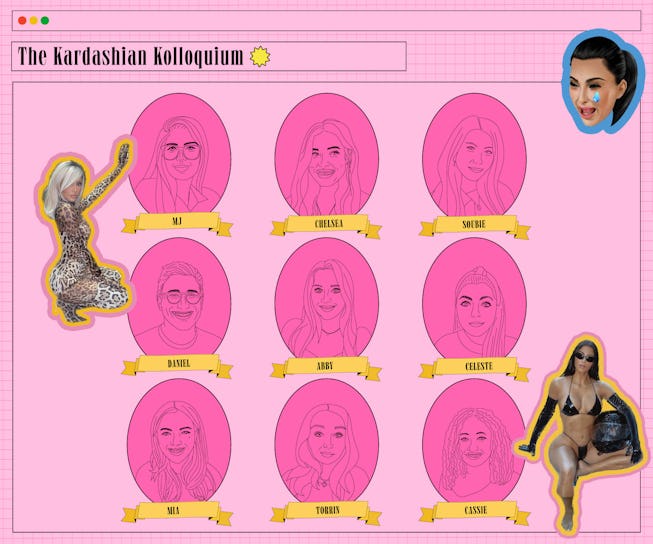 Michelle Pergal
Meet The Data Experts Analyzing The Kardashians
From the mind of Kardashian Kolloquium's MJ Corey comes the Kardashian Data Koalition, a new way of tracking the internet's most powerful family.
MJ Corey has been keeping up with the Kardashians in a big way. Since 2018, she's run Kardashian Kolloquium alongside with her sister Marie, taking an academic and critical view of the Internet's most powerful family, applying media theory and postmodern philosophy to the many deliberate actions of the extended Kardashian family.
In her work, typically showcased across the Kardashian Kolloquium Instagram and TikTok accounts, Corey has had more than a few doors shut in her face, and more than a few emails and DMs left on read; a lot of people, still, are resistant to take subject matter like the Kardashians seriously. But this year, Corey is upping her critical Kardashian studies with her latest project: the Kardashian Data Koalition.
Known as KDK, the coalition is a collection of eight data experts, comprised of data scientists with a penchant for pop culture, who plan to deliver biweekly insights based on data they collect from the Kardashians, whether it be Google Trends data or social media engagement.
Corey became interested in using data to bolster her academic theories of the Kardashians — which are inspired by the works of theorists like Marshall Mcluhan, Jean Baudrillard, and concepts like the hyperreal — after she had a realization that as we engage with the Kardashians, they engage with our user-generated data.
"The [Kardashians] are holding ears to all of us because they are probably curating content according to what we're engaging with," Corey tells NYLON over the phone. "To me, that was earth-shattering."
She became obsessed with tracking the Kardashians through data, but didn't have the resources. A therapist by trade, Corey admits she doesn't have a "math brain." So she hired a data analyst to help her cull some information, like looking at Google Trends to see where the Kardashians were most popular, or comparing Kim and Paris Hilton's relevance over periods of time. Afterwards, she approached some startups that work with data and pop culture, and received either condescending responses or was ignored. She posted about her struggle to find data analysis resources on Instagram — and eight data experts responded offering to help her.
"Eight people separately contacted me around the same span of a week saying, 'Hey, I'm a data expert,' or, 'I work in data. I'd love to help.' And they didn't know each other," Corey says. "They just were all different followers that saw my post and volunteered to help. So it was really obvious, like let's make a coalition."
The coalition was formed, and is now comprised of Daniel Kagan, a director of analytics; Celeste Cefalu, a senior product designer; market research analysts Torinn Fennelly and Soubie Im; Chelsea Trim, a data artist; Cassie Fonseca, an epidemiologist; Abby Bridgers, who is also in the data field, and Mia, a data scientist.
So far, they've uncovered revelations about Kim's most popular posts (her and Pete Davidson) and her most-used emojis, along with the effectiveness of SKIMS marketing, and they're planning to look at things like the family's influence on trends, as well as scandals, perhaps making a taxonomy of the themes of their scandals, whether it's labor exploitation or cultural appropriation.
"I think there's been this inclination over last couple years, especially with TikTok, to be like 'XYZ thing is not that deep or we don't have to read into things,' but clearly they would not be this powerful or successful if it wasn't on purpose," says Fennelly. "So yes, they're certainly using the data, and if we have the data available to us, why would we not further look into that?"
"We can assume that they're watching us, so it feels important to watch them back," Corey says. "I feel like it takes the power back on the part of the consumers, but it also holds a mirror to ourselves. We're looking at pictures, we're clicking on the Kim beach pictures of her body, and we're engaging with those Pete posts. It tells us who we are a little bit, too."
Corey said things have changed since she started Kardashian Kolloqium; she's now been profiled in places like NYLON, Vogue, and The New Yorker; she feels like the media gets what she's doing, but she still comes up against people not taking her work seriously. But the coalition shows that she's creating a landscape where people are taking the work more seriously. It's a lot harder for critics to dismiss numbers that speak for themselves.
"We're all a bunch of nerds," says epidemiologist Cassie Fonseca. "But the kind of work MJ has done I've never really immersed myself in, so this is really exciting to play off of her ideas and all contribute other ideas, and I think we all can fill in the gaps."
Whether the gaps are pop culture knowledge or skill sharing with specific programs or data gathering techniques, this is just the beginning for the coalition, who say they have a "million ideas" for projects.
"Wait, I just realized that we're kind of like the Kardashians," Fennelly adds, "Like there's so many of them to build their empire."