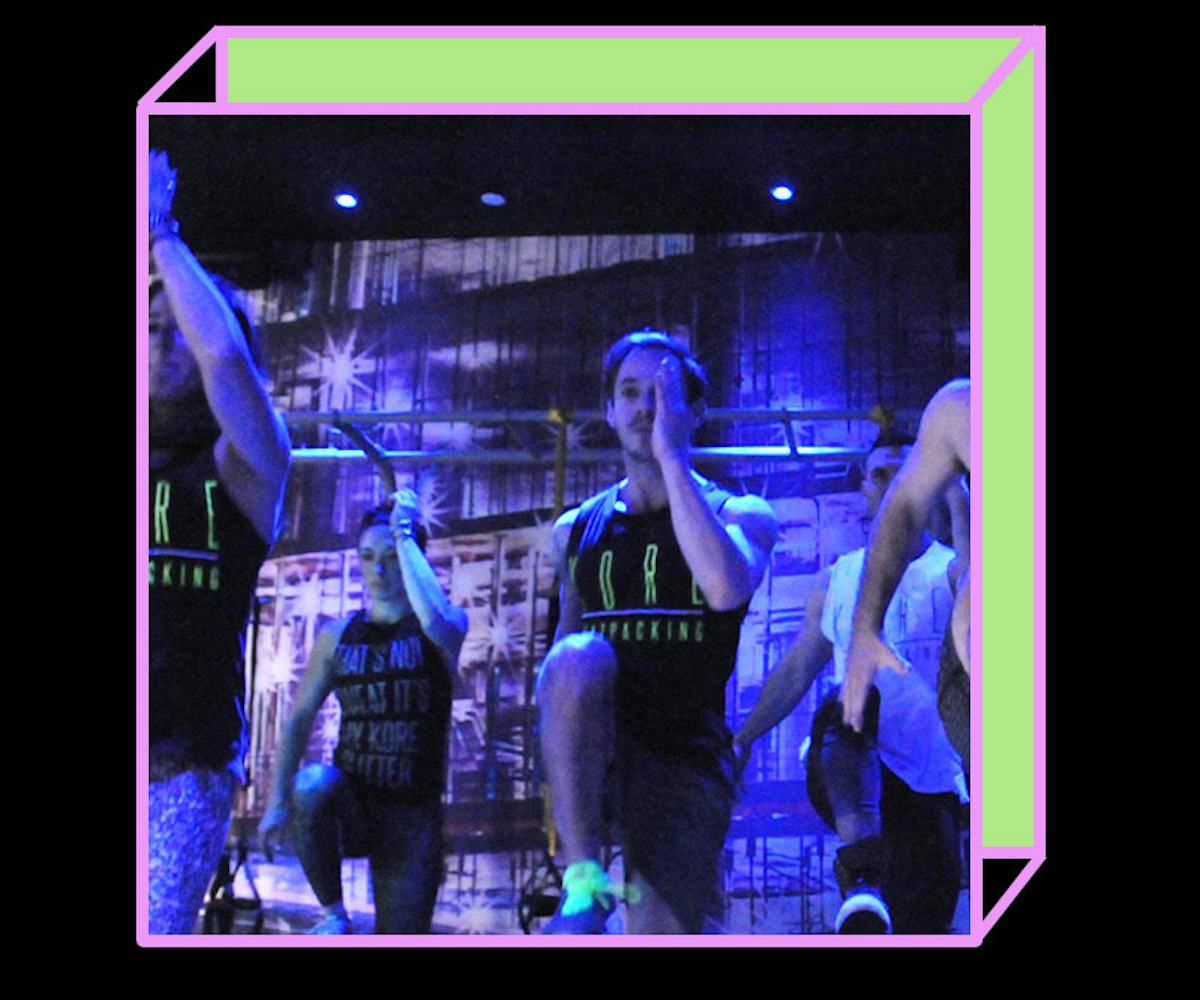 Photo via Kore
High-Intensity Interval Training Is The Cure For Class-Phobics
Let your blacklight shine
When one of our editors pitched a team-wide exercise story with each editor choosing a class and attending 3 to 5 days a week for a month or two, well, it sounded like torture to me. But fear (of death) and curiosity (what even is high-intensity interval training, and am I secretly good at it?) drove me to participate. I was soon put in contact with KORE studio in NYC's Meatpacking District specializing in high-intensity interval training, also known as HIIT. 
I am not a class person. Most of my life has been low-key active. My early 20s were spent nannying, which meant lots of waking up early to chase children around and spending lots of time outdoors. One of the reasons I love New York City is that I can walk everywhere. When I eventually started working in an office, I briefly experimented with running. On a treadmill. Alone. It was... therapeutic, but also felt kind of creepy too.
But anytime a friend dragged me to a class, I whined about it. "I'm uncoordinated, I can't follow instructions, my vision is bad—I can't see myself in the mirror. Everyone is judging me..." Classes always seemed too crowded, and I always felt like the new person who didn't know what I was doing—mostly because I was.
All of which is to say that for the past year my lifestyle has become increasingly sedentary, and while I'm not actually mad at it, I know that on behalf of my insides, I should be. But KORE was about to change that.
They say ignorance is bliss and so I decided to remain unenlightened about the classes I had agreed to take until the day I was set to begin KORE. Trying to understand what I was getting into, I clicked around on the website, where I saw very fit people and lots of black light. I emailed my PR connection asking if there was anything special I needed to bring. She wrote back, "Nope, just you... and a lot of energy!" Grrreat.
I got to the studio early, was given a goody bag, and immediately misunderstood the staff's directions and used the men's locker room to change into my complimentary "LEAN AS FVCK" tank. I tried to feel pumped up. I was getting nervous about the class but was also relieved to find everyone at the studio really friendly and helpful despite my bumbling.
My first class was with Erin and she RULES. She is a ball of energy and smiles but not in an annoying way because she is also funny and tough and sincerely a nice person. Erin immediately asked if anyone was new to the class and welcomed me. All the instructors at KORE do this and also survey the class for any injuries, which they follow up with one-on-one suggestions for modifications. I won't go into the gory details of my first class but here's how KORE's classes are structured: You begin with an active stretch, warming you up and preparing you for what's to come. Then comes core training, consisting of exercises to strengthen and "fire up" your abs, butt, and lower back. ("Fire up" is an understatement.) From there you move into "Kore4": Eight minutes of high-rep bodyweight strength and stability movement. Next, equipment-based HIIT: high-intensity strength and interval training utilizing TRX, Kettlebells, bodyweight circuits, and resistance bands. Annnnnd finally, my favorite part of the workout: the stretch and cooldown. Whew!
It was painful, and I couldn't believe everyone else in the class seemed to be keeping up. But it was also SO motivational. For better or worse, I am as stubborn as I am out of shape, and struggling through that first class made me determined to conquer it. When I spoke to Jessica Bolbach, who developed the KORE approach, she described it as "fitness meets the club; it's a PARTY! The method was designed to cater to the busy lifestyles and discerning tastes of New Yorkers." This is definitely an accurate description. It is a party! Now, I am not what you'd call a fan of the club, and, as an aforementioned class-skeptic, I was surprised to find the approach worked for me. But perhaps (or definitely) because I was so engaged the entire class, I didn't have time to think of anything to whine about. Plus, while KORE is intense, it's not, like, scary or complicated.
The next day I woke up in so much pain, I considered calling in sick to work. It took me five full days to feel up to going back to class, but back to class, I went.
Over the next few weeks, I continued to struggle, but less and less. And the most satisfying thing was that I could actually feel my body changing. I could hold planks longer, do real push-ups, and my stamina was increasing rapidly. I even got a couple fitter friends hooked on KORE and, therefore, had buddies to go to class with. It took me a few weeks to leave the back row, but by the second month, I felt like middle row material. I still felt like everyone in the class was fitter than me, but a great thing about KORE is that, yes, the instructors push you and, yes, it's motivational to keep up with the group, but the emphasis is on you and your progress according to your body. So who cares if everyone else is more fit? It's not about them. It's about you.
KORE describes their classes for all levels, but if you are not a fit person, it will be really hard, in my experience. However, the instructors are skilled at providing modifications, and they continuously encourage you, noticing and calling out improvement. This feels amazing.
Now, I had heard of (and ignored) the term HIIT elsewhere, so I asked Jessica what was unique about the KORE approach: "We're changing the way people feel and think about group fitness by incorporating aspects of light psychology to prevent your mind from convincing you that you 'can't.'" She described the instructors' approach, "The music and lighting are thoughtfully orchestrated based on that day's class sequence. The instructor's personality is a huge factor in delivering the signature experience of KORE that people know and love to come for. KORE's foundation is its culture that is practiced inside and out of the studio by each person. We believe in and love this brand."
At risk of sounding like a total Kool-Aid drinker, I can attest to the role of the instructors in my participation. Because of my schedule, I took all my classes at night with either Erin or Tomás. And I can say that their personalities were probably the main thing that kept me coming back. (My BFF, who became a member at KORE after taking a few classes with me, assures me that all of the instructors are that amazing.) Their classes were fairly different, but they both had such a positive energy; even when they were tough, it didn't feel judgmental. You could tell they loved what they were doing, and even though the classes were super difficult for me, each portion of the class was timed and designed perfectly to push me a little further than I thought I could go before moving on to the next thing. And it left me feeling accomplished.
After two months of class, I still haven't mastered the burpee, but I know what one is and can actually imagine a day where I might. I have graduated to the front row and the instructors know me. But let's face it, LEAN AS FVCK is just as much a state of mind as a state of being. KORE gave me a new respect for my body and what it can do. I feel stronger all over and just better. Less worried about my organs, for example. I can walk up all the subway steps at the Broadway-Lafayette subway stop without getting winded. Badass. Turns out sweating profusely with a group of strangers under a black light is a pretty great release. Mostly, though, it feels pretty great that I stuck with something that challenged me to get way out of my comfort zone. It was really worth it. 
You can purchase a KORE monthly package at $200 or try a KORE class for the first time at $20.