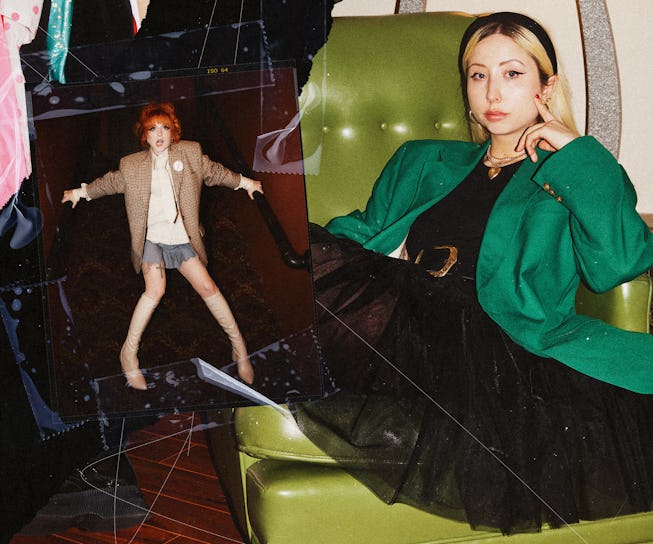 NYLON/ Zachary Gray/Daria Ritch
Meet Lindsey Hartman, The Stylist Behind Hayley Williams & Paramore's Cinematic Style
Loving Hayley Williams and Paramore's new style? Thank Lindsey Hartman.
After the longest break in their 20-year history, emo legends Paramore returned last month with This Is Why, their first album in six years, rewarding patient fans with a thrilling new iteration of the band's sound and a fresh new look to match. Frontwoman Hayley Williams, anchored by guitarist Taylor York and drummer Zac Farro, has long been known for her distinctive flair, but this era is quickly shaping up to be Paramore's most stylish yet — thanks in large part to Los Angeles-based stylist Lindsey Hartman.
Hartman first connected with Williams in 2019, during the making of her solo debut Petals for Armor, and has since become an integral part of the Paramore brain trust, helping them curate a wardrobe as emotive as their music. Since moving to L.A. five years ago from her native New Orleans, Hartman has gravitated to dressing bands and alternative artists — Best Coast, Rico Nasty, and Phoebe Bridgers, to name a few — with whom she found a kinship given her own origins as a self-professed "alt girl." It's no wonder she and Williams hit it off right away and developed a special bond. "She's become one of my best friends," Hartman says. "She is an amazing human."
Initiating the album rollout last fall, Paramore's music videos for "This Is Why" and "The News" invoked 1960s silhouettes and beauty motifs, with Williams sporting mini-dresses, go-go boots, graphic eyeliner, and her signature orange mane teased to the heavens. On stage, Williams performs in punchy looks blending legacy labels (Maison Margiela, Jean Paul Gaultier), It Girl faves (Shushu/tong, Sandy Liang, Simone Rocha), custom fabrications, and her own collection of vintage — resulting in an aesthetic that feels upscaled yet true to Paramore's punk sensibilities. The outfits are often hyperfeminine with a rebellious edge; Hartman says Debbie Harry, Francoise Hardy, Twiggy, and PJ Harvey are mainstays on the mood board.
Hartman helps Williams amplify her voice through her styling, whether it's as explicit as a statement tee reading "Stop F*cking the Planet" or a mod-tinged look intended to draw a parallel between the political climate of the 1960s to now. ("The miniskirt itself was a political statement [back then]," as Williams told Allure.) One of their favorite collaborators is Collina Strada, Hillary Taymour's youthful NYC brand that champions sustainability. The designer has made several custom pieces for Williams, including T-shirts emblazoned with "Abort the Supreme Court" and "End of the F*cking World," which Williams wore during recent festival sets; a grown-up version of the Sharpie-scrawled tees from the Warped Tour days.
Paramore's latest video, "Running Out of Time," is their most creatively ambitious yet; an ornate dream sequence comprising numerous avant-garde looks, including a custom pair of 7-foot-long pants by Collina Strada and not one but two explicit tributes to the late Vivienne Westwood. Hartman says it's her favorite project with Paramore so far, even if it did give her anxiety to handle an archive corset from the '90s that was insured for $50,000. "I didn't let out a breath until that was returned safely," she laughs.
Hartman went in depth with NYLON about making the video, her and Hayley's fashion inspirations, and Hayley twinning with Ice Spice.
As the album was coming together, what did you discuss with the band about what this era should look like?
Even before this album was born, Hayley and I would send each other stuff on Instagram all day long, like style inspo and people that we love. As this progressed, and we started talking about the album and the campaign, we were like, "Let's do all the stuff that we love. Paramore doesn't need to be in this alt, emo box."
Especially now, there's a pop-punk resurgence in an extreme way, and I love all those people, but a lot of it seems like costumes. It's like Hot Topic plaid, pink and black, and spikes. Paramore is not that. I don't think they ever were; they just came up in that scene. Hayley and I wanted to be very specific about going the opposite way of that because Paramore are not the people that they were 10 or 20 years ago.
Hayley loves fashion and styling. We wanted to go in a '60s mod direction with her in addition to paying homage to the greats we love: Debbie Harry, PJ Harvey, Francoise Hardy, Vivienne Westwood… The guys followed suit and let me change them up a little bit by getting them out of just black clothing. It was always intentional from the start. We've really been trying to make a cohesive image.
Hayley has also mentioned wanting to draw a parallel to the social and political climate of the 1960s. Can you talk about where that comes into play? How often would you say the clothes are part of telling a broader story, versus what's just intuitive and looks good?
All of it is political, even if we aren't intentionally thinking about it. We're both obsessed with that time period and everything that was going on. It feels like we've come so far as a society, but we haven't. We're still fighting for women's rights, trans rights, gay rights. We like to acknowledge that. We collaborated with Collina Strada on the last tour, and they made some fun environmental things and a shirt that said "Abort the Supreme Court." We acknowledge what's going on, and we hate it, and we're trying to make people not forget. Hayley is a person that people respect and look up to, so it doesn't feel performative or cheesy. It doesn't feel like "Tax the Rich" at the Met Ball or something.
From a practical standpoint, how do you make sure an outfit is performance-proof?
It's all about the fit, and making sure she's comfortable, because she moves around. She's kicking those legs in the air. We have to make sure she's got the right briefs. Everything is tailored to her body perfectly so that it doesn't fall off and so we don't have a scandal, a nip slip, nothing.
We have a wonderful girl named Angela Reece that's on the road with them, who has a background in Dancing with the Stars and performance-based stuff. She has been super helpful with that side of things. Now we're building mic packs into Hayley's clothes.
I'm assuming you've seen some of the fan pages on Instagram that break down all of Hayley's outfits.
I love them! I'm so impressed by them. This show the other night, there was a blurry photo of Hayley kicking her leg in the air, and they're like, "Phillip Lim oxfords." I'm like, "How?! There's so many shoes that look like that!" I follow and interact with them, but they never reach out and ask for my help. It's so impressive. Sometimes they'll post, "Can't find this." And I'll be like, "That's a Paul Smith top." They also help put brands on the map that we're trying to shout out. Hayley wore a vintage T-shirt from a local Nashville shop the other night, and somehow they figured that out and put it in the post. The store called me and were so happy. It just makes everybody feel good.
You do incorporate a lot of smaller, emergent brands into the mix alongside high-end labels and legacy designers. What qualities do these brands have in common, as far as their appeal to you and Hayley?
People don't support small brands enough. Hayley and I both agree. We don't care about the price tag. We don't care about pleasing brands. We don't care about the politics of fashion like that. It feels good to work with small brands. The messages people send us are so nice, and you're not getting that from a huge fashion house. Independent brands put their heart and soul into it, just like I put my heart and soul into my job and Hayley into hers. We love working with people like that.
It's also a sustainability factor. Fast fashion is ruining the planet, obviously. I use it all the time; I'm not above that. There are Amazon boxes on my floor right now. But we're trying to do the little things that we can. We love big designers, but as much as we can incorporate the small ones, that's the ethos of the band and me as a stylist. I often feel like a bad stylist, and call myself an "anti-stylist," because I don't really care about trends or what season is current. I want Hayley to look cool and feel good about herself, and I love putting people on the map in the process.
It also seems like you enjoy developing ongoing relationships with certain brands, like Collina Strada or Rodarte.
We love Rodarte. They seem like a massive company, but they're just two amazing women that live in Pasadena. They're so cool. It's a small operation, and they put so much soul into everything that they do. Forming a relationship with them has been the biggest win over the past year, because I just adore them. They're the coolest. Hillary, aka Collina Strada, has become one of our biggest creative partners. We adore her never-ending capabilities, from tour looks to creating a 7-foot stilt pant.
The video for "Running Out of Time" has so many major looks and is a huge creative leap for the band. How did it come together? Where did you start?
When I saw the treatment, I was like, "Do we really get to do this? This is everything I've ever wanted." Director Ivanna Borin made the treatment with all these amazing high fashion and classical art references. The Garden of Earthly Delights was obviously the big inspo. I asked the band, "Do we have to do a toned-down version of this, or can we run with it?" And Hayley was like, "Let's go."
We shot it shortly after Vivienne Westwood passed, and she is my and Hayley's ultimate hero, so we wanted to pay tribute to her. We got my favorite Vivienne piece, the Boucher Corset from the [Autumn/Winter] '90/'91 collection that Hayley wears with the pink pants. That was major. I got it from Pechuga Vintage here in L.A., who's the best Vivienne collector ever. Shout out to Johnny. Then we did the gold Vivienne Westwood dress from Spring/Summer 2016 with the horns. Those were our two Vivienne looks that we knew we wanted to do for sure. When I saw that Ivanna wanted to do a running scene, I was like, "Oh, she has to be in a huge Rodarte dress." There's nothing else that I could picture her in for that.
We had to make those custom stilt pants, obviously. That was a big ask. I knew what fabric Hillary Taymour was working with. I was like, "Can you make these pants in one day? It's a crazy ask, but we'll do anything." And of course she turned it out.
[The extra-long shirts worn by Farro and York] was my girl that has a brand called Freak City here in L.A. I work with her on everything. She makes any custom weird thing that I want. She whipped those out in a day, too. I'm like, "Wow, we're so lucky. We have these people that can just make absurd garments for us in 24 hours."
The video reminded me of Gwen Stefani's "What You Waiting For?" music video, in which she also wore Vivienne.
That was a huge reference for us. We're obsessed with No Doubt and Gwen — another hero. We're paying homage to her as well.
Can you say more about what goes into sourcing archival pieces like the corset?
Johnny has an amazing collection. He's the best I've ever seen. His life's work is collecting archive pieces. We were terrified to take that corset out. That is a piece of history that belongs in a museum. I was terrified. I didn't let out a breath until it was returned safely.
There's a lot of collectors like that, especially in L.A. and New York. I go to them because sourcing that stuff is really hard. You're not going to find that on eBay. And if you do, it's crazy expensive.
The hair and the horns paired with the gold dress really makes the look.
Brian [O'Connor, Williams' hair and makeup artist,] is my biggest collaborator, aside from Hayley. We both were like, "We have to go big." Production tried to stop us. They told us that we didn't have time. We're like, "There's just no negotiating." I love that Brian is always down to match the craziness of the wardrobe with me and go for it. And no one can pull that look off except for two people: Hayley Williams and Vivienne Westwood.
Were the horns prosthetics, or did you get your hands on one of Vivienne's horned tiaras?
You know that I looked for that headband for so long. I could not find it; it was sold out everywhere. We went to set and there was a prosthetic team that I didn't even know we had, and I was like, "I need horns." They really came through. We made it happen in literally 15 minutes.
I don't want to leave the boys out. How closely do you work with Zac and Taylor, and what are their tastes like?
Zac is our fashion king. He is truly down with anything. We introduced him to Issey Miyake this year, and he's loving it. We always joke that his style is Japan in the '70s. He is getting really into fashion, discovering all these cool brands, and he's willing to try anything, which I love about him. He looks great in everything, and can pull off the craziest stuff. Taylor is our more simple, shy man. He only likes to wear black, and I love that about him. It makes my life easy. Love you, T.
Between stage looks, videos, photos, and press appearances, I'm curious how your approach differs depending on the type of occasion and if you have a favorite.
When we do photo shoots, it depends if the photographer has a specific direction, but usually I just bring them tons of options and then see what works. It's funny because two of them will get dressed, and it's always the third person that has to change a few times for them to look cohesive. Three is a hard number.
Videos are all about the concept, as you saw with "Running Out of Time." I love working with treatments like that, because it gives you some lines to color in. I like collaborating with a director because that's when you make the really strong stuff that has a story and purpose. "Running Out of Time" has definitely been my favorite project so far. Videos are everything to me. They're probably the reason that I'm in this field to begin with.
There's a look Hayley wore during the fall tour that's still stuck in my head: the Margiela shirt with the tie, miniskirt, and big blazer.
Thank you so much. That outfit is my favorite. I talk about it with her so much. I feel like that outfit encompasses everything we want to do. You've got the super masculine oversized blazer — she and I are both freaks for the Talking Heads, so anytime I can put a big blazer in there, David Byrne, we love you. We had the little pin on her Tanner Fletcher blazer that said "toxic masculinity" with the cross through it. Love that. Then, a Margiela shirt with a built-in tie is the coolest thing ever, that cream color was just amazing. And then, a b*tchy little Maroske Peech miniskirt! It's like all these masculine elements, and then this little sassy miniskirt with '60s Franco Sarto mod boots. That outfit is everything I want her style to be. I feel really, really good about that one.
And the big hair!
Oh, my God, the hair is everything. I wish we could do bigger hair more. I know Brian does, too. We always joke that we're dance moms and we just want her hair to be touching the ceiling. But she jumps around so much and bangs that head! Updos fall really fast.
I have to ask about Hayley twinning with Ice Spice in the Maisie Wilen outfit, which sparked some great memes. Was that intentional? How did you guys react? [Ed. Note: a second synchronous moment happened during the writing of this piece.]
Hayley and I love Maisie so much; we've formed a nice working relationship with her. I'm not sure how I missed that Ice Spice wore that iconic two-piece, but we're so glad she did. Once Hayley started getting tagged in all those photos and we saw the side-by-sides, we were so honored to be next to the queen. Maybe Ice Spice will notice us now. It wasn't intentional, but we couldn't be happier with the comparison. Direct quote from Hayley Williams: "Ice Spice wore it better."
This interview has been edited and condensed for clarity.