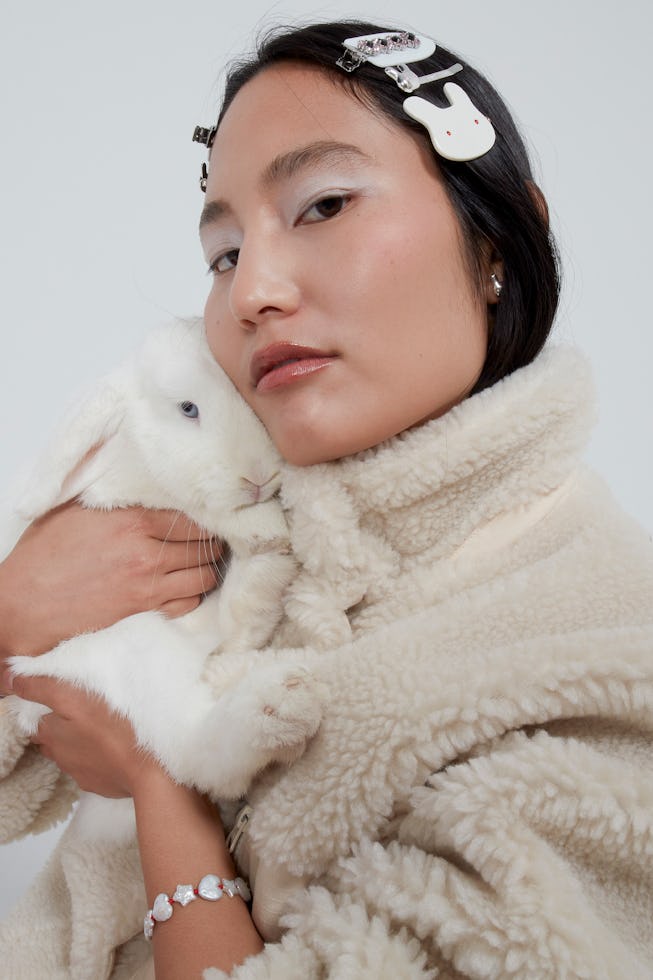 Sandy Liang
Fashion Is Embracing The Year Of The Rabbit
The sweetest Lunar New Year collections for the Year of the Rabbit.
When the Chinese calendar enters a new cycle on January 22, the Year of the Rabbit will be upon us. Gone is the yang of the Year of the Tiger in lieu of the yin of Year of the Rabbit, which embodies fluidity, and contemplation, as opposed to the ferocity of the tiger.
According to the Japan Times, 2023 is likely to be more gentle and calm than 2022, with people looking for balance and rest. After the insanity of the last few years, we'll take it. Along with this palpable shift in energy comes a slew of whimsical collections inspired by the Lunar New Year.
It's hard to not love a bunny, with their little cotton tails, large eyes, and soft ears — and this year, fashion houses had no problem maximizing where the bunny motif could take them, which was almost always to places that were joyful and unserious, evoking the (hopeful) bliss of the year ahead. From bunny balaclavas to Bugs Bunny bags, read on for all the Year of the Rabbit collections we're excited about.
Ambush
Balaclavas are one of the biggest trends of the last two years, thanks to their apocalyptic connotations and practical use in keeping warm against weather that's only getting more extreme. But there's nothing doomsday about Ambush's bunny balacavas, which give the winter accessory a playful makeover. Designed in soft pink and cloud grey colorways, the first drop of Ambush's bunny balaclavas sold out in just 25 minutes.
Moschino
Jeremy Scott continues his reign of pop culture whimsy at Moschino; this time, evoking one of the world's most favorite bunnies to celebrate the Year of the Rabbit: Bugs Bunny himself. The 23-item unisex collection features a Warner Bros-fication of some of Moschino's classic items, like a Bugs Bunny take on the Biker Bag, which has his ears sticking out and up; hoodies showing him pulling himself out of a hat; and calfskin heels with whiskers sticking out from the toes.
The North Face
The North Face Hong Kong created a Lunar New Year-inspired camouflage pattern to ring in the Year of the Rabbit, using outlines of rabbits are layers in coral, red, and maroon to adorn the 1996 Nuptse puffer, the 1986 retro Mountain Jacket, and Nuptse mule shoes. Meanwhile, the North Face US joined in on the fun with t-shirts and pullovers in the rabbit camo pattern.
Gucci
Gucci's Year of the Rabbit campaign is set in a place I want to be: amidst brightly colored, playful floral paradise. Some of our favorite pieces include a bright purple wool studded sweater, a black moiré slide sandal with bows sticking up like bunny ears, a wool jacquard sweater with a rabbit motif, and a watch with a G bunny print.
Marc Jacobs
Marc Jacobs Lunar Year Year campaign centers around soft rabbit fur, with a faux fur tote bag that might as well be a little bunny you carry around with you and platform faux fur sandals. According to Marc Jacobs, the collection is supposed to "symbolize the gentle elegance embodied by the year of the Rabbit," but it really just makes you feel like you're never without you furry friend.
Sandy Liang
Sandy Liang's Lunar New Year expands on her Terminator Bunny jewelry design, adding barrettes, necklaces, and earring studs for the Year of the Rabbit. The capsule also adds whimsical freshwater pearl jewelry with must-have pops of bright red for a boost of luck.
Loewe
Loewe reimagined its Bunny Bag for the year of the rabbit, creating a realistic sculpture-like bag in the silhouette of a rabbit, with ears that tie at the top — available in shearling (with a pom pom tail), calfskin in colors like a cloud-like grey and peach blossom. Some of our other favorites from the collection are a raffia and calfskin bag with a bunny head , bunny candles, and big, cozy cotton ivory-colored sweatshirts with embroidered bunnies.
Acne Studios
Acne's take on the Year of the Rabbit offers a joyful nostalgia in collaboration with artist Apollinaria Broche. Together, they created a lovable cuddly protagonist named BUN BUN, with large ears and slightly creepy but endearing eyes. The collection features pieces like an enamel heavy-set pendant and matching silver hoop drop earrings, and knitted blankets in blush pink with a BUN BUN graphic.
Diesel
Diesel's Lunar New Year collection takes on a moody blood red color, with sleeveless denim trucker jackets, shirt dresses dipped in a dark red wash, and has each special edition of the Diesel label printed with the words, "S.E. Year of the Rabbit For Successful Living." But our favorite is Diesel's It bag, the 1DR, in red and gold — a major flex to start the new year off with.
Tommy Hilfiger
Tommy Hilfiger teamed up with Miffy the bunny character beloved around the world, to create a capsule collection with 50 garments and accessories for men, women, and kids, like varsity jackets and sneakers emblazoned with Miffy in Tommy Hilfiger's classic rich red for a playful twist.
Self-Portrait
Self-Portrait's Lunar New Year collection is romantic and glamorous, with flirty lace mini dresses, elegant blue lurex Diamante knit dresses, and a gorgeous cresent bow mini bag — which conjures the ears of a rabbit. "Lunar New Year is one of my favorite times of the year… It is a time for ritual, for reflection and of course for celebration," creative director Han Chong shared in a press release. "Having grown up in Malaysia, I witnessed firsthand the importance of this occasion for the women in my life — the rituals of dressing for festivities and what a special time it is for family and sisterhood." It certainly brings to mind images of only the most stylish aunts.
Prada
In celebration of the holiday, Prada launched a campaign called "Memories of Beauty" campaign, reflecting the happy moments tied to Lunar New Year celebrations starring singer Cai Xukun, actress Chunxia, who just won Best Actress at the Hong Kong Film Awards, actor Bai Yufan and model Du Juan. Some of the best pieces include a re-edition of the Prada Moon bag and Nappa leather sneakers.
Arc'teryx
Arc'teryx went big on the Year of the Rabbit, even swapping out their logo for a large rabbit in motion, which is emblazoned on the back of a series of hoodies, jackets, and the classic GORE-TEX shell. "Just like the Rabbit, life as an athlete and an artist is constantly shifting between stillness and action," the site reads of its Water Rabbit capsule collection. So true.
Burberry
Burberry redesigned its classic TB (Thomas Burberry) logo to include bunny ears, offering rabbit print silk shirts and skirts, wool bomber jackets and the sweetest cardigans we've ever seen, with rabbits whose ears together make a heart. Aw.
Givenchy x Disney
Givenchy creative director Matthew M. Williams went straight to the Disney vault for this year's Lunar New Year collection, taking Oswald — the precursor to Mikey Mouse — and using his likeness on pieces like a blue varsity jacket that shows Oswald the Lucky Rabbit offering a flower to his sweetheart, Ortensia, or an oversized Oswald bandana shirt. The Givenchy x Disney capsule collection — which also includes a short films — includes sneakers, totes, phone cases, earbud cases, and caps.