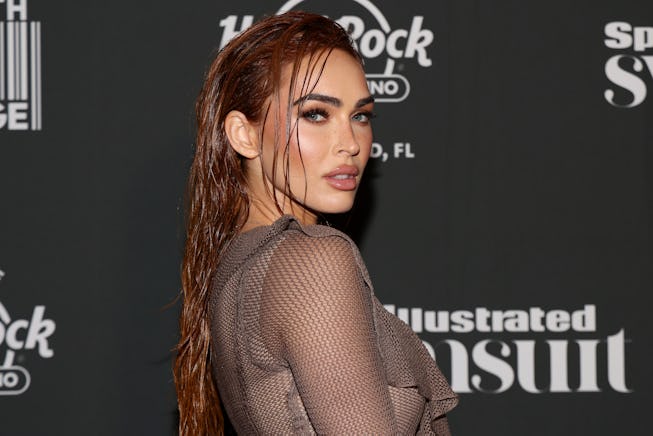 Alberto Tamargo/Getty Images Entertainment/Getty Images
Megan Fox Is Publishing A Poetry Collection
Her debut 'Pretty Boys Are Poisonous' is out in November.
Megan Fox once said that when she gets angry, she writes Nietzsche poems on the wall in permanent marker. Every beautiful woman needs a creative release. And while Fox famously penned a Valentine's Day poem for Machine Gun Kelly in 2021 — which she posted to Instagram but has since deleted — she is now gearing up to share her own debut collection of poetry, which will be published in November.
Pretty Boys Are Poisonous is a collection of 80-plus poems that is described as a "heartbreaking and dark" collection, where Fox "chronicles all the ways in which we fit ourselves into the shape of the ones we love, even if it means losing ourselves in the process," according to Simon and Schuster, whose division Gallery Books is publishing the work in November. An audiobook recorded by Fox is also in the works.
"These poems were written in an attempt to excise the illness that had taken root in me because of my silence," Fox said in a statement. "I've spent my entire life keeping the secrets of men, my body aches from carrying the weight of their sins. My freedom lives in these pages, and I hope that my words can inspire others to take back their happiness and their identity by using their voice to illuminate what's been buried, but not forgotten, in the darkness."
Fox has spoken out recently about the media's oversexualization of her in the mid-aughts, a time before the #MeToo movement started to widely address some of the problems in Hollywood.
"I feel like I was sort of out and in front of the #MeToo movement before the #MeToo movement happened, I was speaking out and saying, 'Hey, these things are happening to me and they're not OK,'" Fox told Entertainment Tonight in 2019. "And everyone was like, 'Oh well, f**k you. We don't care, you deserve it.' Because everybody talked about how you looked or how you dressed or the jokes you made."
Pretty Boys Are Poisonous is out November 7.