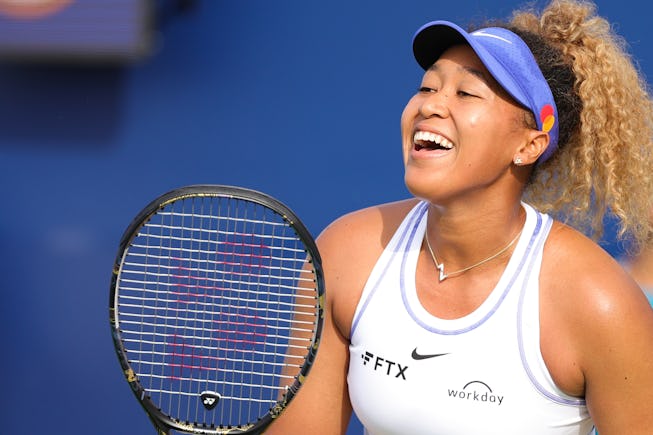 Carmen Mandato/Getty Images Sport/Getty Images
Naomi Osaka Is Pregnant With Her First Child
Will the world be blessed with a future tennis star? Only time will tell.
Look out, future Olympian hopefuls: Naomi Osaka is having a baby with her boyfriend Cordae, the Grammy-nominated rapper who she's been dating since 2019.
The coolest girl in tennis — who was the was the top-paid female athlete in the world last year (no big) – announced her pregnancy on Twitter and Instagram on January 11, sharing a photo of a sonogram, along with a Notes app statement in both English and Japanese.
"The past few years have been interesting to say the least, but I find that it's the most challenging times in life that may be the most fun. These few months away from the sport has really given me a new love and appreciation for the game I've dedicated my life to," Osaka wrote. "I realize that life is so short and I don't take any moments for granted, everyday is a new blessing and adventure. I know that I have so much to look forward to in the future, one thing I'm looking forward to is for my kid to watch one of my matches and tell someone, 'That's my mom,' haha."
She added that she plans to return to tennis for the 2024 Australian Open.
Osaka didn't give an official reason for withdrawing from the Australian Open last week, prompting a series of concerned sportswriters to guess why she might not be returning, especially since she hasn't played since the Toray Pan Pacific Open Tennis in Tokyo in September, where she won her first match before withdrawing ahead of her second-round match due to abdominal pain. Needless to say, it all makes a lot more sense now.
Osaka has been known to take breaks before. She famously took an extended respite from tennis in 2021 citing depression, which helped to change the conversation around mental health in sports. But was her withdrawal "quiet quitting" or "a small act of rebellion" as The Guardian put it? Not exactly! Turns outs she plans to return for the 2024 season with one more tiny fan in tow.
Osaka went on to wax poetic about the mysterious ways our lives can take us.
"I don't think there's a perfectly correct path to take in life," she wrote, "but I always felt that if you move forward with good intentions you'll find your way eventually."