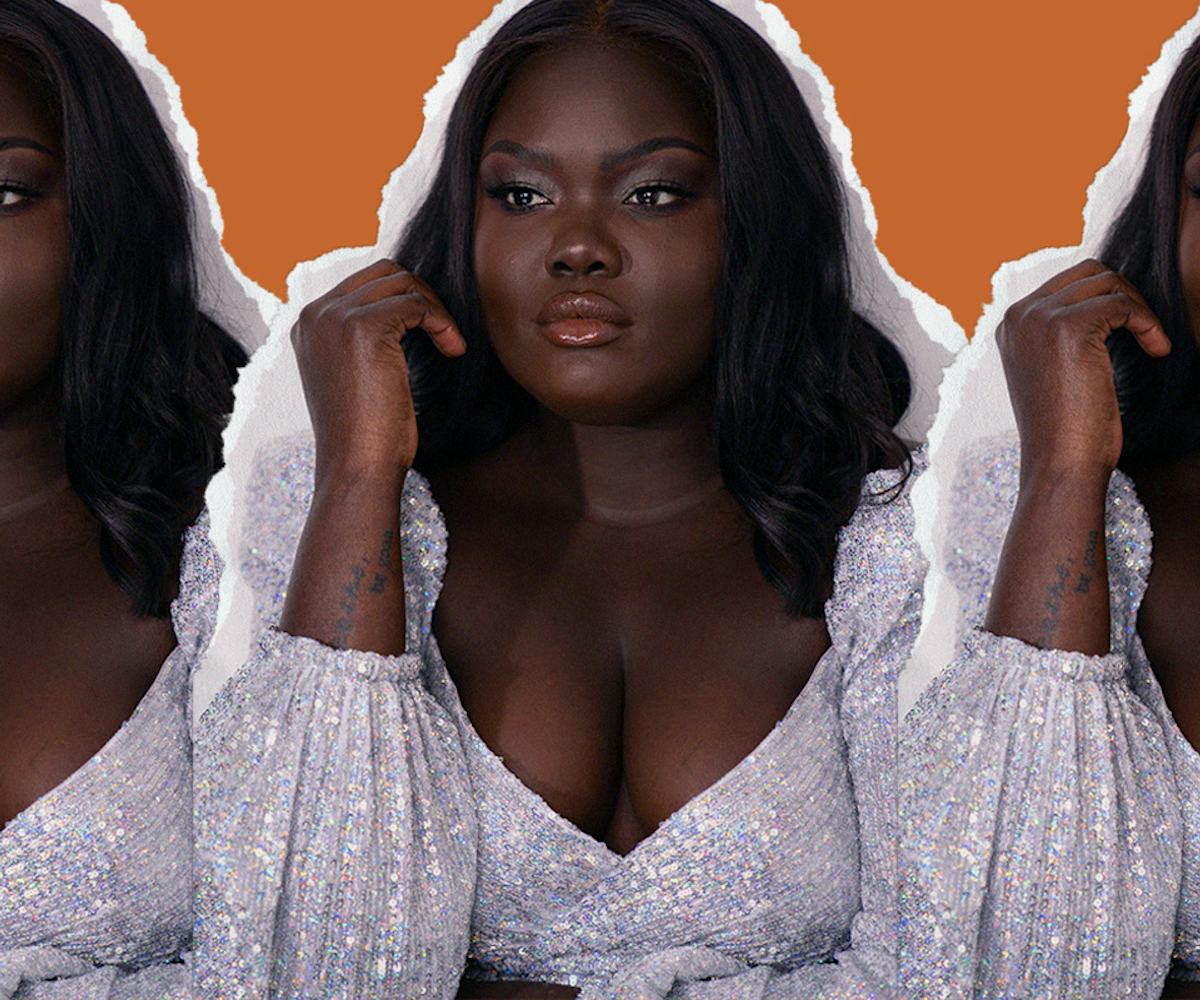 Image courtesy of Nyma Tang
Nyma Tang Is The Influencer We Need — Whether Or Not We Deserve Her
The South Sudanese beauty creator has shifted the beauty space in three short years, and she's making space for more Black women to do the same
On any given day, YouTube beauty star Nyma Tang is living out her life in ways that she wouldn't have deemed even remotely possible a decade ago. Today, the creator known for representing and making space for underrepresented Black women has over 431K followers on Instagram, and a subscriber count well past the one million mark on YouTube. She gets invited to parties by Rihanna on behalf of Fenty Beauty, and works with legacy brands like L'Oréal and Estee Lauder on a regular basis. It's an impressive track record for anyone, but even more so for Tang, considering she's only been in the beauty game for three years.
As far as influencing goes, YouTube birthed some of the internet's original superstars, with many of the biggest power players in the beauty space celebrating a decade or two on the platform. But while her peers in the industry were building their online personas as well as relationships with subscribers and brand partners alike, beauty was hardly on Tang's radar — and for good reason.
"I'm from South Sudan, a war-torn country," Tang explained to NYLON over the phone. "Coming to the States, beauty and things that pertained to outward expression of yourself really were the least of our concerns. It wasn't a priority. My parents really didn't have that luxury, so I kind of didn't have it either." The oldest of seven sisters, Tang moved to the United States with her parents when she was 3 years old. Her only memory of actively participating in any sort of beauty ritual was being taught to braid hair by her mother when she was 10, a skill she subsequently taught her sisters.
Her first realization that beauty was something she was — or even could be — actually excited and passionate about came from watching the women cast in the reality show America's Next Top Model, recalling seeing all of the Black women, and specifically those with deeper skin tones, being celebrated so publicly. "Those are the ones that really sparked my interest in the fact that there is a place for my beauty in mainstream media. I just didn't really see myself in a lot of bigger celebrities."
Wanting to see herself reflected in the mainstream became a bigger point of contention when Tang first decided to dabble in makeup, and was eventually the catalyst for her getting on YouTube. "When I started playing with complexion, that's when I noticed that there was a lot of stuff missing," she said. "There was a lot of room for growth, there was a lack of diversity and inclusivity in that area. So, I got tired. I got really fed up and I started creating content because, I mean ... I have six younger sisters and they're all going to eventually want to play with beauty and have their beauty seen in some way, and I just didn't want them to grow up struggling the way that I did."
Tang's rise to fame is most often credited to her YouTube series, The Darkest Shade — where she tries out the darkest shade available in any given cosmetics line — though she hardly thought it would see the success that it has when she made her first upload. "People think it was planned, and that I had a whole list of things [to test], but it was literally a last-minute decision. I threw it in the thumbnail last minute," she said of the title. The video went viral, now with over 1.6 million views, and began to make Tang a phenomenon amongst Black women all over the world, especially those with darker skin who are routinely overlooked and mistreated in and out of the beauty space. She was and is honest about things that work, the things that don't, and missteps brands often make without fear of backlash — a rare trait among influencers on the platform. "How can I even be worried about you if you don't have products for me?" she said of potential brand responses.
In a video posted to her channel in August 2017, Tang tried the Giorgio Armani Luminous Silk Foundation. It worked for her, but she still spoke out about the limited shade offerings. "There was one other thing that really, really bothered me about this foundation, and it's about other foundations too," she started. "There were only three shades for deeper skin tones. If you skip shades, it doesn't count. It basically beats the purpose of inclusivity if you're skipping around and skipping shades," she adds, saying inclusivity with finger quotes in the video. This upfrontness is what's gotten Tang her millions of fans, and what propelled important conversations about color diversity, inclusion, and colorism into the mainstream — and into action.
The world, and beauty industry, are different places today than they were when Tang uploaded that first video. Since then, Fenty Beauty has launched with its famed 40 foundation shades, raising the bar for what is considered "inclusive" in color cosmetics with other brands, legacy and indies alike, following suit.
"Seeing that ripple effect happening in real time was when I realized, wow, not only did I come on here and give people options and create a space for people to feel safe and feel like they are represented, but now I'm actually changing the face of the industry," says Tang. "That was when I realized that I had influence."
And she takes that influence seriously. Despite how common — and lucrative — public feuds and spats of drama have become in the beauty influencer space, Tang says she doesn't have the luxury to even entertain it. "My messaging is just so much more important than stupid drama for no reason," she says. "That keeps me away from it and keeps me kind of grounded; the fact that I am not only changing my life but changing so many young girls' lives. The messages that I get really put into perspective how important it is what I'm doing." Instead of getting caught up in the whirlwind of negative energy online, she spends time reinvesting in herself.
During the first three years of her career, any semblance of self-care was "non-existent," according to the creator. Today, she makes room in the form of hot baths, cycling every morning, and holding herself accountable for not only scheduling therapy appointments, but making sure she actually goes, and prioritizing what she gets out of them. "Self-care is very important and I didn't really balance it enough back then, but I'm doing the heavy lifting to balance it now," she says.
Looking forward, Tang plans to make the natural next step in the beauty influencer world: developing her own brand. And while the move may seem cliché — and maybe even unnecessary to some, given just how many brands crowd the industry today — Tang's vision feels extremely necessary in a world where darker-skinned Black women are consistently being overlooked and disrespected with half-baked attempts at inclusivity by beauty brands with the money and resources to do better.
"In five years, I'm hoping to be working on that, working on making the industry fully inclusive, to where deeper skin tones won't be like an afterthought," she says. "I already know the gaps that I want to fill and I already know where I need to add products. I'm going to figure out what's missing, how to make it more inclusive."
Unsurprisingly, Tang has the same vision for the space that she currently occupies, hoping to inspire other women that look like her, along with those who represent other underrepresented groups in the beauty-sphere, to insert themselves into the conversation much like she did. And with her own start just three years ago, Tang is proof that it's never too late.
"There are so many people of the opposite skin tone that get to rise up in the ranks. And the fact that there's so few of us with deeper skin tones, just know there's room for you," she urges. "You've just got to find what you want to say, perfect how you want to say it, and share it with the world because there's an opportunity and there's a space for you. Back then, if I would have thought that,
Oh, there's so many beauty people already like, why would I need to do it?
I wouldn't have done it. And look what's happened now, I've been able to carve out a space for myself and share my voice on this big of a platform. There's still room, and there's still opportunities to be made, and there's not enough of us. So join us."