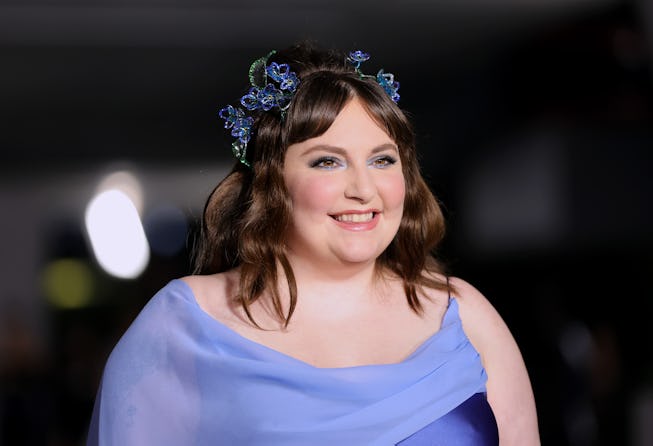 Amy Sussman/WireImage/Getty Images
Lena Dunham Is Writing And Directing A Polly Pocket Movie
Starring Lily Collins as Polly Pocket.
Barbiemania has been sweeping the nation for months now, and it's safe to say the Barbie IP has never been so in demand. After a dismal 2018 in terms of sales, Mattel decided to invest in the universes of its characters in a cinematic way — and it's more than paid off. Greta Gerwig's Barbie made a record $155 million at the box office in its first weekend release.
Mattel is famously home to some of the most beloved, nostalgic franchises: American Girl, Thomas and Friends, and Barney, to name a few. And soon, these franchises will be getting their own film treatment, all with huge blockbuster potential. There are films in the works for Hot Wheels, Barney, Polly Pocket, Rock 'Em Sock 'Em Robots, American Girl, UNO, Wishbone, Viewmaster, and more — with a slew of A-listers attached including JJ Abrams, Daniel Kaluuya, and Vin Diesel.
Polly Pocket, in particular, is going to give Barbie a run for her Chanel suits. The live action Polly Pocket film will be directed by Lena Dunham and star Emily in Paris' Lily Collins. It's not a far leap for Dunham: After all, Polly Pocket as a concept is basically her directorial debut Tiny Furniture and Girls combined.
According to Variety, there is a script, which Robbie Brenner, the Oscar-nominated producer who runs Mattel Films, described as "great." We'd expect nothing less from Dunham. But it's unclear when it's going to go into production, with Brenner saying she hopes "we'll be making that at some point in the future." Maybe when Mattel stops counting their Barbie money!
"First of all, they are two of my favorite ladies ever," Brenner says of Collins and Dunham. "It's been an amazing collaboration. Lena is so collaborative and rolls up her sleeves and really likes to roll around in notes and listen. She's incredible. Lily is so smart and so specific and so productorial. It's just been an incredible collaboration, so we are thrilled about it."