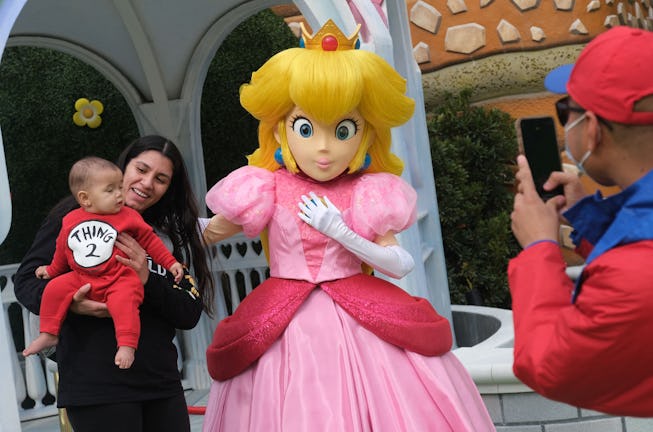 CHRIS DELMAS/AFP/Getty Images
Princess Peach Is Finally Getting Her Own Switch Game
Soon gone will be the days where you have to fight over who gets to be Princess Peach in Mario Kart (JK — my brother never wanted to be her). Princess Peach, the most glamorous of all of Mario's crew, is getting her own video game for the first time in nearly two decades. Not since 2005, which was basically a micro-generation ago, when Myspace was the dominant social media, has the royal had her time in the sun, with Super Princess Peach for Nintendo and Nintendo DS.
Nintendo announced an untitled game centering Princess Peach at its Direct showcase on June 21.
"That's right," the Nintendo developers say through a translator, "Princess Peach will star as the main character in a brand new game."
The game comes after a Mario resurgence with the release of the live-action film starring Chris Pratt as Mario, and Anya Taylor-Joy as Princess Peach.
The not yet titled game was announced alongside news of a Super Mario RPG remake, along with the news of a remake of 2013's Luigi's Mansion: Dark Moon. We don't know much yet about the game, but Nintendo did release a short trailer.
In the trailer, Peach is traipsing through her kingdom, filled with cherry blossoms and ivy-covered stone walls. When she stops on "this particular spot on the stage," the developers said, which looks like a cement star, then "something interesting happens." Doesn't it always? Her star whirls around her; her dress turns blue and then white and then she seems to explode into some kind of supernova.
"What on Earth is happening?!" the developers say. We'll know soon enough! It's not clear when the game will be released but according to the trailer, it will be sometime in 2024.
You can get a sneak peek of Princess Peach's Nintendo Switch game below: