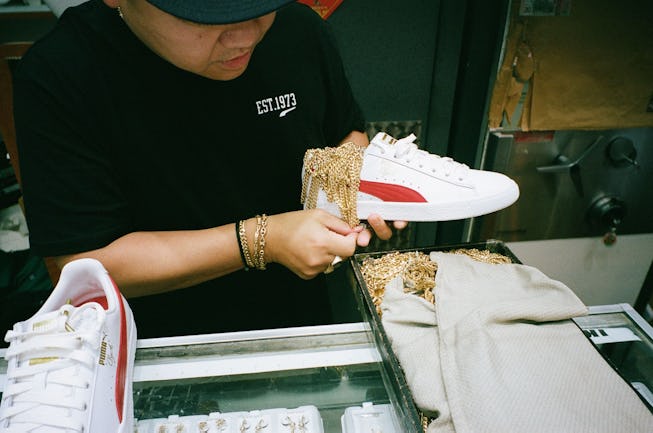 Edwin De La Rosa / Newco Studio Practice
Puma Releases Art Book Who's Who: New York Local Edition
Helmed by streetwear legend Rob Cristofaro, the book is a time capsule for everything cool and creative happening in this city right now — and everyone is photographed in Clyde Frazier PUMAs.
Depending on who you ask, Who's Who in New York can mean a lot of different things. In a city overflowing with people doing creative work that is chronically underrated — it's hard to keep track of it all. Nevertheless, a Who's Who list is a time capsule, and now, PUMA and Newco Studio Practice, along with artist, ALIFE founder and streetwear icon Rob Cristofaro, is releasing a book to mark this moment in the city's current creative scenes, particularly when it comes to fashion and music.
Out today, Who's Who: New York Local Edition contains 276 pages chock full of 75 profiles to celebrate PUMA's 75th anniversary as a company. Unlike most art books, this one is encased in a taxi-cab yellow shoebox and stamped like a late-edition newspaper — giving it a true time capsule quality.
"I've acted as a curator within New York's creative community for over twenty years. We started ALIFE as an incubator for untapped talent in downtown NYC — but quickly evolved into a platform for creatives around the world," Cristofaro said in a statement. "This book serves as a guide to contemporary talent, while honoring that same tenacious spirit we embodied twenty years ago."
In its pages you'll read about icons like former New York Knicks player Walter "Clyde" Frazier; fashion designer Daniel "Dapper Dan" Day; KidSuper fashion designer (and upcoming Louis Vuitton collaborator) Colm Dillane; Real Housewife and fashion designer Leah McSweeney; jeweler to Macklemore, Lizzo, and Wu-Tang Clan Tommy Jewels; Lucien restaurateur Zachary Bahaj; Black In Fashion Council founder Sandrine Charles; musician Maluca Mala aka the Dominican Princess, and many more legends of streetwear, fashion, music, and art.
Tommy JewelsCourtesy of Newco Studio Practice®
Bradley CarboneCourtesy of Newco Studio Practice®
Tommy JewelsEdwin De La Rosa/Courtesy of Newco Studio Practice®
Kid SuperCourtesy of Newco Studio Practice®
Florencia GalarzaCourtesy of Newco Studio Practice®
Amandla BarakaWilliam Eadon/Newco Studio Practice®
Frazier, in particular, gets a notable tribute in the book: Everyone profiled was photographed in PUMA's "Clyde" sneaker, which Frazier asked PUMA to create a custom version of in 1973. It was the first signature shoe in basketball history; this year marks the sneaker's 50th anniversary.
Who's Who: New York Local Edition is out January 26 with limited distribution. For more information, visit Newco Studio Practice's website.
Here's the full list of honorees:
Adam Loutfi
Alfred Casciani
Amandla Baraka
Anik Khan
Anthony Blue Jr.
Arena Embroidery
Arthur Soleimanpour
Bergen Hendrickson
Bernie Gross
Bradley Carbone
Cameron Carter
Carlton Yaito
Charles Shedden
Chris Kennedy
Chris Session
Christian Chico
Christian Petroni
Colin Tom
Colm "KidSuper" Dillane
Curtis Kulig
Dan Solomito
Daniel "Dapper Dan" Day
David "Dave1" Macklovitch
Edwin De La Rosa
Elvin Tavarez
Emichell Noyola
Emmett Shine
Emory Jones
Esteban Scott
F1RST NYC
Florencia Galarza
Fred "Focus" Lavergne
Jaé Joseph
Jeanette Hayes
Jerome Lamaar
Johnny Nelson
Josh Russ TupperJune Ambrose
Katherine Mateo
LAAMS
Lauren Servideo
Leah McSweeney
Lenny Santiago
Lolita Cros
Luisa Opalesky
Maluca Mala
Mark Luxama
Michael Grant
Nadine Régné
Newco Studio Practice
Noah Thomas
PJ Monte
Paige Silveria
Pat Hoblin
Patrick "Wiki" Morales
Quiana Parks
RJ Barrett Jr.
Ray's Candy Store
Ricky Michiels
Roman Grandinetti
Sam Branden
Sanaa Hamed
Sandrine Charles
Sara Jane Booth
Sarah Bachman
Sasha Alcocer
Show Me The Body/ Corpus
Stefan Bowerman
Tommy Jewels
Udi Avshalom
Vladdimir Gomez
Walt "Clyde" Frazier
Zac Bahaj