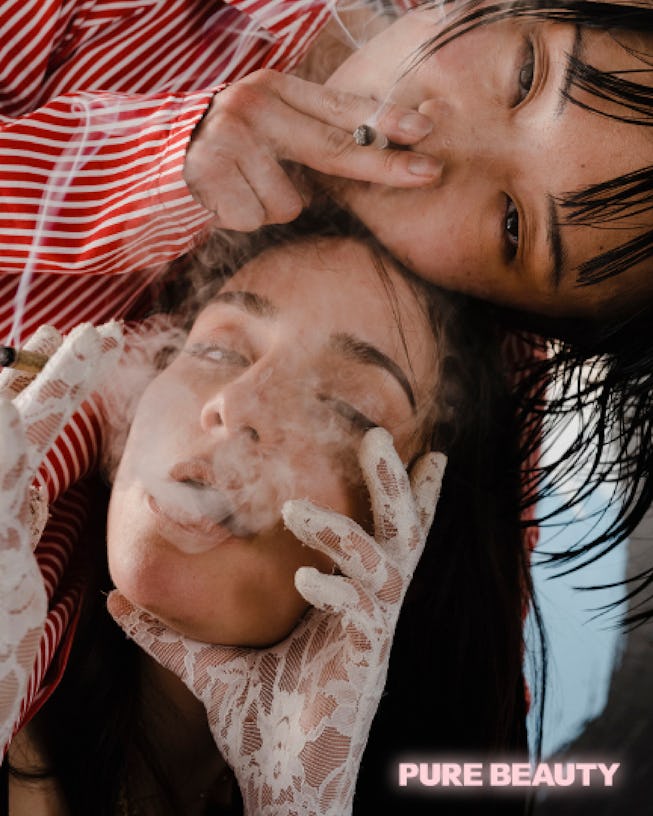 Lyndon French/Courtesy of Pure Beauty
Pure Beauty Is Making Cannabis Cool, Sustainable, And Equal For All
The brand's co-founder and CEO shares how the brand has grown and what's next.
With marijuana use increasingly on the rise — skyrocketed by the fact that most of us are staying home in the midst of a global pandemic — and its legality sweeping across the country, smoking weed doesn't seem quite so novel anymore. Pure Beauty, on the other hand, can make it feel like a thrill. With its sleek packaging and playful emoji-eyes logo, the indie Los Angeles brand is as unassuming as it is cool and under the radar — "if you know you know" among those who smoke pot.
At face value, cannabis brands are ultimately selling you the same type of product — as cumbersome as finding your favorite white T-shirt or type of wine — so authenticity is more important than ever, especially within a market that's becoming one of the most lucrative and fastest-growing industries in the U.S.
"We started out extremely grassroots and without funding, which I think is kind of a rarity in the industry," Imelda Walavalkar, Pure Beauty's CEO and co-founder, tells NYLON. "We were super-scrappy from inception, but what we lacked in financial capital we made up for by being very connected to what was really important: culture and creativity."
Pure Beauty launched in 2017 — just before the recreational market took hold in California the following year, "which was sort of a nightmare of a year if you ask anyone because of how rocky and volatile and difficult it was," says Walavalkar. And while the brand has seen its fair share of highlight-reel moments through the years, it didn't really catch its big break until COVID-19 happened.
"It sounds weird, because we've been building and building for probably two to three years, though it felt like 20 years, and as I said before, we didn't have financing, so we were super hands-on and that gave us a harder and slower process to grow," recalls Walavalkar. But it also allowed Pure Beauty to nurture the relationships that were most instrumental to cultivating its product sustainably, as well as a close connection to the brand's community of artists, creatives, and "hardcore cannabis" consumers, describes Walavalkar.
"We were kind of already hitting our stride anyway. It was very word of mouth about who we are and what we stand for and what our cultivation practices are," she explains. "So around March of last year that was already kind of building, and then COVID put this gas pedal on the cannabis industry as I think a lot of people know."
Pure Beauty's first launch of pre-rolls, which resemble cigarettes in a slim flip-top box, quickly garnered attention for its aesthetic appeal, even burn, and quality, potent flower. In late 2019, it released its mini joints, dubbed "Babies," as a pack of 10 in a tiny square box ahead of what has now become an industry-wide (and COVID-friendly) trend. "During that time, we moved up to the number four pre-roll brand in [California] from number 60, and I think a lot of that is because of those mini-joints," notes Walavalkar, adding that sales just started "skyrocketing." The Pure Beauty business tripled overall year over year, but by the end of 2019, it was five times that.
"Last year was when I started to finally feel safe and confident and to the point where I was like, 'Oh, we're good,' and now we need to focus on really growing this into the thing that I think it could be," says Walavalkar.
Aside from just aesthetically pleasing weed, the company has its hand in merch, too. A growing business in and of itself, Pure Beauty's take (via its Drugstore online shop) goes beyond just your typical graphic tee or sweatpants. The most novel pieces are the ones that sell out the quickest, observes Walavalkar, like a 90-minute mixtape on cassette, meant to be listened to after smoking Pure Beauty, or a 15-inch-wide ceramic sculpture of a K-beauty sheet mask by artist Jaye Kim.
"The experience of being high is just so profound and life-changing. We want to complement and build on that experience in everything we do, and the Drugstore is one of those ways," says Walavalkar. "It's just a natural extension of weed culture, and also a way for people to engage with us without being able to necessarily buy a product. Even if you're not a weed smoker, you can identify with that same philosophy."
On a federal level, cannabis is still illegal, and its heavily criminalized history has made consumers increasingly mindful of the businesses that they support in order for a more equitable future. The War On Drugs, declared by President Richard Nixon in the '70s, is still at work today, and has affected Black people at a disproportionately higher rate than white people. As new weed brands continue to pop up — and more will as both legalization and destigmatization rise — dispelling the racial disparity that still very much exists within the industry should be ingrained within almost every business ethos.
Pure Beauty has been doing just that since the jump. A portion of its proceeds go towards the nonprofit Defy Ventures, which works with post-incarcerated populations to help them build self-efficacy and business skills. In response to George Floyd's death at the hands of law enforcement, the brand launched a strain called ACAB; all proceeds, along with Pure Beauty's supply chain's own margins, were donated to Michael Thompson, who was incarcerated for a cannabis offense in Michigan, via the Last Prisoner Project. The company is also working on growing its apprenticeship program — a passion project for Pure Beauty, according to Walavalkar — that aims to bring social equity applicants into the company's cultivation process.
"My thought on this is that cultivation is the foundation of this industry," she says. "If you have really strong knowledge or even a mastery of cultivation, you can go into anything from there, because understanding the plant and how it's grown is so crucial, even if you want to go work for a VC or whatever that may be."
Eventually, Walavalkar hopes the program will partner with different companies, from a dispensary to a VC and a recruiting company, so that those involved will have a well-rounded glimpse into the cannabis industry, as well as the potential for employment afterwards. "One of the biggest issues again, for me personally, is just the lack of specifically Black and brown people in positions of leadership in this space," says Walavalkar. (For Pure Beauty, the team is made up of 65 percent minorities and 65 percent female.)
"I'm sick of hearing myself saying it, but if you look at all of the brands that are dominating, if you look at who has all the money, who's getting all the money. If you look at the big MSOs, all the private equity firms, it's all white men, venture capital, finance people that I think a lot of times, and not to generalize, don't feel this passion for the plant," she adds. "And I think that's a real tragedy, and it seems like it's only getting more pronounced as these people are super-organized and have hundreds of millions of dollars and really strong lobbies. And so, from my perspective, as we've gotten bigger, as we get bigger, we want to be more vocal about these things."
To kick off 2021, Pure Beauty branched outside of actual flower with its "Little Strong Drink," or LSD for short, a concentrated — 100 mg, to be exact — cannabis-infused 2.2-ounce drink (slightly bigger than a shot glass) as part of another growing niche within the market. "I think people are just really excited by the novelty of it and the fact that it's potentially a replacement for drinking wine and beer," says Walavalkar. "Our philosophy was kind of different than what the mainstream businesses were thinking, which are all these very low-dose, micro-dose canned beverages."
Pure Beauty already has its sights set on new markets within the U.S., as well, like Michigan, which will be the company's first state outside of California. Walavalkar is especially excited to put down roots in New York, since she and her two partners have each spent time living there for at least a decade.
"I think that our brand is very 'New York' in a lot of ways," she says. "I feel excited by the prospect of really sinking our teeth into it and hopefully having a voice in the policy-making and helping shape how things play out. I think that the biggest complication is the fact that capital does really dominate who's getting power and control, so to speak, in the industry. For a company like us, I think we're doing really well, but we're not big. It's sort of intimidating. Our hope is to get into New York by virtue of just the things that I think make us really special and different."
Readers should note that laws governing cannabis, hemp, and CBD are evolving, as is information about the efficacy and safety of those substances. As such, the information contained in this post should not be construed as legal or medical advice. Always consult your physician prior to trying any substance or supplement.