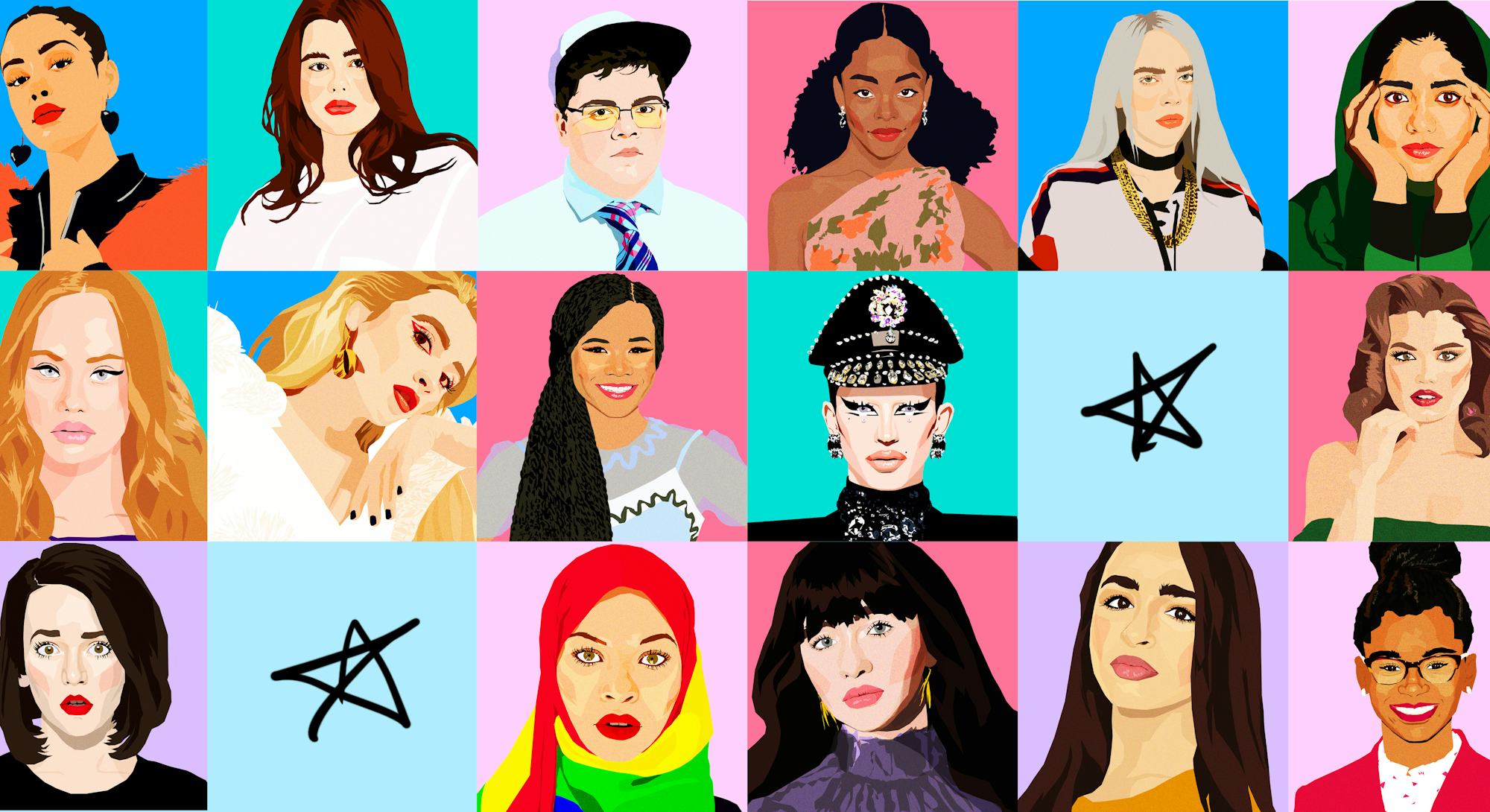 Roll Call: Meet 25 Gen Z'ers Changing The World
Nylon is celebrating 25 members of Gen Z, from all different spheres of influence. Each of these people inspires and excites us, and all of them are destined for bright futures of their own, and will doubtlessly help to make our collective future brighter along the way.
What defines a generation? Answering this question is tricky. It's hard, if not impossible, to satisfactorily capture the many experiences of everyone born within a 15-year period with a few catchy buzzwords. And so we usually don't try to do that. We usually avoid defining a generation by the people who make it up, and instead define it by the events happening as that generation comes of age.
This is why, Gen X is known for the cynicism borne out of seeing Wall Street collapse in the late '80s, and for the slacker ethos that defined the spirit of the grunge-infused early '90s. Millennials, meanwhile, are defined by the rise in technology, and the instability of a post-9/11 world, one which was soon plunged into a recession. They are, then, ultra-communicative and wary of institutions; permanence is an elusive concept, so why not focus on self-care in the form of buying face masks instead of a home?
And then there's Generation Z. What will define them? A few answers spring to mind, none of them very optimistic: gun violence, environmental threats, the degradation of women's rights, an assault on marginalized communities.
And yet, what's remarkable about Gen Z is that, despite coming of age in politically fraught times, these troubles are not what define them. Instead of being defined by the world around it, Gen Z is comprised of people defining the world—and its future. Gen Z is known for being idealistic, but it's not an abstract idealism. They know they need to put in the work. They've seen the dangers of apathy, they recognize the perils of a population that participates in its own silencing, and so they speak up.
Gen Z is about movement and action; it is full of self-starters and iconoclasts. It is no coincidence that Gen Z grew up seeing that the motto of the leader of the free world was: hope.
Gen Z took that hope to heart, and is now transforming that word into deeds.
This month, we celebrate 25 members of Gen Z, from all different spheres of influence. Each of these people inspires and excites us, and all of them are destined for bright futures of their own, and will doubtlessly help to make our collective future brighter along the way.
Illustrated by Monica Ahanonu
Media
by Taylor Bryant
Luka Sabbat
Who is Luka Sabbat? It's a question even the 20-year-old has yet to answer (it also happens to be his Twitter handle). Influencer might be fitting. Photographer, too. Thanks to his role on Grown-ish, actor can also be added to the mix. He's been dubbed Kanye West's protégé, modeled for brands like Yeezy, and walked on the runway for the likes of Dolce & Gabbana. He's elusive and artsy. The kind of person who's in Tokyo one week and New York the next, the kind of kid who wears Tom Ford to prom, the kind to declare that he's not at Coachella while actually being at Coachella.
To put it simply, he's a creative looking to carve out a space for himself like every other member of Gen Z. Like his generation, he rejects labels and doesn't fit neatly into one box or the other. So, who is he? Well, we'll let him tell you. Just know, you're bound to see plenty more of him in the coming years.
Tell us everything you want people to know about you in one sentence.
I shop so much that I can speak Italian.
What has the past year of your life taught you?
People should stop taking fashion too seriously.
Where do you want to be in five years?
I wanna own the Chateau Marmont.
What do you hope other generations learn from yours?
That so much has been done, but you should always be the first in doing what you're doing. Being able to take information from the past and using it to make new things is different from copying.
You seem to enjoy wearing a lot of different hats when it comes to your projects. With that in mind, what would you like to try out next?
I'd like to create a physical space from scratch and be able to make sculptures. Something three-dimensional that involves materials, textures, and dimensions. Clothes—even though they are 3-D—are still very two-dimensional to a certain degree. Printed photos are very, very two-dimensional. No matter how much depth we put in a photo, the actual print is two-dimensional.
Lele Pons
Lele Pons is constantly watched—at least, virtually. She had the most-viewed Instagram stories of 2017, was known as the Queen of Vine when Vine was a thing, and her YouTube videos (which are her main source of fame) rack up millions of views. You've probably seen her stuff. It's fun, goofy, self-deprecating, and relatable. It might include a bit about farting, but also a skit about being an awkward teenager or dancing to "Crazy in Love."
Outside of screens, Pons has a brand deal with CoverGirl, won a Teen Choice Award, and was a judge for Miss Universe. She immigrated from Venezuela with her family at the age of five and has made a name for herself for being honest, like when two years ago, she shared with her followers that she got a nose job. "The important thing is that you don't change who you are inside!" she told her millions of followers then. She uses her platform to do things like raise awareness for Puerto Rico following Hurricane Maria, but she never takes herself too seriously. She's creating the kind of content that people not only click on but stick around to watch.
Tell us everything you want people to know about you in one sentence.
My dream is to make people happy, and I want to work hard to create things that do that.
What has the past year of your life taught you?
It has made me more motivated to stay focused. I've learned to take risks and be more confident in myself, even if I'm doing something new and scary. Dancing to "The Middle" during the Grammys for Target was definitely the scariest and most exciting thing I did because I had never danced in front of people like that. I've only danced for myself on Instagram, and this was a huge step for me, and it's given me the confidence to keep going.
Where do you want to be in five years?
I'm grateful that I'm surrounded by amazing people and that I get to do what I love for a living and I just want to keep building on that. I would love to continue to grow as an artist and try things I haven't done yet. One of those things is music. My plan is to start releasing music soon and, hopefully, in five years, I'll have some successful songs and album! Maybe I'll even get to do a song with Shakira or Daddy Yankee!
What do you hope other generations learn from yours?
I think our generation is very positive and creative. There's so much negativity in the world, but I think we've been able to use social media and the internet to spread love and kindness and joy all over.
How do you deal with criticism online?
It's hard being criticized online and I'm still learning to deal with it. For me, the most important thing to remember is that, no matter how many people have negative or hurtful things to say, there are even more positive people who support what I'm doing. Once you learn to ignore the bad stuff, you can really appreciate the good stuff.
Nia The Light
When the natural hair community really grew into itself, there were a lot of curls to sort through. It seemed, overnight, everyone became a vlogger, documenting their big chop and sharing their favorite DIY recipes on their YouTube channels. At the center of the revolution was Nia Petitt.
Petitt's hair enveloped her face, her type-three curls bursting out toward the top and finding a home on her shoulders. Hair can be an outlet for individuality, and hers helped open a lot of doors and inspire little girls to embrace their natural texture. We're writing in the past tense because earlier this year, Petitt cut off her lengthy coils.
Her hair, now mere inches long, is more of an afterthought when you see her rather than the main attraction. And that was the point. She writes on her Instagram that, after her chop, her attention shifted from being about the exterior to being about the interior. It's a beautiful reminder that sometimes you have to let things go to appreciate what you already have.
Tell us everything you want people to know about you in one sentence.
I am Nia.
What has the past year of your life taught you?
It has been the one with the most lessons; the growth from girl to woman has been so interesting. This time last year, I was actually in Los Angeles and my journey of validation online really began. I lost track of who I really was as I began living for likes and comments of people who I didn't even know. Now, I'm in a safe space of living in the moment more. Living more and capturing less. I really love the journey, and even though it was a painful one, it allowed me to become who I am today.
Where do you want to be in five years?
In five years, I will be 26. I don't really care about where I will be as long as I am loved by the people I love and pursuing whatever it is, then I will be happy. My current biggest goal is letting go of the obsession with needing 'things' to be fulfilled. I have so much stuff which I am very grateful for, but I don't want to feel attachment to things and want more happiness, freedom, and the ability to experience life in the best way possible.
What do you hope other generations learn from yours?
I hope that, as technology advances, we do not lose real human interaction and we all remain connected. I hope people use their platforms to help change the world and I hope I am able to inspire a young girl today to take the steps to do so.
How has your relationship to your hair changed since cutting it?
My relationship with my hair hasn't changed, it's the relationship with myself that has. It's interesting because, when I look at old pictures, I do not recognize myself. I feel a lot lighter now, and I don't have to invest as much time into my appearance as before. I now use that time to sleep more or focus on school assignments. Crazy to think I used to spend a good three hours, twice a week, washing and styling my hair.
Alexis G. Zall
Alexis G. Zall first started posting YouTube videos because she thought it would be a great way to practice acting. Her very first video shows the adorable Zall being attacked by an imaginary "fluffy orange teddy-demon." She's grown with the evolution of YouTube and, over time, you can see her personality start to take shape. Today, she makes videos that are both sarcastic and witty and loud (her most popular is one where she tests out men's products—from boxers to razors). The video she's probably most known for is the one posted on her 18th birthday in which she comes out.
It's a casual, nonchalant happening. You might, actually, miss it if you weren't paying attention. While listing her 18 tips for 18 years, Zall exclaims, "It is totally okay to be a girl who likes girls or a boy who likes boys. Me, personally, I am a girl who likes girls." She lets out a few exhales of relief, her friend comes for a congratulatory hug, a few chants are let out, and she moves right on to tip number nine: She likes nail polish.
It's a great representation of what makes Zall stand out from the thousands of other vloggers: She's unabashedly herself while still figuring out who that self is. She just happens to be documenting the process for millions.
Tell us everything you want people to know about you in one sentence.
I want to aid others in their journey of realizing that who they are is the best person they could be, and knowing without question that person provides value to the people around them.
What has the past year of your life taught you?
I've learned so much more in the past two years since turning 18 than I feel like I did all throughout my childhood. In the last year, specifically, I learned to unapologetically say what I'm thinking and know that what I have to say provides value that would otherwise not exist. I also learned the importance of trusting your instincts. Your subconscious intakes more information and knows what you want more than you do, so trusting your gut will either lead you to the right answer or to the lesson you needed to learn, so that you can later arrive where you want to be.
Where do you want to be in five years?
I want to be acting, writing, and directing projects and stories that I feel are important to hear and tell. I'd love to be the Shonda Rhimes of coming-of-age comedies and stories about identity, self-esteem, confidence, mental health, feminism, etc.
What do you hope other generations learn from yours?
The value of listening to others and trying to see things from other people's perspective. I feel like, if you can really try to understand what others are going through, there are very few times you will ever really be angry.
I'd also love other generations to learn that standing up for what you believe in is one of the most important things you can do in your quick human life. I'd really like others to learn the definition and value of consent, sexual or otherwise. Consent is a big thing I notice my peers find important and people who are older than us do not necessarily value in the same way.
What's the biggest misconception people have about vloggers?
I think some people who are vloggers are not spreading good messages and some people who are vloggers are spreading messages that I think are great. People online who talk to a camera are just that: people. Some of them you will like and some you will not. Social media is a place where people can share whatever they want. Sometimes, I agree with what people share, and sometimes I do not. But that doesn't mean the internet is all bad. HBO makes the scripted drama Westworld, and TLC makes the reality show My Strange Addiction. It's the same online, there's something for everyone.
Jazz Jennings
Jazz Jennings knew she was transgender as soon as she could speak, but it wasn't until 2007—when Barbara Walters interviewed her on 20/20—that she gained national attention for becoming the youngest national transgender figure at just seven years old. Since then, she's accomplished a lot more than we have—and we've been on this earth more than a decade longer.
Jennings speaks out about public issues on her YouTube channel; she advocates for trans rights through the TransKids Purple Rainbow Foundation, which she co-founded; she wrote a book about her journey, and has a TLC reality show, I Am Jazz, where she covers topics like how hormone blockers affect her ability to have orgasms and gender reassignment surgery.
Though Jennings and her accomplishments give off the impression that she's 17 going on 30, at the end of the day, as her YouTube description explains, she's still just a young girl "looking to create acceptance and equality in this world while also finding her personal happiness."
Tell us everything you want people to know about you in one sentence.
I'm kooky, fun, free-flowing and outgoing, but I also love being alone and at peace.
What has the past year of your life taught you?
To not get caught up on the minutia. To be positive, rather than pessimistic, and always remember that the small problems of today won't be relevant in 10, 20 or 1,000 years from now. I see so many people stress themselves out over every little thing, but I truly believe you just have to be relaxed and handle the present situation accordingly, while reminding yourself that it'll all be okay in the future.
Where do you want to be in five years?
I hope I'm in love and completely happy. I want to find my passion and purpose in life and share those special moments of discovery with another person. I hope I can also continue to spread my message about inclusivity and equality for all people, regardless of their differences.
What do you hope other generations learn from yours?
To speak their minds and be their authentic selves. It's important to stand up to the injustices of this world, and you have to stand proud in your truth while defending the communities that experience a breach of equality and freedom.
What can people do to help trans rights?
Just be accepting; by treating a trans person the same as anyone else, you have made a difference and have helped to create change within their life. You can also find local community centers and resources to build a platform or incite change where you live.
For those who are not accepting, I ask them to open their mind and realize that all people are in the same boat and they're just trying to survive in a world that can be harsh and cruel toward transgender people. We have to come together and help one another. We must unify as a society and embrace our diversity and beauty. By doing this, we can learn to be proud, strong, and happy and create a better world for all.
Activism
Eva Maria Lewis
As more and more young people get involved in activist causes, whether through fighting for gun reform or protesting unjust deportations or advocating for equal treatment under the law, activism's ubiquity might make it easy to forget that the struggle for change is exactly that: a struggle, and one that's historically had lots of danger attached to it.
But Eva Maria Lewis, founder of the I Project, knows her history. As she tells me, "Activism is not something to be taken lightly. Historically, black people have been demonized and even killed for pursuing this work." And, as Lewis points out, "Being a queer black woman, I am even more vulnerable to facing repercussions for challenging systems meant to hinder the progression of myself and my people."
And yet, these challenges have not deterred Lewis from her involvement with the most important civil rights issues of her era, from protesting the unjust verdict in the murder of Trayvon Martin in 2013 to being involved in the Black Lives Matter movement in her home city of Chicago. It's her passion for these issues that led Lewis to found the I Project, where she works to bring young people together through a platform which celebrates art and its power to affect change.
Now, Lewis is attending college, where she will surely pick up more tools and teach others around her, in the pursuit of working toward a more just world, all the while living by the radical, and righteous, credo: "Activism means progress by any means necessary."
Tell us everything you want people to know about you in one sentence.
I'm a South Side Chicago girl, born and raised, with an artistic heart and a drive for change.
What has the past year of your life taught you?
In the past year, I have seen numerous trials and tribulations. My being here now, evoking this power, is a testament to my endurance and strength. In the last year, I have become more comfortable with myself and learned that if I'm not unapologetic about all that I am, it will be hard to find joy in this world. I've learned that no matter how much of a superwoman I portray myself as, a strong support network and family ties are necessary to push forward and stay grounded, even if that family is not blood. I've also learned the importance of paying support and kindness forward. I have been invested in by so many women of color and queer people of color. I must do the same for others because I see exactly how much change that can incite in a person. Most importantly, I've learned that my voice, my identity, my anger, my joy, is righteous.
Where do you want to be in five years?
My friend Kara Jackson once told me to be the rupture, to not be afraid to be the first and only. Throughout my lifetime, I want to provide and embody the facets of representation I never saw for myself while growing up. In five years, in this body, I'll be an academic, artist, activist, advocate, and everything in between. In five years, I'll be done with my undergraduate career, and reaping the benefits of what this free Ivy League education has to offer me. I'll be six years in the making of creating the scaffold for an equitable Chicago. I want to have created effective change in my immediate community of South Shore, and begun to apply that scaffold to other black and brown communities in Chicago, and the United States. I want to make art that functions as a mechanism of liberation for myself and others. Ultimately, I want to be some little black girls' representation.
What do you hope other generations learn from yours?
My generation has access to a colossal amount of information. We have windows into everybody's lives in our pocket. When people were first grappling with the invention of social media, I imagine they were not thinking it would give a platform to a multitude of movements. My generation took this invention and turned it into a social benefit. The lesson in that is to work with what is available to you, communicate, ask questions, and execute your agenda for progressive change by any means necessary. We are resilient, resourceful, and driven. I'm hoping that those coming after us will embody those qualities and more.
What does activism mean to you?
It's not something to be taken lightly. Historically, black people have been demonized and even killed for pursuing this work. Because I am so passionate about implementing change, there have been times when my safety has been extremely compromised. Being a queer black woman, I am even more vulnerable to facing repercussions for challenging systems meant to hinder the progression of myself and my people. Yet, I do it for everyone who physically cannot, and for everyone who never had access to the resources I was able to acquire. For me, activism is the possibility that one day my neighborhood will have multiple grocery stores, a trauma center, equitable educational opportunities, and employment opportunities for the same residents who have called South Shore "home" for years. Activism is the possibility that there will be a day when trans women aren't murdered for being trans, when black people aren't killed for being black, when women aren't commoditized because of our bodies, when no one faces an injustice on the basis of their identity. Activism means progress by any means necessary.
Blair Imani
The importance of intersectionality is something that pretty much every high school freshman learns about in history class—or should anyway. But it's also an important concept to bring to activism, in order to make sure that progress is inclusive, and takes into account the many different experiences had within communities fighting for change.
One particularly important voice in the activist sphere, who also makes clear that it is possible to fight for change in a variety of arenas, is Blair Imani. The Brooklyn-based activist and author is heavily involved in LGBTQ and Black Lives Matter activism and is a black, bisexual, Muslim woman who has worked with organizations ranging from GLAAD to Planned Parenthood.
Imani is the founder and executive director of Equality for Her, a nonprofit educational platform for women and nonbinary people, through which she works to empower other young women. Check her out on her vibrant Twitter feed and in her forthcoming book, Modern HERstory: Stories of Women and Nonbinary People Rewriting History, which will be out in October.
Tell us everything you want people to know about you in one sentence.
I am a black bisexual Muslim woman involved in LGBTQ rights and Black Lives Matter activism.
What has the past year of your life taught you?
I have learned so much about impact and intent since this time last year. I have realized that I cannot predict the full impact of my actions and, for that reason, my intentions must be rooted in integrity and compassion. Over the past year I ended up coming out on national television as a queer woman of faith and, just a few months ago, I met a young woman who saw that broadcast and told me that it changed her life. After writing a blog post with GLAAD about LGBTQ representation someone tattooed a quote from that post on their forearm. All of this has changed how I think about purpose and impact. My mentor DeRay Mckesson, said it best: "You don't get to choose the way you influence people, you get to choose to do good work." I keep that message in my mind and repeat it to myself often.
Where do you want to be in five years?
I want so many things for the next five years. I want to continue with my organization, Equality for HER. I want to be writing my next book—right now my first book, Modern HERstory: Stories of Women & Nonbinary People Rewriting History, is available for pre-order. I want to teach. I want to be working toward owning a home. I want to live in California. Most of all, I want to stay rooted in my communities.
What do you hope other generations learn from yours?
It's okay to disrupt systems. That's what my generation is all about.
What does activism mean to you?
It means so many things to me. It is simultaneously joy and pain. Overall, activism is a responsibility for me. I don't have the luxury of opting out of the movement because I am directly affected by so many systems of oppression. Even by living as an out queer Black Muslim woman, many people feel that I am making a statement. I have been blessed to grow a massive platform in a very short amount of time starting with my arrest in Baton Rouge at a protest in honor of Alton Sterling and continuing through the following year when I came out on a nationally broadcasted conservative news outlet. While my activism didn't start out in the public eye and much of my grassroots background was forged in high school and college, my activism today is very public. But activism is not what happens in front of cameras or a large audience, it is the decision to work toward a better future and fight for a world that values everyone's life and experiences.
Gavin Grimm
Many of us have a pretty distinct idea of what activism looks like: marches, protests, highly publicized speeches and appearances. All these things are an essential part of effecting major change, but, sometimes, radical activism is as simple as just going to the bathroom.
Such was the case for Gavin Grimm, a now-18-year-old transgender student, whose use of the boys bathroom in his Virginia school in 2014 led to a heavily contested public debate, which traveled to legal avenues, eventually making its way to the Supreme Court, before being sent back down to a lower court of appeals.
While all of this was happening, Grimm continued to make his way through high school, not legally allowed to use the bathroom associated with his gender upon his graduation in 2017. He also became an inspiration to people all over the country, who shared Grimm's sentiments when the teen spoke out at a school board meeting addressing the issue: "I'm just a human. I'm just a boy. Please consider my rights."
It's a simple enough request, one for respect and autonomy. But the message is loud and clear: Everyone should have the ability to be who they are, without fear, without anxiety. And we have Gavin Grimm to thank for making that truth self-evident for us all.
Tell us everything you want people to know about you in one sentence.
My passion and life's mission is to help trans kids in any and every way I can so that the world is a safer place for trans folks overall.
What has the past year of your life taught you?
It has taught me a lot about change, especially change we cannot control. I've learned that different doesn't mean that whatever you had before was better. We all change and grow, and everything changes all the time. I've learned to understand that nothing stays the same so I have to find happiness and a path forward no matter how the terrain has changed.
Where do you want to be in five years?
I'd like to be teaching in a middle school somewhere. I'd like to be doing advocacy work outside of what my demands as a teacher will be, as I feel that, as a teacher, I will be an advocate by trade. I'd like to have a life that allows me to still pursue my passions in and out of my career setting.
What do you hope other generations learn from yours?
I hope they see the resilience and power in my generation and start to understand that different perspectives and young voices are integral to democracy. I would like for older generations to begin to value and accept youth as full, entire people with their own views on the world that are valid. I would like the younger generations to see the youth and adult leaders before them and continue on those legacies to work to build a better future for the generation to come after them.
What does activism mean to you?
Love. I am an activist because I love humanity, including and especially the powerful community of trans youth rising now. I love the children that will be the future of the nation, and, because of that love, I want them all to be safe and affirmed so that they may have all of the tools possible to change the world. And I want them to believe that those tools are theirs, no matter who they are.
Marley Dias
It's always inspiring to hear about someone turning their passion into a fruitful project, one which makes a difference in the world. But it's especially so when that someone is a 13-year-old whose passion is reading, and whose desire to make a difference has led to one of the most impactful literacy campaigns this country has seen. And it's even more inspiring when you learn that Marley Dias actually started working toward a better world when she was only 10 years old.
Dias launched #1000BlackGirlBooks in an effort to gather and then give away 1,000 books in which black girls were the protagonists. Lack of representation among minority groups in children's and YA literature is an enormous problem, and Dias' goal was a worthy one—it was also one she surpassed quickly, soon finding that she had 9,000 books that she could donate to new homes.
Since launching her project, Dias has become a writer herself ( Marley Dias Gets It Done and So Can You) and garnered accolades (like landing Forbes' 30 Under 30 list). And there's no doubt that she'll be leading the charge toward making a more inclusive future in the publishing world, and beyond.
Tell us everything you want people to know about you in one sentence.
I am a young elevated black girl who loves to read, play video games, eat diner food, and change the world.
What has the past year of your life taught you?
Being a student of life and being open to criticism from those in your community are the keys to growth. I have known that these things are important since I was very young. I have also learned that my voice is not the only voice that has value.
Where do you want to be in five years?
I want to learn how to revolutionize the way we tell stories and include other young people in the process of changing the world.
What do you hope other generations learn from yours?
There is a power behind the internet. Social media and other online platforms create so much space for people to express themselves and to know that they are a part of something beautiful.
What does activism mean to you?
Using your passion, ideas, and talents to change the world and help others do the same. Activism is the belief that everyone has a unique point of view which can be used to lead to the betterment of every community.
Sonita Alizadeh
"There was a time in my life when I had no hope," 20-year-old activist and musician Sonita Alizadeh tells us. "When I was being sold into marriage, it was hard to see a future for myself." The Afghanistan-born Alizadeh was only 10 years old when her family first considered selling her into an arranged marriage, but it was a constant threat looming over Alizadeh's future throughout her adolescence.
Like many young people, frustrated with the state of their worlds, Alizadeh's salvation came through music, specifically through the rap music she heard as a teenager in Tehran, Iran, where her family had moved because of the turmoil in Afghanistan. Listening to musicians like Eminem inspired Alizadeh to write her own raps; one of her songs, "Daughters for Sale," went viral after she posted a video of it to YouTube. She explains that she didn't think "it would get the public reaction that it did." For her, "It was a way to tell my story to other people, especially my family. I wanted them to see how it feels, to understand how I was feeling."
And that's exactly what it did. People all around the world were inspired by her words and story, and Alizadeh has since become an outspoken advocate for the millions of young women who have no platform on which to speak. As Alizadeh says, this is the point of her art, and what her intention always was: "I would rap for my friends who often came to school with bruises and broken spirits after arguing with their families about getting married."
Now, Alizadeh is about to graduate high school in the United States, and partners with organizations like the Strongheart Group and Girls Not Brides to spread the message that girls are not property. Her music career is thriving as well, and she is eloquent on the topic of how other people—young and old—can get involved and help change the world: "The first thing people can do is to educate themselves. Understanding a problem is half the solution. One thing that gives me confidence is knowing that many other people are working to solve these problems too. Create partnerships. There is always an opportunity to do something."
Tell us everything you want people to know about you in one sentence.
I am an activist and rapper from Afghanistan, and I use rap to speak out and help end child marriage.
What has the past year of your life taught you?
The power of small groups of people who come together to drive change. I have also learned that if we want to change something big, we have to work at all levels: global, national, community, and even family. We have to do it all at the same time. It is all important. Education is critical at all these levels. I think a lot about how much we need to educate communities about the destructive tradition of child marriage and how it is harming not just girls but whole societies. And then we need to help these communities find other ways.
Where do you want to be in five years?
I have big goals. I will be graduating from high school in a month. I plan on continuing my education for as long as possible. I also plan on writing more songs and continuing my advocacy work. My dream has always been to inspire young girls to see their own power and follow big dreams and realize that they have potential. I want to help amplify voices of other girls just like me. You will see me working for this over the next five years. I want to educate people about the real consequences of child marriage, not just in my country but all around the world. I want my curriculum about child marriage, my message, and my music to reach millions of people around the world in five years.
What do you hope other generations learn from yours?
I hope that they see my generation as one of action. I hope that, by watching us, they are inspired to actively work to fix the problems they see. I hope they see the power of working together to create momentum.
What does activism mean to you?
Taking action. When you see something that needs to be changed, and you take an action to change it, you are an activist. Everyone can become an activist. My platform for activism is my music, and the issue I am working to address is child marriage. Everyone can find an issue that they care about and their own authentic way of expressing and sharing their message and working for change. When you speak authentically about something that matters to you, your voice has even more power.
Fashion & Beauty
by Jenna Igneri
Madeline Stuart
When it comes to diversity and inclusivity in the fashion industry, there's one aspect that's often overlooked: catering to those with disabilities. And that's exactly what Australia's Madeline Stuart wants to change.
Stuart, a now-21-year-old model with Down syndrome, began dreaming of walking the runways after watching a fashion show back in 2015. With the help of her mother and social media, her own photos soon went viral. Since then, she has built herself an impressive résumé, has had her story told by a number of international publications, walked runways around the world, and amassed a following of 185k followers on Instagram. In February of last year, Stuart debuted her first clothing line, 21 Reasons Why, named to celebrate the pride she holds for her extra 21st chromosome, the cause of her Down syndrome, at New York Fashion Week.
While Stuart's greatest passion may be modeling, being an advocate for diversity and inclusivity is certainly a close second. Through her work, she spreads her message of self-confidence and empowerment, as well as love for and acceptance of others, hoping to shift the perception the world has of people with disabilities like her own.
Tell us everything you want people to know about you in one sentence.
I am a 21-year-old woman, the first professional supermodel in the world with Down syndrome, and I'm working to change the perception that people have about people with disabilities; I want them to know we are capable, have dreams and aspirations, and will work hard to make our dreams a reality.
What has the past year of your life taught you?
While traveling the world over the past year modeling, I've learned that the world is changing, becoming more diverse, and, I believe, opening its heart to minority groups. Different countries, of course, are at very different stages. The U.S. seems to be the loudest advocate and is at the forefront in medical research of Down syndrome, while organizations such as Global Down Syndrome Foundation are doing amazing work in this area.
I believe that France, Paris in particular, has come a long way over the last 12 months. Last February when I modeled during Paris Fashion Week, they weren't really interested in acknowledging me. No media was present, even though it was the first time in history someone with Down syndrome walked [the runway]. This year when I walked, their largest television station, M6, covered it on prime time 66 Minutes, and now people recognize me in the street and congratulate me.
The place that impresses me most is London. There are a lot of positive things happening there, with large companies starting to work more with diversity, which is wonderful to see. Other smaller countries such as Albania, Uganda, and Ukraine are all working to become more inclusive, so I really do have high hopes that our world is changing.
Where do you want to be in five years?
There are many things I wish for; most of them are about modeling as it truly is my passion. I would love to be on a billboard for a big fashion label in Times Square, to model for high-end brands such as Chanel, Louis Vuitton, and Burberry, to be working with a large organization advocating for diversity, and, of course, following my passion as a designer.
What do you hope other generations learn from yours?
I believe my generation is changing the world. There truly has never been a time before that people have fought so hard for equality. We now embrace everyone and their beliefs. This is a time to be true to yourself and to share love and understanding. I believe we will teach humanity to be more human.
How do you hope the change the perception of beauty in the fashion industry?
I hope I can show that beauty is more than just the "traditional" form. Beauty is not skin-deep, it is everywhere, we just have to open our eyes and our hearts to it. Beauty is more about how you treat people and how you treat yourself. The most beautiful thing in the world is kindness, and the sexiest thing is your health, both of mind and body.
Taylor Frankel
Taylor Frankel is building a beauty empire, one makeup crayon at a time. The 21-year-old currently serves as chief inspiration officer and spokesperson for her cosmetics brand Nudestix, which she co-founded at the age of 17 with her then-15-year-old sister and their beauty engineer mother.
Frankel is the true definition of today's modern, young entrepreneur. She's social media-savvy, cultivating a following for both the brand as well as herself, and speaks to the Gen Z generation and its beauty needs easily. Alongside her sister, she's created an array of cult-followed products for the eyes, lips, and cheeks that are simple, both for their color palette ("Go nude, but better" is the brand's ethos) and effortless, on-the-go pencil application.
Clearly, she's doing something right. Since its conception, the brand has not only blown up on social media, but you'll now find it carried across the country at places like Sephora and Ulta, and it's beginning to expand globally.
Looking to follow her lead? According to Frankel, it's all about confidence and putting in the work, while making sure we surround ourselves with other confident, hardworking women.
Tell us everything you want people to know about you in one sentence.
I wake up every day with a drive to work hard, inspire those around me, learn from my colleagues and peers—meanwhile, working to be the best and most authentic version of myself.
What has the past year of your life taught you?
This year, I have traveled all over the world, from Southeast Asia, China, and Dubai to Australia, Europe, and more. I have learned so much through my experiences—the cultural nuances and all the similarities, the shopping behaviors in various countries, as well as different trends we see around the globe. I am always in awe by how much each region is similar to the next, the modern-day women in particular. Whether she's a student, a career woman, or a mom (or all three), she craves effortless, fuss-free beauty products, which is why I believe Nudestix resonates so well globally.
Also, I have learned so much from my mentor, my mom Jenny. She's given me a platform to share my voice and has provided me with so much insight from both a business and personal perspective, from the meaning of leadership to self-growth as a young female entrepreneur.
Where do you want to be in five years?
I see myself still leading the Nudestix vision and brand identity, hopefully becoming even more global than we are today. I'm hoping to keep building a strong Nudestix #babeboss community to continue to inspire women globally. Also, continuing to launch innovative products to appeal to the global Nudestix girl.
What do you hope other generations learn from yours?
The power of women when we encourage and lift one another. Thanks to social media, younger girls are easily impressionable when it comes to comparing themselves to others. This can negatively affect self-esteem and self-confidence. I want other generations to learn that there's more to the superficial beauty seen in the media. Never lose confidence in yourself, work hard, and surround yourself with other babe-bosses.
What advice would you give to young, hopeful entrepreneurs on starting their own brand?
Start by having a strong brand identity—it's so important to have both a rational and emotive reason to exist. If you are launching a product, ensure that you are filling (or creating) a gap in order to have a point of differentiation. Also, I feel very strongly about surrounding yourself with a group of women who are as passionate and dedicated as you. It takes a village—so don't feel like you must do everything on your own. There is strength in numbers! And if they happen to be your family members, even better.
Khoudia Diop
Khoudia Diop wants you to love yourself. Diop, who you may know as the Melanin Goddess—the social media star with a contagious smile—is a 21-year-old Senegalese model and activist (and hopeful astronomer) living in New York.
Her story is an interesting one. Before being celebrated for the strikingly beautiful deep ebony shade of her skin, she was once made to feel ashamed of it. Growing up in Senegal, where over 25 percent of women seek to lighten their skin, a young Diop was subjected to the pressures of skin bleaching. Thankfully, her older sister prevented it from happening.
Nowadays, Diop is an outspoken advocate against the practice, which is becoming a growing—and dangerous—problem in her home country. Through her work (and with the help of her major following on social media), she strives to teach others to embrace and find the beauty within themselves.
Tell us everything you want people to know about you in one sentence.
My name is Khoudia Diop—I'm 21-years-old and I live in New York, but I'm from Senegal.
What has the past year of your life taught you?
A lot—growth, patience, love, and motivation, too.
Where do you want to be in five years?
I want to be an actress and learn astronomy!
What do you hope other generations learn from yours?
That beauty comes from within, and that they should love themselves how they are.
How did you learn to feel comfortable in your own skin?
By finding things I like about it and enjoying them. It wasn't easy, but if you can remind yourself how beautiful you are, it can be helpful.
Barbie Ferreira
Barbie Ferreira is a force to be reckoned with. The 21-year-old model-actress-activist has paved her way through the modeling industry as an outspoken advocate for body positivity, and her brand is only growing from there.
Ferreira first broke out into the spotlight when she starred in an American Apparel ad, which garnered her quite the following. After going on to star in a number of indie brand campaigns and building her social media presence, intimates label Aerie tapped her for its unretouched #AerieReal campaign, launching her into stardom.
Throughout her career, she's been quick to call out the very flawed fashion industry for its antiquated and unrealistic standards of beauty and grotesque treatment of models. Known to post body positive snaps on her social accounts, such as one embracing her stretch marks, she's an inspiration to anyone who may view their own body as inadequate.
On top of a busy modeling career, she debuted her own show, How To Behave, with VICE and Go90 last year. On it, she explores etiquette in the modern world, and how we can break outdated social standards, especially those women are held to. She covers topics such as dating, sex, money, and style and does everything from visit a nudist colony to go on a blind date. It's political, it's feminist, and it's also pretty damn hilarious.
As she continues to cultivate her brand and spread her inspiring messages to others, it's clear that her future is bright. We wouldn't be surprised to see her take over the world.
Tell us everything you want people to know about you in one sentence.
A rambunctious 21-year-old girl from New York who loves her naked cat too much and who poses for a living.
What has the past year of your life taught you?
It has actually been an amazing learning experience. I learned about love, trusting my creative instincts, and even unraveling and facing insecurities I'd never known before. It's been a ride.
Where do you want to be in five years?
I want to be content, organized, and making things while also participating in projects I believe in. Also, working with people in mediums I'm just starting to venture into and collaborating.
What do you hope other generations learn from yours?
My generation is a prime example that just because you're different doesn't mean you can't find some way to do what you want to do. Especially in entertainment and fashion, it's always been exclusive and thought of as unattainable. With social media and the sharing of ideas without it being moderated by execs, the world is our oyster. Find a way through it and to it.
How do you think the Gen Z generation is challenging the stereotypes of the fashion and beauty industry?
Gen Z is unfiltered and raw; we show who we are and create communities through the internet that previously have been in the shadows. It's our time—we're sensitive and caring people, we see the injustice and we speak up. Beauty isn't exclusive—even regionally, it's not. So why do we only celebrate the most watered-down version? It's not accurate or financially responsible. There are billions of people thirsting for representation who are frankly bored and uninspired by the beauty standards.
Aquaria
There's a lot more to Aquaria than meets the eye—and she wants you to find it.
You may just be getting familiar with her via RuPaul's Drag Race Season 10, where she's already taken the title as the youngest queen this season (and, one of the youngest in Drag Race history). But, unlike many other contestants that enter Drag Race, Aquaria was already a star in her own right beforehand, boasting 210K Instagram followers before her casting had even been announced, and a permanent fixture in the Brooklyn drag scene.
Her rise to fame can be credited to her next-level looks: a mix of high fashion with some sort of twist via a reference to pop culture—or meme culture. How could we forget the iconic moment when she nailed the confused math lady meme, or, more recently, a Tide pod? Her level of beauty skill shouldn't come as a surprise, considering she got her start by creating makeup tutorials in high school, long before the heyday of beauty vloggers.
While makeup is undeniably a huge part of drag, Aquaria looks at beauty as more than just a means of creating a costume. She sees it as an art form and a means of self-empowerment and self-expression, and a way to look at the world differently.
Tell us everything you want people to know about you in one sentence.
Although I might think I know who I am and know what to tell people about my being, I learn and realize new things daily, and just like an iceberg, there is so much more for people to learn about me [that's beneath the surface] and, more importantly, so much more I can learn about myself.
What has the past year of your life taught you?
Quite understandably, it has been the most dynamic and exciting year of my life, filled with so many ups that, looking back, the downs seem completely inconsequential. I've learned a lot about the way my personality and humor comes off to people, despite me having a very genuine heart and the kindest of intentions. I've learned about myself as a drag performer and, more importantly, how to manage and respect myself when I'm not in drag. This year has taught me so much that I don't even realize, and I know that I will continue to be surprised with what life has to teach me moving forward.
Where do you want to be in five years?
Just like most people, I want to be happy, successful, and continue to be doing what I love. I know there will be times where happiness is hard for me to find or when success won't come as easily as I imagined. These both seem dependent on how I react to what life throws at me, so I suppose in five years I just want to be comfortable with myself and mature enough to handle my troubles efficiently and not dwell on them.
What do you hope other generations learn from yours?
There are plenty of things younger generations can learn from my generation, but, more importantly, I think there are still things imperative for older generations to learn. There seems to be a massive learning gap when it comes to acceptance in regards to race, gender, sexuality, etc., and despite the difficulty that arises when trying to teach old dogs new tricks, I think it is essential for said old dogs to get with the program and leave their medieval and honestly embarrassing beliefs far in the past. Many elements of our lives, particularly politics, are run by older, grumpy white men, and this demographic, I think, could absolutely learn the most from the youth.
I also hope that younger generations look up to mine as an example of what it is to be a better, more accepting person rather than rely on the ideologies of the past.
How have you used beauty as a form of self-expression?
I love creating different fantasies and looks with my art, and I think beauty plays a major role in that. Whether I am playing up the beauty I can create on my body or highlighting the beauty that can be found in traditionally "uglier" things, it is a key facet of life and art, and I think I use beauty to not only empower myself but to, also, empower others by my presence.
Music
CupcakKe
Elizabeth Eden Harris is a goddamn star. There's no way around it. In her short time in the spotlight, the artist better known as CupcakKe has spread a message of self-empowerment, reaching audiences that are as thirsty for raunch and gusto as they are for LGBTQIA anthems and music with a Cause™. The Chicago rapper's latest LP, Ephorize, did what few rap projects—especially rap projects by solo black female artists—do: landed an 8.3 score on its Pitchfork album review. If that's not a sign that this is the Age of CupcakKe, we don't know what is.
Tell us everything you want people to know about you in one sentence.
I am bold and "ephorize."
What has the past year of your life taught you?
The past year of my life been a learning process.
Where do you want to be in five years?
In an arena and selling it out.
What do you hope other generations learn from yours?
Our mistakes. Do some research before you make moves so that the next generation won't make the same mistakes.
How has being an LGBTQIA advocate shaped the music you create and share?
Being able to speak on the LGBTQIA community is really a blessing because it brings awareness to the community and it helps others feel comfortable in their own skin. It's quality.
Zara Larsson
What is it about Sweden that it's become a breeding ground for pop stars? Whatever it is, Zara Larsson is evidence of Swedish pop power. Famous in her home country by the age of 10, Larsson has since grown into international stardom, thanks to a deliciously bright global debut LP, 2017's So Good, and a feature on one of Clean Bandit's biggest songs, "Symphony." As a performer, Larsson takes center stage with grace as her voice soars over the lush synths pounding beneath her. And proving the connection between music and activism, Larsson uses her platform to raise feminist awareness. Just this past November, Larsson was among 2,192 Swedish women to sign an open letter to the Swedish music community addressing systemic sexual abuse and harassment within their world. Larsson, clearly, is a legend in the making.
Tell us everything you want people to know about you in one sentence.
I'm nice.
What has the past year of your life taught you?
It has been really good to me in my personal life and in my career. Personally, I've learned to not settle for anything that doesn't make me genuinely happy. It's harder being happy with the music… or, I should say, satisfied, because I always want to strive for more and make it better.
Where do you want to be in five years?
Selling out arenas.
What do you hope other generations learn from yours?
I feel like history repeats itself, and this generation now is kinda what the hippie movement, Black Panther movement, and punk movement was in the '70s. There's just a feeling of coming together for a cause that's bigger than ourselves. I feel like we've got so much power, especially with social media. It's really cool to see my generation act on issues. I hope the next generation will, too.
With your new music coming out, what do you hope your fans, both new and ride-or-die, take away?
I loved making this album so far—I've really had a blast!—so I hope the lyrics and melodies will speak to the audience in a relatable way.
Sabrina Carpenter
So much more than just a Disney vet, Sabrina Carpenter has proven to be a multi-threat with a bona fide music career and a fan base that rivals those triple her age. With two albums already under her belt and another one on the way, Carpenter is no stranger to hustling. It's in her blood. Some would argue that she's already made it, but she feels that there's always something to improve on, something new to try, and something to keep her on her toes. She won't have made it until she says so, and we have the feeling she'll redefine the concept of success not only for herself but also for those who follow. How sweet it'll be.
Tell us everything you want people to know about you in one sentence.
If I want dessert, I'm gonna have dessert.
What has the past year of your life taught you?
To take more risks. Even if they don't work out, the risk is still worth the wisdom you gain.
Where do you want to be in five years?
I'd like to be sitting next to Rihanna on a couch watching That '70s Show.
What do you hope other generations learn from yours?
I think my generation is truly looking to break down barriers and not do things just because it's acceptable, but because it's what we believe in. My generation also has an incredible ability to accept and love others. I hope other generations are inspired by that.
What's one quality about yourself that you are genuinely proud of and how has it helped you professionally?
My work ethic. It has enabled me to balance my music with my acting and still keeps me wanting to challenge myself and work harder. Once, I heard Bruno Mars say he was just getting started—and that was after he had a few Grammys under his belt. Ever since then I realized, if Bruno's still just getting started, then I'll always be just getting started.
Billie Eilish
Billie Eilish contains multitudes. The 16-year-old has become a fierce advocate for the ultimate teen idiom, as explained in Little Miss Sunshine: You do what you love, and fuck the rest. A viral sensation by 15, Eilish has since released a debut EP bursting with a jazzy pop sensibility you wouldn't expect from someone who cites Rihanna and Stromae as their biggest influences. But that's just Billie for you. What's cooler than being cool? Being Billie Eilish.
Tell us everything you want people to know about you in one sentence.
I do exactly what I want, when I want to do it, how I want to do it, and I'm not trying to please anyone but myself.
What has the past year of your life taught you?
I've known I've wanted to do music for a long time but this past year has really solidified my conviction. I've learned I cannot please everyone all the time. If I'm busy trying to please everybody else, I won't get anywhere. I'm left with something that's completely artificial and not real or me at all.
Where do you want to be in five years?
Honestly, I really want to just have at least two or three albums out. I really want to have directed my own videos by then, too, because that's something really important. Whenever I make videos, it's always my ideas and my treatments. I have a lot to say, but I want to say more and have more control over it. People expect pop stars to not really have an opinion. Not me. For me, it's all really specific. I really want to direct my own videos and be in the room helping to edit them, if I'm not editing them myself.
What do you hope other generations learn from yours?
To just not take everything for granted all the time. I think we should all just be aware. Be very, very, very aware of what is going on in the world and not let the internet take over our brains.
We talked once about emulating and looking up to Rihanna's career—where do you think you've succeeded in that?
I feel like I'm doing the most I can right now. I really want to do more. I never think I'm doing enough. I always have to keep making stuff and keep trying and keep working hard to get to where the fuck I want. I think I'm always gonna look up to Rihanna and artists like Stromae. With Rihanna, what goes on in her mind is so interesting to me. I feel like she just knows, you know?
Jorja Smith
Twenty-year-old Walsall, England, native Jorja Smith is a force of nature. Her music has made waves that have reached the likes of Drake, Stormzy, and more. And she's poised to make an even bigger splash now that she's won the Critic's Choice award at this year's Brit Awards—the same award Adele and Florence + the Machine have taken home in the past. She's also set to release her debut LP, promising the same soul and jazz vibes that have made her the artist to watch. Jorja on our mind, indeed.
Tell us everything you want people to know about you in one sentence.
I'm honest.
What has the past year of your life taught you?
To not be so hard on myself… but I continue not to listen to that.
Where do you want to be in five years?
I'd like to be happy, drinking tea and making some amazing music.
What do you hope other generations learn from yours?
We like taking a stand.
How do you define independence?
Independence is doing what YOU want to do, knowing that you're happy with the decisions you're making and that it's the best for YOU.
Acting
by Sandra Song
Marsai Martin
Marsai Martin has been acting since the age of five, but now, eight years later, she's ready to prove that she's capable of so much more. For many actors, landing a starring role alongside Tracee Ellis Ross and Yara Shahidi on ABC's groundbreaking sitcom Black-ish would prove that they've made it. And yet, it's clear that this is an example of how Martin is just getting started. Though only 13 years old, Martin just helped create a new film for Universal called Little—that follows the story of a woman who gets to relive her youth—in which she will be starring and executive producing alongside the producers of Black-ish and Girls Trip.
Tell us everything you want people to know about you in one sentence.
I'm weird in ways that are cool.
What has the past year of your life taught you?
Just because folks have good energy, it doesn't always mean they make good friends.
Where do you want to be in five years?
I want to be a director, writer, and continue being a creator and actor. Anything can happen in five years, right?
What do you hope other generations learn from yours?
My hope is that future generations are inspired to believe in themselves and create change through activism.
What is it like to executive produce your own movie at 13?
I first pitched the idea for Little with my parents to producers Will Packer and Kenya Barris three years ago and am excited to begin shooting the film this summer. I am grateful for the opportunity to collaborate with Will and Kenya and to have the chance to work in front of and behind the camera.
Sophia Lillis
After starring as fearless rebel Beverly Marsh in the film adaptation of Stephen King's IT, Sophia Lillis is determined to keep up her reputation as a consummate scene-stealer in several new projects. Just as sharp and resourceful in real life as her character in IT, the effortlessly cool and incredibly funny 16-year-old is ready to take over the world. Her next conquest? The forthcoming IT sequel and playing a younger version of Amy Adams' lead character in HBO's spooky new miniseries Sharp Objects.
Tell us everything you want people to know about you in one sentence.
I'm not a ginger. Just kidding, but it's amazing how important hair is in the industry. There's still this idea that girls have to have long hair to be attractive. Or maybe it's that they need to be attractive in the first place which is the real problem. In my real life, I don't spend much time thinking about it—which is probably why my mother chases me across the kitchen every morning trying to brush my hair as I walk out the door.
What has the past year of your life taught you?
Interviews are hard. I still have a lot of trouble answering questions, especially on the phone or Skype. It's a bit better than it used to be, and I think I'm a little better in person when I can start to have a conversation. But even though we've had a bunch of media training, my mind just goes blank when I get a question. Even one I've answered before. It's one of the reasons I like acting: You get to memorize the lines ahead of time.
Where do you want to be in five years?
Maybe college. Still working hopefully. I really do want to go to college someday. Maybe overseas. But for now, I just want to work as an actor and continue meeting people involved in making film. I feel like it's helping me understand what I want to do with my life—even if that turns out to be something other than acting.
What do you hope other generations learn from yours?
To be more inclusive. And how to recognize hypocrisy when they see it. I think our generation is sadly much less optimistic in many ways. There's so little that can be counted on to be reliable. But we don't really know yet, right? I'm just 16. Hopefully, we'll react positively to the challenges ahead and leave the world a bit better for the next generation.
What did you think about thecomplications of themale gaze and your character in IT?
I think Bev was a strong character in her own right, [and] the boys, for the most part, just treated her like she was one of the guys—which was the case off-set as well. As for the "male gaze," with respect to some of the other characters, like her father or the pharmacist… well, that's a different story. Their gaze is just disturbing and wrong. But I think that's pretty clear in the film. We read a lot of scripts where there's really nothing there to the female character except to be female, and that's just boring.
Storm Reid
Not many 14-year-olds can say they met Oprah, let alone that they've worked with her—except for Storm Reid, that is. The star of Ava DuVernay's gorgeous and history-making film adaptation of A Wrinkle in Time, Reid stole our hearts as misfit-turned-brazen hero Meg Murry, and will continue doing so as she gears up to star in forthcoming thriller Only You. That said, she doesn't want to limit herself only to acting in the future, and is determined to also direct and produce "projects that evoke change in the world." And if there's anyone who can do it, it's definitely Reid.
Tell us everything you want people to know about you in one sentence.
I'm a fun-loving young lady with a bold personality and a determination to help change the world.
What has the past year of your life taught you?
I've learned that hard work and dedication pay off. Working with the amazing cast of A Wrinkle in Time taught me that, no matter how big you get in Hollywood, you should always remain gracious and humble in life and at work.
Where do you want to be in five years?
I'd love to be a filmmaker! Whether I'm producing, acting, or directing, I want to be a part of projects that have compelling messages. I want to tell stories from history that haven't been told and that will inspire people. I'd like to create and be involved in projects that evoke change in the world and the people who see them.
What do you hope other generations learn from yours?
To be inspired and to embrace the light within. I want them to see that by believing in yourself, working hard, and being dedicated, they can do anything! No dream is too big or too small to achieve. Their voice matters and they should use it to conquer their dreams and helps others do the same.
What was it like working with trailblazers like Oprah and Ava DuVernay?
Both Ms. Oprah and Ms. Ava are beams of light. They are my inspirations! Working with Ms. Oprah was everything, and it was an amazing experience to work with and learn from her. I could see how much love and passion she has for acting and it was truly magical to see. She's down-to-earth and just a great human being all around. Ms. Ava is an extraordinary director and wonderful person with an undeniably powerful presence. She made me feel confident and comfortable on set, but ultimately, she taught me that to get to where I want to be in life, I have to DO THE WORK!
Paris Berelc
Paris Berelc got her start as a child model, but in the past few years, she's expanded her range, taking on—and conquering—a series of starring roles in television series, culminating in her latest critically acclaimed role as Alexa, a high school freshman battling cancer, in Netflix's Alexa and Katie. At just 19, Berelc has a wide-open future ahead of her, and if she brings the same level of empathy and humor to future projects as she does to her current ones, it's clear that the sky's the limit.
Tell us everything you want people to know about you in one sentence.
All I want to do is inspire and help people.
What has the past year of your life taught you?
You have to stick by what you feel and who you are as a person. Do not change to make other people happy.
Where do you want to be in five years?
I want to be writing, producing, and acting in my own work.
What do you hope other generations learn from yours?
It is great to have a voice, but it is very important to know how to use it. You must know the knowledge and meaning behind your words. Always be real and true to what you say.
What's it been like to further narratives about strong female friendships? Why is this important to you?
I love the fact that people around the world see two girls supporting each other. We do not see that often on TV. I want girls and boys to see how incredible it is to lift each other up, not tear each other down. It takes more energy to hate than love.
Malina Weissman
As Violet, the eldest of the three beleaguered Baudelaire orphans on Netflix's A Series of Unfortunate Events, Malina Weissman perfectly inhabits the role of an intelligent, innovative young woman, who is just starting to realize that the adults and institutions around her, upon which she'd once thought she could safely rely, are actually flawed and crumbling. Instead, if Violet and her siblings want to live in a better world, they'll have to build it themselves. It's a particularly apt parable for the time we currently live in, during which teens are coming to understand that the change that needs to come in the world will be created with their hands. And for 15-year-old New York City native Weissman, this is a prospect she treats seriously, hoping that future generations will learn from hers when it comes to activism and speaking eloquently on the importance of individuality and inclusion. What more could you need to know to feel assured that the kids are going to be alright?
Tell us everything you want people to know about you in one sentence.
I love art, hate bananas, and I like anything that has to do with carbs.
What has the past year of your life taught you?
There is so much more out there—this world is so much bigger than I thought it was. I was able to travel and meet new people with different perspectives on life and everything around us.
Where do you want to be in five years?
I hope to be a sophomore in college and still figuring things out.
What do you hope other generations learn from yours?
I think every generation can learn something from every other generation. We live in a gender revolution where individuality and inclusion without labels is more celebrated than ever before. Students are speaking up and demonstrating for their beliefs; and with social media, we have more power to spread important messages. I hope that future generations look at my generation and see that we made a difference.
What was it like taking on such an important role in a beloved series opposite some huge Hollywood talent?
Taking on the role of Violet was exciting and scary. Violet is such a brave and inspiring character, and I hope that people can look up to her as much as I do. Being able to work with so many different and talented actors is so incredible, I am able to watch and learn from all the different ways that they work.
Video Team
Editing: Charlotte Prager, Dani Okon and Madeline Stedman
Producer: Maura Gaughan