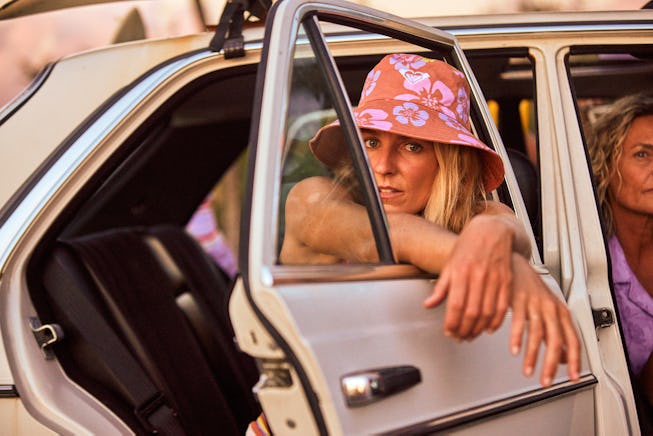 Urban Outfitters
ROXY & Kate Bosworth Are Dropping A Dreamy 'Blue Crush' Collection
Pop into your nearest Urban Outfitters and hit the waves like it's 2002.
In 2002, there was no woman more powerful in my mind than Kate Bosworth. A golden California girl with one striking green eye, Bosworth defined the aesthetic of early aughts surfing culture through her role as Annemarie Chadwick in Blue Crush. Surfing by dawn and working as hotel maids by day, Bosworth and her besties lived their dreams of surfing Hawaii's North Shore — always in style — and competing in a surfing competition where "you don't just get worked — you die." I still get chills!
Now, you can channel your Blue Crush nostalgia with a new capsule collection from ROXY and Kate Bosworth for Urban Outfitters. The collection includes 23 pieces to get you ready for summer: board shorts, triangle bikinis, cargo pants, rash guards (I haven't heard that term in about a decade), dresses, tanks, bucket hats, and more in ROXY's early aughts, Rocket Power-esque prints. We're talking hibiscus flowers, ginkgo leaves, and chunky horizontal stripes — all of which pair well with shell necklaces and beaded anklets.
According to an interview with Vogue, Bosworth has wanted to work on a collection for quite some time. "The idea was in the zeitgeist with the movie's 20th anniversary," Bosworth says. "But I also turned 40 last year, so there was this milestone. My character in the movie struggles with self-doubt and vulnerability and fear, and I felt like I had come full circle with all of those things and was finally able to find this centered alignment in myself."
Urban Outfitters
Urban Outfitters
Urban Outfitters
Urban Outfitters
Urban Outfitters
In order to design the collection, Bosworth and ROXY's global creative and design director Steph Micci's team took inspiration from everything from vintage ROXY campaigns and old Delia's catalogs to Vogue images and old covers of The Face and i-D. They wanted to strike a balance between masculine and feminine, to make clothes that "make you feel good and confident but don't prevent you from doing anything," Micci told Vogue.
"The collection stems from a heartfelt connection and collaboration with ROXY," Bosworth said in a statement. "The brand has created a compassionate and kind ethos, of which we share mutual values. The result is playful and perfectly wearable, designed to be worn from the beaches of Hawaii to a weekend in the Hamptons!"
Urban Outfitters is celebrating the launch with a private event hosted by Bosworth at UO's Malibu store this Friday, May 12, where Bosworth and professional surfers Izzi Gomez and Megan Godinez will be on hand to celebrate the collection.
ROXY x Kate Bosworth is available in stores and Urban Outfitters' website starting Saturday, May 13.