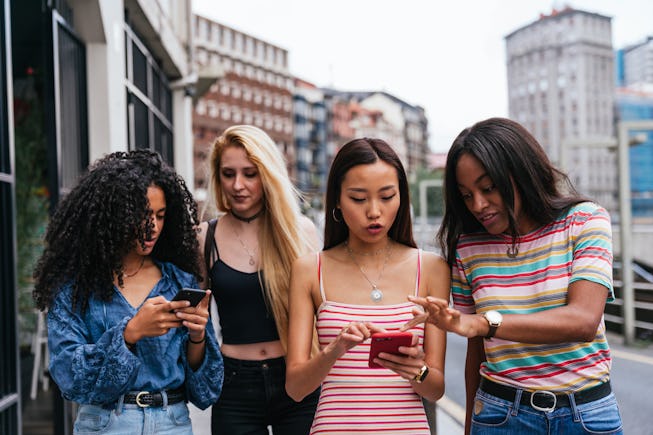 Kike Arnaiz/Stocksy
Should You Really Post Your "Digital Detox"?
With these detoxes trending, are we spreading the word about social media boundaries, or playing into the dopamine loop itself?
At the end of last month, 18-year-old Amelie Sophie posted a series of photos depicting her "7-day dopamine detox" on TikTok. Based in Austria, her rules for the week included no social media, no movies or TV shows, and no music, except for instrumental. While Sophie wanted to quit at the start of the week, by day three she claims she felt more imaginative and creative. By day five, she posted "life feels more like [she's] a kid again." The post soon garnered over 1.8 million views, with the comments flooded with other people wanting to detox from dopamine, too.
Digital and dopamine detoxes have (somewhat ironically) been trending on social media over the last year; the hashtag #DopamineDetox has over 87.6 million views on TikTok alone. The premise is simple: Take a break from the quick hit of dopamine that can come from digital consumption or validation. This usually involves social media, which drives surges of dopamine to the brain that can keep you in a "dopamine loop" and lead to social media addiction. While taking a break from your phone and setting digital boundaries with yourself is important for mental health, is posting about your "digital detox" afterward an oxymoron?
Sophie came across the concept of a dopamine detox on (you guessed it!) TikTok, and decided to try it soon after. Since doing her own detox, she's found that it's very easy to fall back into old habits. "I thought my brain would be calm after the seven days, but then you have to work on slowly incorporating social media back into your life so you don't fall into it harder than before," she says. Sophie wants to schedule social media time and even social media-free days moving forward.
When posting her social media detox on TikTok, Sophie found that she received a number of defensive responses. She says she posted the series of photos as a way to encourage others to limit their phone use. "There was no other way for me to reach people but TikTok," she says. "Our generation has been thrown into the digital world without warning, and I feel like any step we can take in the direction of not having social media take over our lives is a good step." Sophie says she first got a phone at age 12, so she experienced a number of suppressed emotions coming up during her detox. "When a lot of us are sad or angry, we go on our phones so we don't really feel these emotions anymore so, when taking a break, it can be difficult to manage what comes through," she says.
Sarah Unger, president and founder of the cultural insights and strategy advisory company Cultique, says that the rising interest in digital detoxes from young people coincides with other "off the grid" trends, de-influencing, and conversations around dopamine from the ADHD community online. "Unplugging is almost an aesthetic at this point, filled with natural light and self-care," she explains. "There is a desire to take breaks from phones, but it's very challenging to do when their entire ecosystem is so digital."
Unger says that posting a digital detox can read as ironic. "Some of these posts are artfully shot and curated," she expands. "Can it really be a detox if you're filming yourself during it?" Despite this, Unger says that sharing experiments online is simply how Gen Z communicates with one another. "Following in the path of de-influencing and digital detoxes, I'm interested to see what other detoxes or 'de-' trends will take hold," she says. "What other boundaries will trend? Gen Z has a desire to explore behavior that's countercultural against prevailing norms." After all, even NFL player Aaron Rodgers recently visited a "darkness retreat."
There is an argument for using social media as a means to spread the word about digital detoxes. There are even videos on TikTok that gain hundreds of thousands of views for telling people to "take a break from scrolling" and "take care of yourself." The irony of racking up views on a digital detox post is not lost on 23-year-old lifestyle content creator Hope Watson, who documented and posted day-by-day updates of her two-week digital cleanse on TikTok. "I completely saw the irony in filming a social media video surrounding a digital detox, but I really wanted others to see how they can be beneficial," she says.
Watson now dedicates one weekend a month to digital detox. "Taking time to do a digital detox and really unplug has personally helped me with anxiety, and after talking to others about their own experiences, I've found that a lot of people also have less worry, comparison, anxiety, and stress after a detox," she says. "In a world of constant dopamine, learning to let yourself wait and not give in to instant gratification has really been a great experience for me."
Zonera Zaheer, a 22-year-old University of Bradford student in London, dared her 257K followers on TikTok to turn their phones off for 24 hours after watching her video in March this year. Zaheer herself had just completed a dopamine detox, where she suffered from withdrawals for the first few days before discovering (on day 20) that she could focus a lot longer on tasks, could regulate her mental health better, and "wake up without the anxiety of what happened last night" on her phone. Despite this, she has concerns that dopamine detoxes as a trend might be promoting a Band-Aid style solution to a much larger issue.
"Detoxes are trending because of the rise of mental health problems that come with social media addictions, isolations, and severe withdrawals from a sense of community," Zaheer explains. "It is promoted mostly as a quick fix solution which is why it is trending so highly as apps like TikTok love to pull in their younger audience like this." With this in mind, despite attempting to promote healthy digital habits, one person's dopamine detox post can become another person's spike in dopamine. It's clear we can't solve the mental health issues that can come from excess social media usage through the very apps people need to wean themselves off of, but in the meantime, people are getting a much-needed break from the digital dopamine loop, which is never a bad place to start.