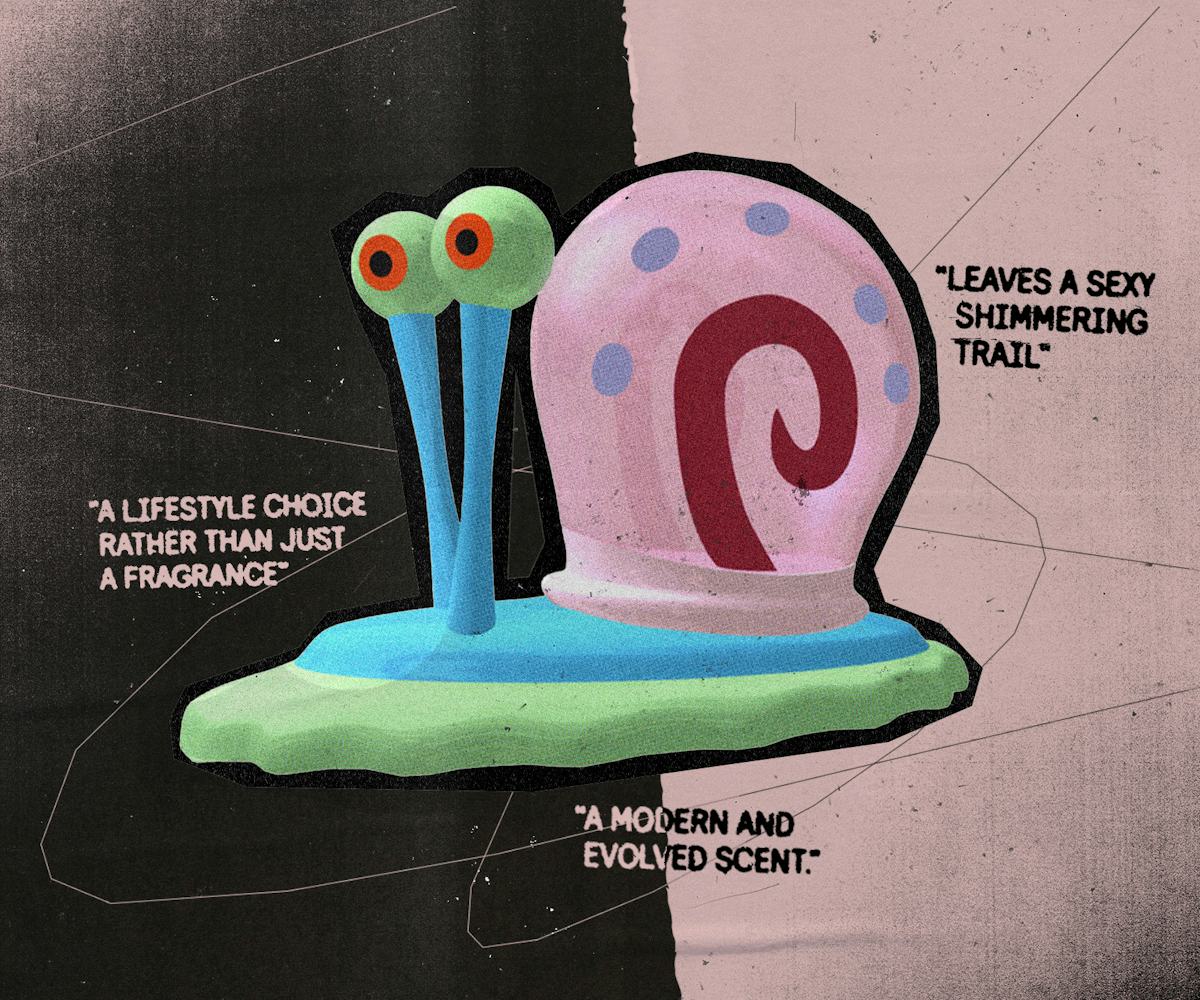 On Gourmand Scents, Gary The Snail, & Nostalgia
How a SpongeBob SquarePants Perfume led me on a gourmand scent spiral.
It began with Gary. If you're a fragrance person who frequents Fragrantica and similar message boards, you'll know what I mean. If you're not: that's Gary By SpongeBob SquarePants, an Eau de Toilette with god-level cult status. Manufactured for the first time in 2014, a bottle of Gary is nearly impossible to come by. Legend has it they go for hundreds of dollars on eBay, although I've only seen listings for 80%-full bottles of the discontinued scent go for $40.
A tweet from @artificialpet prompted my Gary investigation: "yeah i'm into niche scents u literally wouldnt get it," they wrote, along with screenshots from Gary's Fragrantica page.
Gary is a gourmand. The main accords: woody, coconut, vanilla, powdery, sweet, musky, citrus, amber, marine, lactonic. Top notes: citrus, orange blossom. Middle notes: coconut nectar, vanilla flower, amber. Base notes: driftwood, musk, sandalwood. Its rating: 4.6, with 372 votes. The pros: "A lifestyle choice rather than just a fragrance," "Leaves a sexy shimmering trail," "A modern and evolved scent." The cons: "No guarantee that a clone brand will replicate its complexity," "Might only appeal to a certain taste," "Not easy to find."
The Gary phenomenon began as a meme, crafted to dunk on certain scents lauded by the fragrance bro contingent — the subset of bros who follow vloggers like Jeremy Fragrance, who speak of scents as "beast mode" "panty-droppers." Gary is said to be a dupe for Creed Viking, a frag bro favorite described as a "fiery" scent that bottles the "spirit of boundless exploration for the modern man who goes against the grain … carefully designed for the skilled seamen who embodied unbridled determination to conquer." At first, Gary was akin to fragrance memes like Fairyland Bloop Emoji, used to mess with the Reminds Me Of sections of hyper-masc colognes like Office For Men. The gastropodous felinity of the adorable pastel animated character (and his noted dream-world intelligence) make Gary the perfect foil. Gary is the anti-bro. Gary is for the girls.
Gary goes deep. "It's basically the most legendary and sought-after fragrance [in] all of fragcom due to its meme status," one Reddit user explained in response to a serious question about Gary as an affordable high-end dupe. "I dont know if there are many alive today who actually know what gary smells like." (Spoiler alert: I do.)
Though Gary's notoriety as a meme has had people writing farcical reviews for the past six years like, "My ex came back to me because of this. So did her mom. 10/10," and "your slimy trail leaves an odour so beautiful that those lucky enough to smell it fall to their knees," the trolling has morphed into genuine adoration. While it's not exactly nostalgic in the way of iconic children's fragrances like Love's Baby Soft or Musti, it prompts similar reactions. One Fragrantica user mentions Gary awakens memories of collecting driftwood as a kid; another says it reminds them of the good old days, when they wore Banana Boat sunscreen — it makes them feel like they're a teen on the boardwalk again. Gary even has frag-heads wondering about the nose behind him.
"In this scent I can feel the handsome stranger that once kissed me outside a bar on a rainy night, Vincent van Gogh, and my long dead great grandfather who I've never met, all embracing me at the same time. It's a tale of desire, of love long lost, homesick nostalgia and wanderlust of lands far beyond."
"A gem continuing the fabled House of Nickelodeon tradition of hiring the best noses in the world yet keeping the marketing fanfare to a minimum."
"Be warned, Gary appears and Angels fall."
Of course, Patrick, Mr. Krabs, Squidward, and SpongeBob himself each have their own bottles. For perfumer John Biebel, who wrote the definitive SpongeBob fragrance primer for Fragrantica — on The Very Serious Topic of SpongeBob Perfumes — and owns all of them, even the elusive Gary, they are legitimately interesting scents. Especially Squidward, which Biebel tells me, if it were in a different bottle, "You could definitely sell that at a niche boutique and people would be raving about it as abstract aquatic." Before Biebel very kindly sent me decants from his SpongeBob bottles (yes including Gary! I'm wearing him right now!), I purchased a bottle of Squidward on eBay. To me, it smells like Dior Sauvage, or Bleu de Chanel — that might be the lavender, musk, sandalwood, and bergamot talking, though friends I've given a sniff have told me, "I'd wear this," "I smell like a boy" (positive), and "It's like Abercromie." Squidward also contains amber, oakmoss, and tonka bean — notes not typically used for children's fragrances. Biebel describes Squidward as "a most interesting herbal aromatic … something that's split between a fougère and a chypre."
A pithy review: "Good for going on a hot date with a little lady named Clarinet." Cue Squidward smells…good.
It is notable that Gary is a gourmand not only because gourmands in particular are associated with childhood, but because gourmands are all the rage right now. Lately I've been into fragrances that make me smell like something to be eaten up. Notes of vanilla, coconut, condensed milk, orange blossoms, cherries, and almonds have me like a cartoon following the wispy trail of a freshly baked cake.
It's not just me. The perfume world is experiencing somewhat of a renaissance. While in the recent past the focus was on earthy unisex fragrances, on scents that don't present as a smash of sweetness, there's been a turn toward the fruity and sugary. According to Harper's Bazaar, cravings for ice cream-inspired scents are on the rise. My roommate wears Billie Eilish's chocolate-rose eponymic; Ariana Grande's Cloud of whipped cream, praline, and pear is topping charts. Adored niche perfumer Hilde Solani's strawberry salt Fraaagola Saalaaata, and her milk-sugar-vanilla Crema Di Latte, have cult followings; as do Marissa Zappas' Annabel's Birthday Cake, with its cupcake, honeycomb, and latex, and Universal Flowering's apple-rhubarb Burst! and the musky almond milk and dried apricot-tinged Heliotrope Milkbath.
I could go on: Lolita Lempicka's playful, fruity '80s scents are making a comeback. Melanie Martinez's Cry Baby in a milk bottle goes for thousands on eBay. Rihanna purportedly wears Kilian's Love Don't Be Shy — a sweet white floral reminiscent of Rice Krispie Treats and creamsicles. Anna Sui's Sundae trio are heavy on the sugar in both odor and aesthetic. Reviews are like this: "This is getting ready to be dropped off at the movie theater for a 'date' in the aughts (you're too young to drive yourself)…Can't remember anything about the movie but the point was just to play at being a grownup for a bit anyway." And all the girls are spraying Sol de Janeiro's Brazilian Crush mists. Fragfluencer Professor Perfume generously layers it over Dedcool's babyish Milk skin scent and YSL's fairy-like Capeline.
"For a long time there was this rejection of sweet perfumes as a childish thing," Elizabeth Renstrom, photographer, art director, and the mind behind the Basenote Bitch project tells me during a video call in which we can't help but have a frag-head geek out. "We were focusing on really neutral woody fragrances. The sweetness is coming back. People are going back to embracing gourmands."
Renstrom's Basenote Bitch is a curation project, centered on nostalgia for the perfumes of millennials' adolescence. It's about "how beauty products are marketed to us and how our formative memories are tied up in certain products." It hinges on our very of-the-moment Y2K fixation, which Renstrom mentions is part of the 20-year rule, but also "the fact that I'm not sure we will ever have that kind of monoculture around style and culture again because of the pace of the internet and how we cycle trends so fast now," she says. "Being able to get your hands on something you had when you were younger and have it trigger those memories is really appealing for people. It's comforting." Perhaps part of the interest in fragrances that smell sweet, or that remind us of childhood, is a desire to slow it all down, or linger in looking back.
"Perfume is the entry point to lots of things," Renstrom continues. "If you can't afford a Chanel bag, you can afford to go to the beauty counter as a teenager or young person and buy perfume." As kids, we spend a lot of time playing, and a lot of that play (pardon my Freud here) involves practicing adulthood.
There is, too, an undercurrent of fascination with fragrances designed for children. Children's perfumes have been around for decades — the most famous being Love's Baby Soft, which came out in 1974 — and a topic of debate and often controversy in the U.S. for basically just as long. An LA Times article from 1988 wonders whether ads for kids' perfume are too sexual, or if perfume too early will interfere with olfactory information. "How Young is Too Young for a First Perfume?" asks a 2018 Vogue piece. A skeptical New York Times listicle from the same year considers the trend of high-end fragrances for youngsters. It is true that the slogan for the Love's Baby Soft marketing campaign was "Because innocence is sexier than you think." But there is also the fact that, for instance, on Fragrantica, the top positives for Love's Baby Soft is that it's a "Nostalgic fragrance that brings back childhood memories." It's the same idea that prompted Nivea to release a perfume, and why people are obsessed with Mustela's Musti eau de soin — "It kind of reminds me of a newborn baby," "Highly calming with a Madeleine-de-Proust effect," etcetera.
That perfumes for adults have been veering into childlike territory suggests both a desire for comfort in tumultuous times, as well as a desire to do the Freudian opposite: to play at being kids again. It's giving Barbie. It's giving Lolita. Smelling like a doll is in. In an interview with newsletter Regular Pleasures, Universal Flowering's Courtney Rafuse notes about her iconic plastic and neroli scent Holy Hell, "What's the horniest thing in the world? Innocence." That playful energy, Rafuse says, is "down to clown. And doesn't even know it yet."
I'm obsessed. Gourmands like Lost Cherry and Poems One Through Twelve haunt my dreams, literally; I dream about base notes, I dream about sillage. I bring the decants Biebel sent with me on vacation. All my friends know I've been working on this story. My boyfriend calls it The Gary Project. He thinks I am insane. I know this because he said, "You brought Gary with you? You are insane." We see some slugs f*cking outside the house we are staying at. We learn all about how slugs leave pheromones in their slime trails so other slugs know they're horny. We consider what it would be like if humans left sticky slimy horny trails when they wanted to bang and imagine slipping and sliding in goo oozed all over Bushwick. We decide it would not be very practical. Maybe Gary and his snaily sillage is the equivalent.
"Upon first whiff, I melted," a user writes of SpongeBob by SpongeBob. "I felt like an old-time cartoon, floating after a visible trail of delicious scent, a face of pure ecstasy. SpongeBob SquarePants, in my opinion, really is THAT good."
These eaus de Bob l'éponge have become something nearly indescribable. They're all lightweight scents, manufactured for the children's market. But because their notes are more sophisticated than, say, the fruity-green of Barbie No. 1 Doll or the powdery herbal-floral of Bulgari's Petits et Maman, it is difficult to determine their true audience. As Biebel puts it, "Everything about the SpongeBob cartoon has always been pretty illogical." For someone embedded enough in the very-online fragrance community, the SpongeBob perfumes carry the same kind of lore the show and its ensuing memes do. "There's something that's happened in the world of fragrances where you say something like 'Gary' or 'Patrick' and they know exactly what you mean," Biebel continues. "It's an in-joke, but at the same time, it's not quite just a joke. People do have respect for these perfumes." Cue: "The only way out is through the perfume department."